The Olympia Country and Golf Club (OCGC) has a long history in Olympia. It was founded in 1917 and was originally located in Lacey on the site that is now Panorama City. In 1925 the club was relocated to its current location on Butler Cove. It started as a 9-hole course and expanded to an 18-hole course in 1958.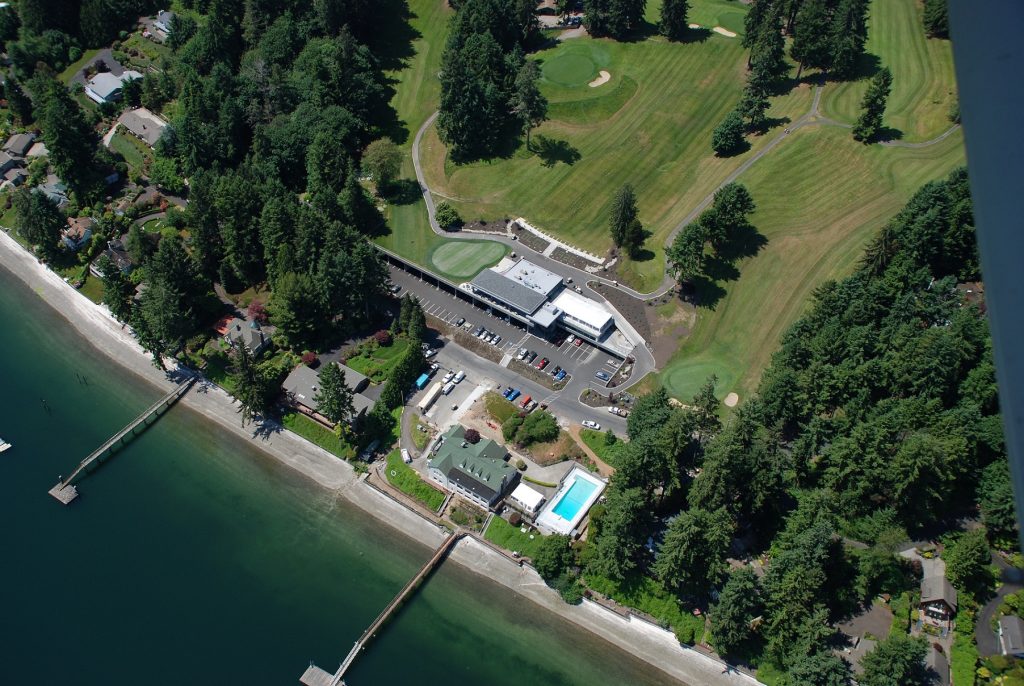 In 2012 Dr. Angela Bowen, a longtime member, purchased the club, land and property. Bowen invested a large amount of money to update the facilities, promote membership and stabilize the budget. She ushered OCGC into the future and placed the club in a favorable position for growth. An important part of her legacy was the creation of a vision for the club: "To provide exceptional country club experiences for members, guests and families in an environment that encourages enduring friendships for the long-term sustainability of the club."
Bowen passed away in 2017 and the OCGC became one of the assets of the Bowen Estate. It is Bowen's vision that has been the driving force behind the effort of a group of current club members to pool their resources to purchase the club from the Bowen Estate.
The newly formed OCGC LLC wants to ensure that the club operates as a viable business while maintaining Bowen's vision for a member-focused club. In addition to the vision, the following principles will guide future development:
To preserve the legacy of the club's role in providing a platform for social, cultural and leadership activities in the Olympia community.
To preserve access to the irreplaceable natural assets we currently enjoy at the club, including the mountain view, salt waterfront access, and 99 acres of open space.
To maintain the sense of history that the club has had over time and to nurture multi-generational friendships.
To develop an infrastructure that will provide sustainable systems for the economic needs of the club, including multi-generational patterns of leadership successors.
The OCGC LLC isn't just an outside company who swooped in to purchase the club. General Manager Jason Reehm explains that it's comprised of dedicated club members who banded together to purchase the Club and keep it strong.
It is a true gem in our local community and a place to grow friendships. There are a variety of memberships available, including family, single and junior golf categories as well as social memberships that provide access to the clubhouse, dining, pool and dock. This is the perfect time to join as they are waiving initiation fees for all new members until June and offering discounted trial memberships starting in March. This is a great savings, and a perfect time to join a country club. Whether you are a master golfer or just looking for hospitality and camaraderie, OCGC is the place for you.
While Thurston County remains on partial quarantine, aspects of the Club may fluctuate in their guidelines. During Phase 2 of the Healthy Washington—Roadmap to Recovery, the on-site gym and fitness center is open to limited capacity and restaurants are seating guests at 25% capacity. Weather-permitting, visit their outdoor patio seating with stunning views towards the majestic Mount Rainier. Dining hours are from 2 p.m. until 7 p.m. Tuesday through Saturday. Reservations are required for the restaurant, but you can call any time for to-go meals. Gym reservations are also required.
The Club is also one of our region's top wedding and event venues. They're still taking bookings for your special day but must adhere to Phase 2 guidelines. Send an inquiry online or call the club to discuss details.
For more than 100 years, the Olympia Country and Golf Club has been a fixture within the community. Thanks to the OCGC LLC's new member-lead management, they should remain strong and vibrant for 100 more. Follow them on Facebook for stunning photos, hours and dining menus. Visit the Olympia Country and Golf Club website or contact Jason Reehm directly to join today and have the initiation fee waived. He can be reached at 360.866.7121 or Jason@OlyGolfClub.com.
Sponsored