Hundreds of women, men, children and students are experiencing homelessness in and around Thurston County. "There is no us and them solution, only we," says Keith Stahley, assistant city manager for the City of Olympia. "We as a community, working together to create systems that support everyone." Keith works with the interlocal Regional Housing Council that encourages partnerships throughout our municipalities to leverage resources that promote equitable access to safe and affordable housing in our communities.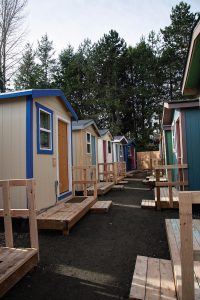 The Regional Housing Council (RHC) considers funding issues for a regional response to homelessness and affordable housing. This is to help implement the five-year Homeless Crisis Response Plan and increase housing options. The RHC consists of an elected official from each jurisdiction including Thurston County, and the cities of Olympia, Lacey, Tumwater and Yelm. "Things happen with relationships and trust," notes Keith, who is encouraged by the increased contact and commitment from all the agencies involved. "My interactions with other staff in the region have increased four-fold. It's almost daily."
Dealing with all the concerns around homelessness are complicated and huge
People have tended to notice homelessness in Olympia because it was visible. The problem is all over the country (and our county) but more easily seen in downtown Olympia. "We've worked really hard to address the issue. If Olympia could have solved homelessness, we would have. It's bigger than just us.," says Kellie Braseth, strategic communications director for Olympia. She is grateful that all the local governments are working as a team.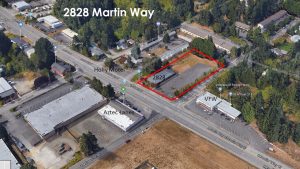 Jim Cooper, Olympia City Council, is the current chair for RHC and was instrumental in its formation. "It's really exciting," he says when talking about the level of coordination. There have been projects, providers, properties and programs, but not always handled in the most efficient manner. RHC brings the cities and county together, expanding geography, finances and resources.
Current Housing Projects
One of the initial projects originating from the RHC is to create micro-housing at the downtown Olympia mitigation site. Hard-sided spaces with actual doors will replace the tents. This would provide more secure and safe places for people to live, as well as greater dignity. The RHC recommended that county homeless response funds help leverage a grant from the Providence Foundation and support from the City of Olympia.
The City of Olympia welcomed the groundbreaking in early December at 2828 Martin Way, though the COVID protocols did not allow for a gathering. The former podiatry clinic and dental office were pressed into service as an emergency shelter for the most vulnerable homeless population as COVID took hold. These services have recently moved to the First United Methodist Church while the new building is going up. The current structure will become the construction office. A multi-purposed five-story facility will be built on the property. The ground floor will have 64 shelter beds and the upper stories will total 64 small, affordable apartments. It is a tremendous addition for the community, though it will service only a fraction of the need.
Olympia has existing properties to serve needs from emergency shelter to transitional to permanent housing. Billy Frank Jr. Place at 318 State Ave NE features 43 energy efficient, affordable housing units. There are 15 studios, 22 one-bedroom units and 6 two-bedroom units. This project serves homeless veterans, young adults (age 18-24), disabled individuals and others. Not surprising, there is a waiting list which is generated from the Coordinated Entry system in Thurston County. The three Coordinated Entry points are the Family Support Center of South Sound for families with children, Community Youth Services for youth and young adults, and for single individuals, the referrals will be made by the Community Action Council.
Merritt Manor on Martin Way opened at the end of last year with 82 two- and three-bedroom apartments that are for families making 60-80% of the area's median household income. It was the first project in Olympia to use the Affordable Housing Multi-Family Tax Exemption and the new Affordable Housing Impact Fee Abatement Program and has become a statewide model for privately funded affordable housing development. Drexel House support veterans, and Plum Street Village of tiny homes provides stable, managed shelter.
The demographics of people who are experiencing homelessness are as diverse as the problems. They are all ages and genders. Some are between employment and have no resources for rent. Some have physical disabilities or mental illness. Solutions looking at the vast horizon include literal places to sleep but also services to support people along their path to independence. The Regional Housing Council has its eyes open as it moves forward.
"Putting people under roofs is critical," says Kellie.
Support can come from the community through greater awareness, use of privately-owned spaces for more housing possibilities, and non-governmental agencies such as churches using their spaces for programs.
The RHC meets the third Thursday of every month from 4:30 p.m. to 6:00 p.m. The upcoming meetings are on February 18, March 18 and April 15 with public viewing on Zoom or by listening by dialing toll-free 888-788-0099. Webinar ID 861 9692 8529. You can learn more when you visit the City of Olympia's homelessness website or you may subscribe to news information here.
Sponsored