Downtown Olympia is alive with creative, culinary offerings. It's nice to take a break from cooking, get out, and enjoy someone else's creations. Best of all, you don't have to do any dishes! Eating out in downtown Olympia offers many choices when it comes to cuisine: choose a favorite or break out of your comfort zone and try something new. Not sure where to go for dinner? Check out this downtown Olympia restaurant overview for 2021.

Three Magnets Brewing
600 Franklin Street SE Suite 105, Olympia
360.972.2481
Meals from Three Magnets Brewing are visually enticing, satisfying, and will have you planning your next trip back. You can find comforting and delicious brewery fare such as chicken strips, burgers and fries. Menu items such as the mojo bowl, cilantro lime chicken meatball bowl and the brewers bowl are full entrees served up together. The mojo bowl has green cilantro rice, black beans with pico de gallo, pickled red onion and cotija cheese, all on a bed of chipotle romaine and kale salad with chicken or blackened cod or salmon. Their other two bowl entrees, the cilantro lime chicken meatball bowl and the brewers bowl are equally layered and wonderfully complex with a variety of ingredients and flavors.
Interested in a more regular supply of Three Magnets food? Their Garden Movement Family Mealkits might be your solution. The categories of meals are catchy pick-me-ups, such as wholesome humpdays, Friday funday and meatless Monday. Patrons can order meals that are ready to cook for delivery or for pick up. Some meal kit menu items include coconut crusted cod, orange chicken sliders and wild mushroom crab-style cakes. Don't forget to check out this program's weekly desserts. Learn more at the Three Magnets Brewing website.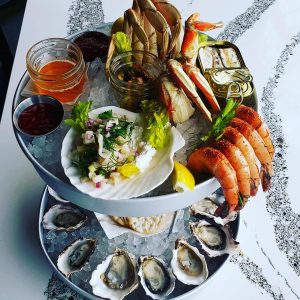 Chelsea Farms Oyster Bar
222 Capitol Way N, Olympia
360.915.7784
The Chelsea Farms Oyster Bar offers lunch and dinner, with highlights being oysters by the dozen and woodstone pizzas. This downtown Olympia restaurant, owned by Chelsea Farms, presents a wonderful combination of seasonal seafood and greens with some familiar elements of traditional dishes. On the lunch menu, you will find their take on a spicey chicken sandwich or their chowder, which is made with Chelsea Farms clams and Yukon gold potatoes. The dinner menu features a bavette steak with a root vegetable gratin and a roasted steelhead fillet with a maple mustard glaze.
Meat free options are available such as the veggie protein bowl with lentils, brussel sprouts and sweet potatoes. Woodstone pizza varieties include potato pesto, sausage with mushrooms or a seafood approach with clams or smoked steelhead. An exciting food feature is the grand chilled seafood platter. This two-tiered tower presents seafood lovers with fresh, seasonally available, far: it's great to share!
Casa Mia Italian Restaurant
716 Plum Street SE, Olympia
360.352.0440
Craving a classic, feel good Italian dish? Casa Mia Italian Restaurant in Olympia has many familiar entrees that will warm you for lunch or dinner. Order a Caesar salad on the side or a classic Casa Mia salad with bread sticks and dipping sauce to start. Spaghetti and fettucine top the entrees on the menu and offer sauce varieties such as a vegetarian, an herb and butter, tomato or pesto. You can find a variety of ravioli options such as butternut squash, spinach cheese and raviolis with tomato meat sauce. Pizzas are on hand tossed crusts from dough made fresh daily and baked in a brick hearth. Casa Mia's menu also includes sandwiches and desserts. Learn more at the Casa Mia Italian Restaurant website.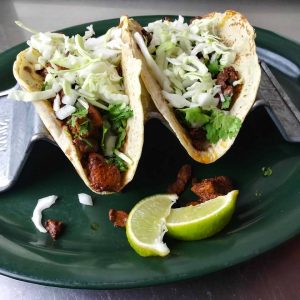 Equal Latin
520 Fourth Avenue E, Olympia
360.819.4817
At Equal Latin Restaurant, it may be difficult to decide what not to order from the menu. All dishes are made on site, even the beans are soaked overnight and cooked the next day with garlic and onion. The tamales, ordered as a single or by the dozen, are available with veggies, chicken, pork or beef. Their spinach enchilada and their breaded chicken breast are both featured dishes to look out for. You might want to choose from the sharable menu for items that about three people can eat. Scan the menu for vegetarian dishes scattered throughout the categories and many that can easily be made vegan upon request. Learn more at the Equal Latin Restaurant website.
Well 80 Brewery and Brewpub
514 Fourth Avenue E, Olympia
360.915.6653
Following in the footsteps of a legendary brewer and named for the numerical order of the 80th well in Olympia, Well 80 is brewing beer with legendary water and making some of Olympia's favorite comfort foods. Their "Eats" menu has an array of burgers, including Beyond burgers, which are all served on Martin's famous potato rolls, deemed the best bun in the country by America's Test Kitchen. For sharing appetizers, they offer fries and tots of the Tokyo, Marseille, Oly or L.A. street truck styles. Sandwiches on the menu include grilled chicken, Caribbean pork, BLT and even Mom's grilled cheese with tomato soup.
Looking for a comforting meal on a Sunday? Consider their brown bag breakfast menu featuring burritos that are characterized as jumbo, giant and monster, each accompanied by an adult beverage. Whether you are seeking a hearty lunch, dinner or a satisfying Sunday brunch, Well 80 has customer's taste buds and taste for variety in mind. Learn more at the Well 80 website.