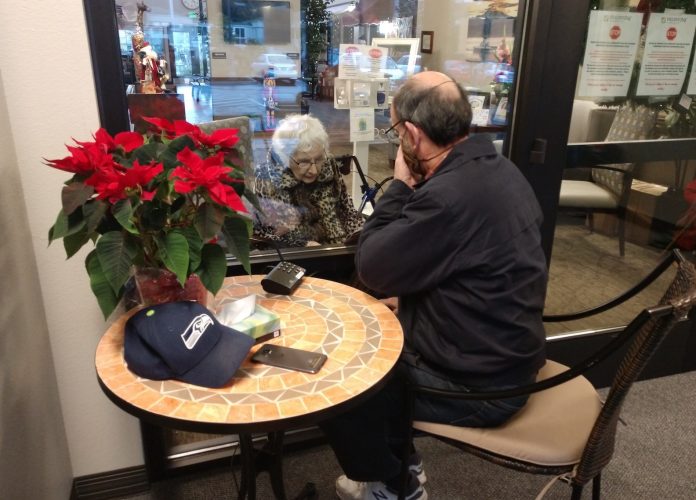 Visiting your parent or relative at an assisted living facility these days is a challenge. I know. My mom, who turned 95 last September, recently moved into Olympia's Fieldstone Memory Care after three years in independent and then assisted living at Tumwater's Olympics West Retirement Inn. Advancing age, two subsequent hip replacements, the death of her husband, and dementia have all played roles in her changing circumstances. I plan ahead to get the most from the limited time I am able to visit on-site. COVID-19 restrictions in care facilities continue to change, and protocols are strict. It's essential to know what to expect. Interestingly, I find that some considerations for visiting people in care facilities remain the same, regardless of pandemic circumstances. Here are some tips on how to visit care facilities during COVID-19.

First and foremost, it is essential to phone ahead with the care facility to learn the latest conditions and to set up an appointment. If you do nothing else to get ready, wear your mask and be there on time. Residents often need help from staff to get to the right place or window to meet you. You are a highlight of the day, and to be there waiting with a smile is an extra gift. When your scheduled time is over you need to leave. Other visits follow yours, and staff needs time to get the spaces ready for the next people.
Window or glass partitioned visits are the norm. Fieldstone Memory Care has an intercom device on each side of the glass wall for better hearing. Cell phones on each side can facilitate all parties being able to hear. When possible, many facilities set up outside locations.
Zoom and other video calling provide safe and convenient communication for all participants. With my mom's dementia and lack of computer understanding, Zoom is okay, but not great. It's better than not seeing her. She prefers to see me in person. If your family member or friend is computer savvy and has a personal device, these kinds of calls are great, as you can schedule to your heart's content.
Optimizing Your Visit
Load up your phone—if it's not already—with pictures of friends, relatives and pets. Action shots provide short stories to tell. I hold up my phone to the glass for my mom to see. She loves to see all her grandchildren and their pets. Even if she has seen a photo before, she enjoys it again. My mom is less conversational than she used to be, so looking at photos directs our focus. There isn't always a lot of news to share on either side of the glass, and photos bring a bit of the outside world closer in. Our son in Portland adopted a rescue greyhound named Lena in December. She's a beauty. Pictures are worth at least a thousand words.
A few selective treats sweeten your visit. My mom has always loved chocolate. As a nutrition educator and health-minded eater, sugar is on my "don't eat much" list. Rather than take a big box, I take a few pieces that she usually eats during our visit. Clearly, she enjoys eating them, and I feel I have not overdone it. My sister brought her a couple of truffles from Olympia's imaginative gift store, The Popinjay, which she gleefully relished. Now I bring one for myself, too, as my mom likes it better when we eat together.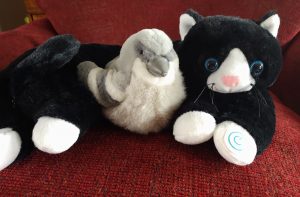 According to Ameican Association of Retired Persons (AARP) robotic pets are becoming more popular with people no longer able to care for the pets they used to love. Requiring no food or clean-up, plush toy animals offer tactile comfort and carefree companionship. My mom usually has one of her friends on her walker. You don't need to bring a furry friend to every visit, but you could bring along a visitor for entertainment.
If you or your children do art, bring samples along to show and tell. Most resident's rooms have a space to hang a picture. My daughter made a push-pin board for my mom to put up photographs, cards and other small pieces of art.
You might be able to find other items your person could enjoy when you are not there. A particular magazine, a coloring book with pencils or a special book to read could be appreciated. A subscription to the newspaper or a favorite publication works well when your mom or dad has the interest and ability to read it. You might pick out greeting cards and stamp and address the envelopes for easy note writing to other family and friends. Assisted living spaces are generally small and more stuff is not needed. I had fun decorating my mom's door with seasonal items from the dollar store.
Visits with limitations are difficult for all involved. It's hard to explain why we can't hug or even sit too close. Hopefully restrictions will ease soon. Regardless, your time and attention are appreciated now. Realize the gift of your presence is a true present. I'm a mom, too, and I know how important it is to me to be connected with my family.