The new year welcomes a time to cleanse and refresh. We set resolutions to start January with a fresh outlook…and renewed goals to save money and shed pounds. This is especially true for the long-anticipated arrival of 2021. Quarantine and holiday pounds, mixed with infrequent shopping trips and often limited activity levels, mean a lighter and brighter January is just what the doctor ordered. Start things off with delicious plant-based take-home treats courtesy The Park Side Cafe in Olympia.
"With the huge success of our Thanksgiving and holiday complete take home dinners, The Park Side Cafe will be looking to expand its take home deli style selections in January," says owner Alicia Elliott. As well as their seasonally delicious menu of pies, baked goods, sweet treats and beverages, they'll soon be adding new items and sizes. "Favorite salads such as our potato mac salad and our tempeh slaw will be available in varying sizes to take home," Alicia adds.
Manager Victoria Kantargis is also excited about the updated offerings. "Bottled 32-ounce special beverages like a salted caramel cold brew latte and our cardamom chai will be available to order to drink or heat at home and seasonal salads will be available in varying sizes to take home. In addition, the Cafe offers house-crafted cashew cream cheeses in plain and various specialty flavors and will be breaking out some more custom cheeses and vegan meats to sell."
Beyond their plant-based outlook, Alicia and her team work directly with family farms and growers around the area. "As always, the Cafe's commitment to providing the freshest, most local and always organic original recipes is firm," Alicia shares. "Our produce providers include the nearby Calliope, Wobbly Cart and Newaukum Valley farms. We get our excellent mushrooms locally from Skokomish Ridge Mushrooms. Our coffee is locally brewed by Covabrelli and is organic as well."
But the Cafe is more than just a tasty labor of love. They fill a need for clean foods and are always looking for new suggestions and creative ideas. "The Cafe wants to hear from the community about what they would like to see in terms of salads, cheeses, meats and complete take home meals," says Alicia.
And they're doing everything with a mind towards keeping guests and staff healthy. "In an effort to provide the maximum availability of our foods during these restrictive times, the Cafe offers daily hours, from 9:00 a.m. until 4:00 p.m., delivery service, curb side pick-up and a walk-up window," says Alicia. "The Cafe will be making even more items available through these methods with our deli items and take-home meals."
They recently began offering outdoor seating and will expand this in the new year so it's ready as the weather permits. "The Park Side Cafe will be teaming up with the West Central Park to build a 40-foot open air canopy that will be situated on the west side of the gravel event area," Alicia explains. "The canopy is being built to facilitate potential summer markets hosted by the Park and fall and winter outdoor diners coming from the Cafe and the future food truck court. Efforts like these goes hand in hand with the West Central Park Neighborhood Center's vision of providing places for the community to gather."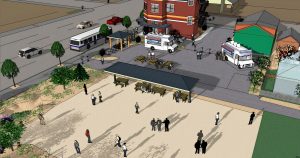 When you're ready to make a trip to The Park Side Cafe, give yourself a few extra minutes beforehand to shop online at The Rolling Pin. Located upstairs, they're open daily between 10:00 a.m. and 4:00 p.m. for curbside pick-up orders. Need a unique tool, cookbook, gift or appliance before that? They recently began local delivery to meet all your quarantine cooking projects and are happy to chat about solutions, suggestions and ideas. Simply email hello@therollingpin.com or call 360-754-3955.
Many annual traditions are out the window, thanks to the chaos and limitations of 2020. But fresh starts and healthy goals are always a good idea. Whether you're a long-time vegan or simply a curious omnivore, plant-based dining is here to stay. Industry experts report that "plant-based food sales climbed five times faster than overall U.S. retail food sales" with no slowdown in sight.
Find the latest specials, menus, platters and new additions on The Park Side Cafe Facebook page. Then pop over to The Rolling Pin Facebook page for their most recent services, gadgets and sales. Order your meal for pick-up or delivery through The Park Side Cafe website or call 360-352-8344 today. Your stomach will thank you…especially if salted chocolate almond butter pie or biscuits and gravy are involved.
Sponsored