Cade Otton wears purple but still bleeds green.

Otton a 6-foot-5, 240-pound Junior tight end enters the 2020 college football year ready to lead and build off a successful 2019 season at the University of Washington (UW). He started his preseason being listed as a second team all-conference tight end selection.
Otton helped UW beat Arizona 44-27 Saturday, November 21 in Seattle with a career and team high seven receptions for 100 yards and a touchdown. Cade also received the game "team ball" from Head Coach Jimmy Lake. "He was impressive," Lake stated. "He was mashing guys all over the field. He is a big-time tight end, a big-time football player. He is tough, physical and smart. He comes to work every day."
"Personally, I want to take a step in every facet of my game," Otton said in a Zoom call with reporters during preseason. "It's run blocking. It's pass blocking. It's making plays down the field and being a leader for my team. I think this can be a really big year for us."
For local south sound football fans, following Cade's journey from TCFYL to THS to Montlake is about community, tradition and family.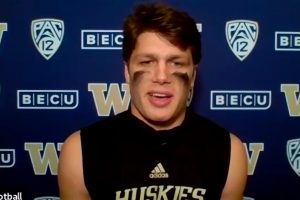 For decades Tumwater High School football has built a tradition of excellence fabricated off Sid Otton's "Seven Pillars of Success." Sid happens to be Cade's grandfather and the all-time leader in football wins for State of Washington coaches. Those pillars are Have Class: Accountability; Blue Collar Worker; Unity and Family; Toughness; Compete; and Never Give up…Never, Never, Give Up. Those are the fibers of Tumwater Football that can be seen woven in the work ethic of the junior Husky.
Current Tumwater Head Coach Bill Beattie retained those foundational pillars that aim to build a program with outstanding football players on and off the field. Assistant coach Tim Otton explains it like this. "For Tumwater, Football it's not just about being a good football player but about being built for life," he said. As Cade's father, Tim Otton knows firsthand how the pillars affected him as he matured, both on and off the field.
Why is Cade succeeding at UW? Tim Otton and Cade's grandfather Sid both credited Cade's determination, work effort and the culture he entered at UW. "There is a great set of coaches surrounding Cade and a terrific culture at UW," Tim Otton remarked. "At Montlake, if you put in the work you are going to get results."
Sid recalled speaking with former UW Head Coach Chris Peterson. The question came from Peterson of where they thought Cade should play. "I told him (Peterson) Cade should play TE because he knows how to finish and plays through the whistle," stated Sid.
Cade's football future looks bright and he has already been contacted by a few NFL agents. That puts Otton on course to join other tight ends from UW that moved on to the NFL, like Drew Sample (2019, Cincianati), Will Dissly (2018, Seattle), Gig Harbor's Austin Seferian-Jenkins (2014, Tampa Bay) and former Black Hills League standout Mark Bruener from Aberdeen (1995, Pittsburgh).
Look for number 87 this year as UW battles on Saturday. The jersey may be purple but the blood still flows with some green below.