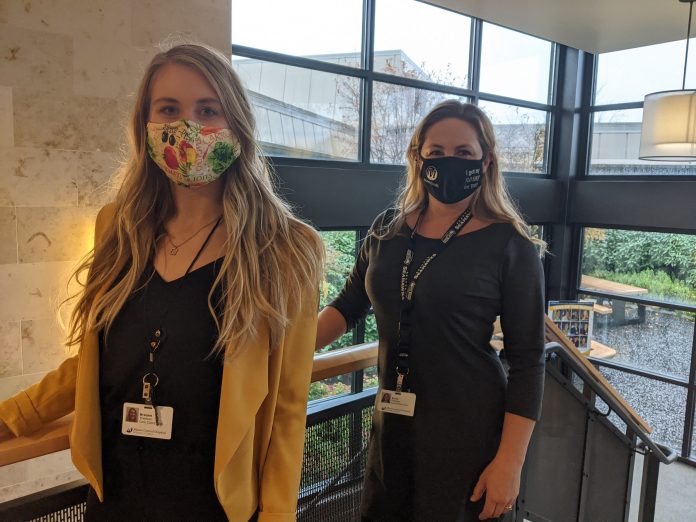 Submitted by Mason Health
When patients need care, Mason Health is here for them. Through the District's Transitional Care Program, Mason General Hospital in-patients who still need service after a hospital stay, such as physical therapy or wound care, are able to stay and receive their needed care. Mason Health maintains excellent partnerships with local and regional skilled nursing facilities, and is not in competition with these facilities. Mason Health works with patients to discharge them to their home or a skilled nursing facility when appropriate.
One example of a patient who would benefit from transitional care with Mason Health is someone with a broken hip that requires surgery, but who also needs physical therapy and frequent IV medications. Mason General Hospital is able to provide all necessary services with 24/7 access to our medical team and therapy available 7 days a week.
"We are already seeing many patients in this situation and situations even more complex who have nowhere else to go," said Mason Health Director of Acute Care Services Rob Bennington. "They sometimes stay with us for weeks or even months. That is the primary reason why Mason Health has decided to pursue a Transitional Care Program."
Medicare plans no longer cover a patient's hospital stay once their acute care needs have been met. Mason Health is pursuing transitional care certification this month so that Mason General Hospital can be reimbursed by Medicare for these services.
Most stays in Transitional Care are a few days to a few weeks, however, some patients may stay for up to 100 days. If they are able, patients often leave their rooms, wear their own clothes and enjoy other activities that provide a more inviting experience than a traditional hospital stay.
Providers at Mason Health work closely with patients and their families to determine whether the Transitional Care Program is the right option. With on-site lab, radiology and immediate access to physicians, nurses, therapists and other caregivers, Mason Health delivers safe, high-quality and flexible Transitional Care. When individuals are ready to return home, Mason Health can also help arrange for Home Care services.
Mason General Hospital's on-site services include:
Skilled nursing care 24 hours a day
Physical, occupational and speech therapy
IV therapy
Inpatient pharmacy services
Respiratory Therapy
Diagnostic Imaging
Wound care (including weekly consultations (with Wound/Ostomy Care Certified Nurse)
Total Parenteral Nutrition (TPN) – IV Nutrition
Registered Dietitian
Enteral Tube Feedings
Learn more at www.masongeneral.com/services/transitional-care.
Mason Health, Public Hospital District No. 1 of Mason County, is certified by Det Norske Veritas (DNV) and is a licensed and accredited acute care hospital with a level four emergency trauma designation. There are more than 100 physicians on staff in 19 specialties. Mason Health now offers 3D Mammography Services. For more information on 3D mammograms or to find a health care provider, visit Mason Health.