For the Maid Perfect team, cleaning a home is not only about removing ceiling cobwebs and wiping down countertops, but also about creating a streamlined and stress-free experience along the way. Whether sweeping, sanitizing, dusting or vacuuming, Maid Perfect reaches every corner to maintain a fresh and tidy home.
"We dust everything, left to right, top to bottom," explains Drew Freemantle, co-owner of Maid Perfect. "We sanitize all the hotspots in the house, like door handles and switch plates. Commonly touched areas in the house. Anything that makes it easier for the client. Also, things like little cobwebs up to the ceiling. We pay attention to those types of details."
And now, more than ever, the Maid Perfect team is dedicated to providing a sanitized home during the COVID-19 pandemic. To ensure the safety of each client, Maid Perfect has instituted new protocols to help keep clients and employees healthy.
"We sanitize all our equipment before any client," says Freemantle. "We wear masks, we wear gloves and have our temperatures taken daily. We do a lot of work in Panorama, which is a retirement community, so we understand that we have to be really safe."
Take a Break While They Clean
When a duo of Maid Perfect cleaners arrives to work on a client's home, Maid Perfect encourages clients to take some time for a fun socially-distanced activity during the cleaning process. Whether a day out in nature, or touring the local farmers market, Maid Perfect clients can enjoy an afternoon exploring Thurston County before returning to a spotless home. According to Freemantle, the average house takes about two to three hours to clean, leaving time for a visit to many South Sound attractions.
For over four decades, the Olympia Farmers Market has been highlight of downtown Olympia. Owned and operated by market vendors, the Olympia Farmers Market hosts over 100 vendors and welcomes almost 400,000 guests each year. Enthusiasts of local art, cuisine, and agriculture, can explore the corridors of the Olympia Farmers Market that offer fresh pastries, small-batch jams, fresh produce, pottery, and jewelry created by local artists. In November and December, the Olympia Farmers Market is open to the public each Saturday and Sunday.
For families with young children, an afternoon at the Hands On Children's Museum (HOCM) will provide family-friendly education and entertainment, from the museum's half-acre Outdoor Discovery Center to the Arts & Parts studio. For visitor safety, HOCM has enacted several measures to ensure proper sanitation and social distancing. The museum now offers three play sessions a day, lasting two hours each. Online registration is required for families visiting the museum.
From dawn to dusk, Monarch Sculpture Park is a serene escape, where art and nature intersect. With walking and bike access, Monarch Sculpture Park is located near Tenino and allows guests to take in outdoor sculpture art from local and international artists. With access to the Chehalis-Western Trail, the Monarch Sculpture Park is a stop along the Thurston Bountiful Byway.
Visitors to Lael's Moon Garden Nursey, located near Rochester, will be immersed in a kaleidoscope of fall colors as they enter the nursery's Empress Garden Gate. Acclimated for a Pacific Northwest climate, a vast array of trees, shrubs and perennial blooms are available for purchase. In addition, the nursery's display gardens offer the fiery hues of autumn, including sugar maples and scarlet oaks.
Introduced in 1976, the 637-acre Mima Mounds Natural Area Preserve was created to conserve Puget Sound grasslands and mima mound formations. A tour of the preserve can reveal diverse flora, fauna and landscapes along the paved half mile looping trail and adjoining gravel pathways.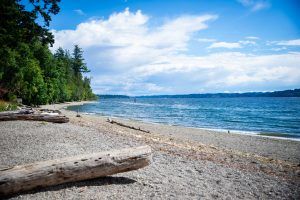 With 1,100 feet of saltwater beach lining the Puget Sound, Burfoot Park is a prime spot for an autumn picnic or hike. From shaded meadows, to a tranquil grotto, the 50-acre Burfoot Park offers recreation for families seeking both a wooded and waterfront landscape. Those visiting Burfoot can order takeout from their favorite downtown Olympia restaurant and enjoy an afternoon under forest-lined fields or one of the park's four covered picnic shelters. With over three miles of wooded trails that wind down to Burfoot's shoreline, park guests are rewarded with unobscured views of Budd Inlet at the trail's end.
Now more than ever, Freemantle and the Maid Perfect team understand how important it is to take time for relaxation and recreation. While Maid Perfect takes care of all home cleaning needs, Freemantle encourages clients to focus on spending quality time with loved ones.
"It takes us two or three hours to clean the house," explains Freemantle. "But, if you were to clean your own house just by yourself, you're talking at least four hours. This is something that we are happy do and we do it every single day."
To learn more about Maid Perfect's home cleaning and sanitation services, visit the Maid Perfect website.
Sponsored