Doing yoga can leave people feeling many things: calm, centered, aligned with the universe and on occasion, hungry. Until recently, once clients of Olympia's True Self Yoga rose from their final Shavasana, food options were limited. But since September, the studio's students have been able to stay on campus and enjoy a multitude of delicious creations courtesy of Rainbow Cloud Cafe, an in-house bistro focused on healthy eating.
The cafe is the latest business venture for husband and wife team Leland and Sydney Harmell, owners of Rainbow Cloud Kombucha and their former raw food line, Rawk Star Creations. The partnership with the studio is a great fit for both businesses, according to True Self Yoga co-founder Vajra Romano. "Our clients are really excited about it," he says. "They've been wanting something like this on the West Side."
With offerings ranging from smoothies and shakes to soups, paninis and desserts, the cafe is a departure from the Harmells' previous all-vegan fare but products are still made from organic, locally-sourced and mostly plant-based ingredients. Anti-inflammation juice, for example, features apple, celery, parsley, lemon and cucumber while a loaded vegan sandwich includes vegenaise, cucumber, red onion, ground mustard, lettuce and tomato with vinaigrette on a French baguette.
"People are excited that there are things on the menu that look and sound good, and as a bonus, they're super healthy," says Leland. "They don't have to worry about sugar. Those who have allergies or food intolerances can come here and try something. We have one customer who doesn't go anywhere else."
Vajra and his wife and business partner Christina Lagdameo had long dreamed of having a cafe attached to the studio and had even renovated space to make it possible. One previous attempt was not a good match. "It was a process," says Vajra. "We wanted someone who would be a good fit for yogis. The timing worked out with Rainbow Cloud."
The two couples were introduced four years ago by the original owner of Rainbow Cloud Kombucha, who later sold the business to the Harmells. At that time, Leland brought a kombucha kegerator into the studio and a seed was planted. In the interim, the Harmells started more companies and when the idea of the cafe first arose, Sydney was not ready. "It was a year ago, and at that point, we had three businesses," she laughs. "I said, 'no.'"
Then COVID-19 happened, the economy slowed, and she was laid off. It seemed like a good time to reconsider. "In the past, I've had a storefront juice bar in downtown Olympia," says Leland. "Both Sydney and I were passionate about the idea of doing something like that again. We love producing food that feeds our family and that we enjoy eating. So we were watching as Vajra and Christina were putting this place together and we thought it looked great."
He also noticed something else. Among the food choices available for everyone stuck at home during the pandemic, very few were vegan or mostly vegan. "That also inspired us," Leland explains. "We feel that pain. Sometimes you don't have the ingredients, or you don't know how to make something, and you just want someone else to make it for you because you have other stresses. We've seen a huge desire for the type of food we serve. This felt like the right time for it and we get to do what we love to do."
Christina has found that the cafe adds a spark for clients who are struggling with the impact of COVID-19. "There's so much anxiety and depression," she notes. "The stressors are just off the charts right now. We always wanted True Self to be a sanctuary for people to replenish, renew and renourish themselves. What you're putting in your body goes along with that."
Vajra agrees. "The cafe helps us offer a more holistic experience," he says. "We can encourage people to get a fresh juice after class, to take care of themselves and get something good to eat, which is another element of healthy living."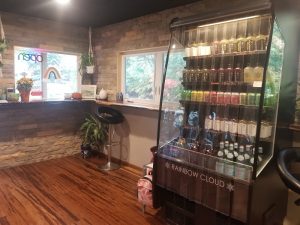 As 2020 winds to a close, the entrepreneurial partners are looking forward to a post-pandemic future that includes catered events. In the past year, True Self expanded its capacity to accommodate students by adding an outdoor deck area for yoga. "It's a large platform where we can host weddings and parties where Rainbow Cloud could cater the food," says Vajra. "I think that's a big possibility once things get back to normal."
That's a vision Leland shares. "I definitely see big events going on in the future," he says. "I hope that by next spring we can add more outdoor seating. This is a community space, and we want people to come and play music and perform."
Learn more by visiting the True Self Yoga website or calling 360-830-6556. For more information about food offerings, visit the Rainbow Cloud Cafe website or call 360-515-0451.
Sponsored