Winter is a special time to hike. Forests transform their vegetation in a way that brings a whole new world for the hiker to experience. Whether you are seeking a hefty hike up a hill, an educational hike with school age children, or something in between, the Olympia area has a wide variety of winter hikes to offer. Whatever the matrix of your needs and wants, there is a hike or walk nearby. And, wherever you ultimately choose, bring your hiking boots, binoculars, camera and a snack.
Winter Hikes Near Olympia for Taking Time with Nature
For a low-key, peaceful hike through the woods, along the water and amongst birdsong, Billy Frank Jr. Nisqually National Wildlife Refuge might be just the trip. Though the dog has to stay home for this one, as well as the trail running shoes, strollers and wheelchairs can access the boardwalks and paths. The refuge is a nature saturating experience. The Twin Barns Loop is one mile long, and the Estuary Boardwalk continues another mile and a half beyond the barns. Trail surfaces include wooden walkways and gravel. Some are under tree cover and some are out in the open. The refuge is just north of Olympia and Lacey. Take exit 114 from I-5 North and turn left to pass back under the freeway, and you will find the entrance gate. The Discover Pass will not work here. There is a $3 fee.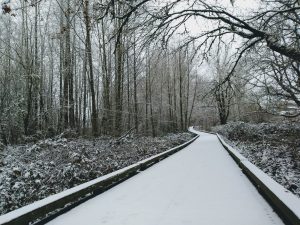 Another stroll with shoreline and wildlife is through Woodard Bay Natural Resources Conservation Area, just 15 minutes north of Olympia. By the time you hike your way out the winding Whitham Road, you will have already covered nearly a mile. Off of the forested road, a 1.5-mile spur loop heads around through dense forest and connects back later. Be sure to check for seasonal closures on this narrower trail. At the end of Whitham, on the small peninsula of Weyer Point, Woodard Bay will be on your right and Chapman Bay will be on your left. Small paths lead to each shoreline, interpretive information is posted and there is a restroom facility. Woodard Bay NRCA is not open to dogs or bicycles. To get there, take Boston Harbor Road to Woodard Bay Road, and the parking area is on your left just before the bridge.
Winter Hikes Near Olympia for Bringing the Kids and Dogs
Olympia's Watershed Park is not far from the Capitol Campus. Without having to drive out of town, visitors can take the kids and dogs to this 153-acre temperate rain forest. Located just southeast of Interstate 5 and straddling Henderson Boulevard, the park offers a 1.36-mile loop with trailheads starting from five different locations. Trails are gravel, dirt or mulch, and wooden bridges cross Moxile Creek that runs through the forest. There are plenty of twists and turns, up-hills and down and would be a great place to try out the new hiking boots or trail runners. It's just enough trekking exercise for the ambitious hiker who's determined to stay in the city limits one weekend. For those with small children, pets or who would rather take a mild hike close to home, it is a good choice. Parking is sparse in a narrow stretch along Henderson Boulevard, and other trailheads begin in neighborhoods. There is a portable toilet at the car parking area.
Tolmie State Park is another good choice for keeping up conditioning during the winter while not having to venture too far from the Olympia area. The 154-acre park offers 3 miles of trails. There are two different forest loops and two separate trails going toward the 1,800 feet of shoreline, one of which is a good, steep slope to the upper parking area. Trails meander through lush forest providing plentiful opportunities for viewing native species plants, trees and birds. A Discover Pass is required, and the park is open Wednesdays through Sunday from September 16 through April 17. The park is located at the northern end of Marvin Road at 7730 61st Ave NE.
Millersylvania State Park, just south of Tumwater near Maytown and Interstate 5, has just over 8 miles of trails. The main trail forms a perimeter ring around the entire park, which makes for a 3.8-mile hike by itself. Trails are dirt or gravel and are covered by a canopy of fir and cedar trees. There are a few places where the trail crosses Spruce Creek, and there is a portion dedicated as a fitness area. More trails crisscross the forest from Deep Lake out to the edges of the park. Parking is close to trails, and a Discover Pass is needed. The park is located at 12245 Tilley Road S.
If you are looking to get out and discover our parks for free, no Discover Pass is required at Washington State Parks on their scheduled free days: November 11 and 27, then again on January 1 and January 18.
As always, be prepared with good hiking shoes or boots. Sneakers are often no match for the occasional winter puddles or mud. A light rain jacket, a snack and some small trash bags for garbage or for Fido's needs are wise items to have as well. Leave no trace. Take only photographs. Leave only footprints.