From our first piggy bank to retirement‐geared IRA, financial management is an important skill to learn. Saving for a rainy day seems easy, but one poll shows that "The economy might be strong in the U.S., but nearly 70 percent of Americans have less than $1,000 stashed away [and]…45 percent have nothing saved." Savings are especially vital if medical issues arise. This is where a Health Savings Account (HSA) from Olympia Federal Savings is key.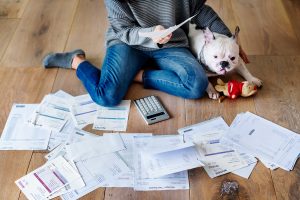 Healthcare.gov explains that an HSA is "A type of savings account that lets you set aside money on a pre‐ tax basis to pay for qualified medical expenses. By using untaxed dollars in a Health Savings Account to pay for deductibles, copayments, coinsurance, and some other expenses, you may be able to lower your overall health care costs."
HSAs commonly cover qualified out of pocket medical expense like doctors' visits, hospital bills, vision and dental services, prescription drug costs and overages not fully covered by insurance. (New glasses, anyone?) They're specifically designed for people with a high deductible—or catastrophic coverage—plan. The IRS provides a complete list of qualified medical expenses covered by HAS's.
Locally, OlyFed welcomes folks to reach out and learn more about their HSA options during fall open enrollment or any time of year. "Because of the rising costs of health care, many employers are opting to provide their employees with high deductible health plans because of their affordability with lower cost premiums," explains VP Marketing and Public Relations Manager Ryan Betz. "According to the Society for Human Resource Management, last year participation in high deductible health plans was up 11%. To help cover the costs of deductibles and out of pocket expenses, many employers are helping their staff by contributing to tax advantaged Health Savings Accounts. In fact, 63% of employers who offer high deductible health plans, contribute a pre‐determined amount to their employees' HSA."
OlyFed's HSA Specialist Sera Belt explains that "When you open an HSA with OlyFed there is no monthly service fee, no minimum balance, free online and mobile banking, free checks, and a free HSA dedicated debit card all to help you better manage your account. Even better, your account comes with the care, expertise and support of a personal banker who can help you get started with just a dollar."
And opening a new account is simple. "Anyone can open an HSA from our website," says Belt. "All you need is a valid ID, social security number and email address. There is a quick application to fill out, and if the account will be funded electronically, you will need to provide a bank account and routing number. We are also happy to schedule an in‐branch appointment if that is preferred. The entire process, either online or in‐person, is super easy and takes just about five minutes."
One common misconception is that HSAs are just for people with ongoing medical conditions. Anyone can benefit from having a few extra dollars set aside. Whether you've got kiddos playing sports or outdoor hobbies galore, accidents happen. "Since HSAs are designed to meet a diverse set of needs and circumstances for a variety of people, we see many families and individuals taking advantage of the account's many benefits," says Belt, "to ensure both they and their wallet stay healthy!"
Olympia Federal Savings has been a part of our community for more than 114 years. They strongly believe that, "With loans and deposits staying local, you can rest‐assured knowing your dollars are reinvested back into the community in which you work and live. This improves our local education
systems, social services and municipalities, which in turn help strengthen property values and our local quality‐of‐life."
Saving money isn't always glamorous, like oil changes and flossing, it's a healthy habit to maintain. Think of it as preventive maintenance for your finances. A recent study at the Bureau of Labor Statistics shows that "Americans spend an average of about $5,000 a year on out‐of‐pocket health care costs, including insurance, prescriptions and medical supplies…It's not surprising, then, that 45% of survey respondents say they feel worried or stressed when thinking about health care costs. A third report they have avoided going to the doctor and getting medical care due to the cost."
Having an HSA helps defray some of that worry by covering unexpected or out of pocket costs. We've got enough on our plate, don't pile on something extra to worry about. Give OlyFed a call at 360‐754‐ 3400 or visit the Olympia Federal Savings website to learn more and sign up today. Your long‐lost piggy bank would be so proud.
Sponsored