Beatrice Wilhelm, who goes by Bea, doesn't quite remember when she was diagnosed with scoliosis. She was young, around 5 years old, but she wasn't put in a brace right away. That didn't happen, she shares, until she was in the second grade. "My life did change," she continues. "I was braced and it was weird for me. It was a big change and challenge." She's met those challenges head on, and is now helping other girls like herself by starting an Olympia chapter of Curvy Girls.
Adolescent Idiopathic Scoliosis (AIS) is a medical condition in which a preteen/teen has a sideways curve in their spine. It usually appears during the growth spurt just before puberty, but like in Bea's case, it can happen earlier as well. In most cases, the cause of scoliosis is unknown. Treatment includes the wearing of a back brace as the child grows, to stop the spine curve from worsening. Sometimes, in severe cases, surgery is necessary to straighten the spine. Scoliosis progresses 10 times more frequently in girls than boys. Some girls have to wear a hard-plastic torso brace for up to 23 hours a day.
Remember your awkward pre-teen and teen years? Imagine adding to it a big, cumbersome back brace. No girl wants think about getting ready for a date or a shopping trip with friends, trying to hide an ugly back brace. It's not easy and it's not fun. It can affect body image, self esteem and confidence. Worrying about surgery and their health can also have negative impacts on their mental health.
It was for these reasons that Leah Stoltz started the International Curvy Girls Scoliosis Support Groups in 2006. She was 14 at the time. Her mission is simple: "I wanted to talk to other girls who were going through the same thing— feeling alone, different, angry about their brace, and worried about having to have surgery." Since then, Curvy Girls has grown to 90 chapters around the world.
Bea has been in a brace for 6 years now and still has a couple years to go. "I will have to wear a brace until I stop growing, unless I need surgery," she says. "So probably 1 or 2 more years." As Bea started to feel some of the challenges of scoliosis weighing on her, her mom learned about Curvy Girls. "My mom found out about Curvy Girls slightly after I started bracing," Bea continues. "I don't know where she found out about it but I'm glad she did. Ever since I went to my first meeting, I have wanted to start a group and my dad brought it up again and here I am now."
Currently, Bea's club has one member but she is hoping it will grow as she is sure there are other girls in the area that are dealing with the same things she is and would love support. "Curvy Girls brings girls together to raise awareness and support one another at monthly meetings, hospital visits, and brace-wear shopping trips," Bea explains. "Because teens with Scoliosis typically feel self-conscious about their appearance, and because they often have to wear a hard-plastic torso brace up to 23 hours a day, they tend to isolate and may experience depression. Peer-support groups provide an important opportunity to share concerns and information."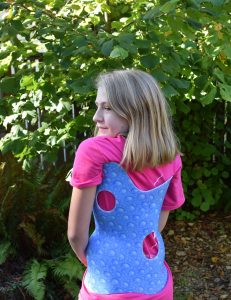 During the monthly meetings, the girls talk about whatever challenges they are facing, including any emotions they are dealing with pertaining to scoliosis. Bea says what happens at the meetings really is dictated by what the members are going through. And Bea is available outside those meetings too, whenever a girl needs someone to talk to. "People can always contact me whenever they want," she says.
The group is strictly girls only, no boys allowed. "We only allow girls in our groups because it allows girls to be more comfortable during discussion," Bea explains, "as well as the topics related to female-specific aspects of bracing."
If you are interested in joining Curvy Girls, you can contact Bea at Olympia@curvygirlsscoliosis.com and visit the International Curvy Girls Scoliosis Support Groups website for more information.