This summer, many traditional activities, festivals, get-togethers, sporting events, and camps have been canceled. But sunny weather finds everyone itching to be outside, so what's a restless family to do? Thanks to the Port of Olympia, families and loved ones were able to sit outside and enjoy old fashioned, drive-in Movies at the Marina.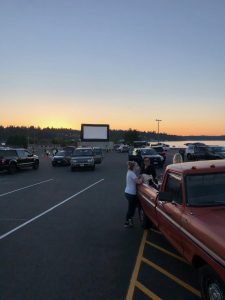 On Friday, August 14 and Thursday, August 27, Port staff arranged for free drive-in movies open to the public. Partnering with the City of Olympia, 95.3 KGY Radio, and Puget Sound Entertainment, the movies were held at the Swantown Marina Boat Launch parking lot (next to Anthony's Hearthfire Grill and the KGY FM radio station). The drive-in movies "were designed to reflect current public health and safety measures in response to COVID-19, and fully complies with Governor Inslee's Safe Start Phased Reopening Plan Phase II guidance for drive-in theaters," said Communications, Marketing & Outreach Manager Jennie Foglia-Jones.
Port Executive Director Sam Gibboney agreed. "We were excited to bring the community opportunities to safely recreate with their families," said Gibboney. And with families in mind, they decided to show the rollicking animated feature Trolls on August 14 and original dino-filled Jurassic Park on August 27.
A special thank you to all Movies at the Marina community sponsors whose support allows the Port to offer this free community program: City of Olympia, Olympia's KGY 95.3, Puget Sound Entertainment, Batdorf & Bronson, and The Washington Center for the Performing Arts.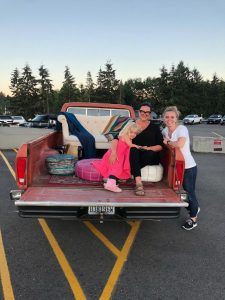 Gates opened at 7:00 p.m. each night and cars were required to be on-site by 8:15 p.m. before a 9:00 p.m. showtime. No walk-up or water-viewing attendance was available at the initial offerings. There was a pre-show trivia contest, and concessions and refreshments thanks to Batdorf & Bronson coffee and the Washington Center for the Performing Arts. An online reservation and sign-up were mandatory to attend the drive-in movies. Both showings filled up within a day, but the Port hopes to use this as a dry-run (weather permitting), for more shows in the future.
With all the fun happening at the event, it was tempting to mingle, wander under the stars, and enjoy a cool night on the waterfront. But organization guidelines were firm. "This is a unique year for events," said Foglia-Jones. "The Port of Olympia is committed to remaining nimble and was ready to quickly make adjustments as necessary if further guidance was provided by State and County health officials as it related to drive-ins. At the time of these showings, the requirement was that moviegoers remained in their vehicle unless needing to access the restroom or concessions, and if/when they did leave their vehicle, the guidance required that a mask be worn. Everyone was respectful and followed the guidance."
Future shows and RSVP information will be posted first on the Port of Olympia's website, Facebook, Instagram, and Twitter feeds.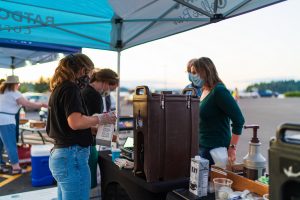 Summer 2020 didn't always feel terribly summery, despite the warm weather and longer days. Gone were the block parties and pick-up baseball games, sleepaway camp, and theme park expeditions. Doctors at the Mayo Clinic sympathize. "The COVID-19 pandemic doesn't have to halt all of your summertime fun…Despite the changes caused by the COVID-19 pandemic, there's still plenty of fun to be had. In fact, seeking out fun activities may be even more important now. Doing something you enjoy can distract you from problems and help you cope with life's challenges."
They suggest that participation may be an option. "When activities are near where you live and allow plenty of space between you and others; outdoor activities pose a lower risk of spread of the COVID-19 virus than indoor activities do." This is because "When you're outside, fresh air is constantly moving, dispersing these droplets. So, you're less likely to breathe in enough of the respiratory droplets containing the virus that causes COVID-19 to become infected. Being outside offers other benefits, too. It offers an emotional boost and can help you feel less tense, stressed, angry, or depressed."
Drive-in movies are in the top five low-risk activities recommended by doctors at the Mayo Clinic, and the Port of Olympia was happy to provide an activity to enjoy a little time on the water…from the safety of your car.
Until community activities involve, well, the community again, live vicariously through the Port's bustling seaport, with global ship arrivals nearly every week. Or walk around Port Plaza and Swantown Marina to enjoy the sunshine, fresh air, and the feeling of being outside in our magnificent Pacific Northwest. On weekends, the Olympia Farmer's Market in the Port's Market District is the perfect place to load up on a week's worth of fruit, veggies, meat, and bread. Trust me, after months of contactless delivery your stomach will thank you!
We're all repurposing time and materials into new ways of staying busy, sane, and entertained. Keep your fingers crossed for more Movies at the Marina, thanks to the Port of Olympia. Where boats, cars, togetherness, and social distancing meet for snacks and some classic cinema.
Sponsored