Pumpkin spice. Whether you love it or hate, it's signals the start of the fall season and all things pumpkin. For many of us, it's not fall until we've made our traditional visit to a local pumpkin patch in Olympia. This year, things may be a bit different due to COVID-19, but thankfully farmers are still allowed to be open so we can continue our traditions. Here is the list of 2020 pumpkin patches and corn mazes in Olympia and throughout Thurston County. Be sure to read for COVID-19 specific changes to your favorite patch!
Rutledge Corn Maze and Pumpkin Patch
September 24 – October 30, 2019
302 93rd Ave SE, Olympia
Sunday – Thursday: 10:00 a.m. – 6:00 p.m. (last ticket sold at 5:00 p.m.)
Friday – Saturday: 10:00 a.m. – 12:00 a.m. (last ticket sold at 10:30 p.m.)
The Rutledge Corn Maze is, for many Thurston County families, the pinnacle of the season. From their rows and rows of pumpkins to their intricately planned mazes, the whole family will have a ton of fun at this family farm.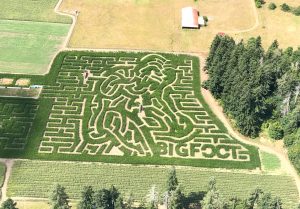 Aside from corn mazes and pumpkins, there is plenty of other things to see, do and taste at the Rutledge Corn Maze. This year they will have wagon rides, their cow train—a kid favorite!—corn cannons and some other games. For those of you brave of heart, check out their haunted corn maze. They also have private fire pit rentals so you can have a family gathering around a fire pit, just add s'mores!
Important COVID-19 changes: To ensure enough space for social distancing, all tickets will be sold for an allocated time. All tickets need to be purchased on the Rutledge Corn Maze website. They have extra help to disinfect everything and all guests are required to wear facemasks. Unfortunately, they cannot have zombie paintball per governor's mandates. The selling of food is also being limited by mandates, but they will have some fall goodies for you, don't worry!
For more information visit the Rutledge Corn Maze website or follow them on Facebook.
Schilter Family Farm
September 26 – October 31
141 Nisqually Cutoff Road SE, Olympia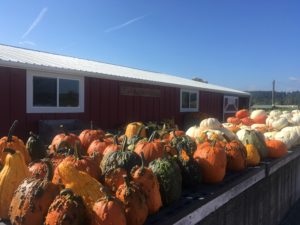 The Schilter Family Farm is a pumpkin patch in Olympia that is filled to the brim with family fun. Their corn maze theme for this year is "Schilter Sunny Days Maze" and it's a lovely sunflower pattern! Follow the five-acre corn maze and complete the trivia game to learn all about sunflowers. Don't forget to pick out your perfect pumpkin at the largest u-pick pumpkin patch in the Sound South. They have many different types including pie pumpkins and small pumpkins that are perfect for painting. They also have several varieties of gourds and winter squash.
New this year, they are offering private firepit rentals inside a "corn room." Bring your family and have a nice gathering after picking your pumpkin. Continuing this year are wagon and cow train rides, animal viewing (no petting per state mandate), pumpkin cannons, hay maze, trike trek and outdoor play areas. On the weekends, an outside vendor will be offering pony rides as well.
When you get hungry, you can head to the Tasty Treats Barn, open on the weekends only. Per regulations they are limited on what they can offer this year, but they will have your fall favorites including roasted corn, kettle corn, caramel apples, cider donuts, fudge, hot cocoa, and hot spiced cider. Hot foods other than roasted corn will not be served. No outside food is allowed for the safety of all farm guests unless reserving a private fire pit room. End your trip with a visit to the gift store to get the rest of your fall decorating needs.
Important COVID-19 changes: They are limited to 50 percent capacity. Order your tickets in advanced on the Schilter Family Farm website. Once they reach their daily limit, they will not be able to admit anyone else for farm activities. Tickets are on sale now for specific dates. Wait times to enter the farm and participate in activities might be longer than normal due to sanitation schedules and social distancing. They will be doing daily health screenings, sanitization of all "touch" surfaces including sanitizing the wagon every time it reloads. Guests are required to wear face coverings when indoors, interacting with staff and when maintaining social distancing is not possible. Please stay home if you have any symptoms of COVID-19.
For more information, visit the Schilter Family Farm website or follow them on Facebook.
Hunter Family Farm
October 2 – October 31, 2019
7401 Yelm Hwy SE, Olympia
Thursdays – Fridays: 12:00 p.m. to 6:00 p.m.
Saturdays – Sundays 9:00 a.m. to 6:00 p.m.
The Hunter Family Farm in Olympia will open its pumpkin patch the first Friday of October. Enjoy the giant corn maze, junior corn maze, hay maze, kiddie train, kiddie quad ride and animals to view (no petting due to state mandate). On the weekends you can enjoy all of these fun activities as well as wagon rides, pony rides and the European giant super slide. The pony rides and slide have an additional fee. Food trucks will be there on the weekends to provide tasty treats starting October 10.
In their pumpkin patch you can search for the perfect pumpkin, in an assortment of sizes and shapes, as well as gourds and squash. They also have corn for decorating, carving kits and other Halloween décor for purchase.
Important COVID-19 changes: Purchase your tickets online at the Hunter Family Farm website. Number of guests allowed on the farm will be restricted. Facemasks are required, as is social distancing and the use of hand sanitizer at each activity. There will also be hand washing stations. Contactless credit card machines will be used for all transactions on the farm. They encourage you to use cards instead of cash. The Holiday Shop is now inside the bigger barn to allow for social distancing.
For more information visit the Hunter Family Farm website or follow them on Facebook.
Pigman's Pumpkin Patch
October 1-31
Monday – Saturday: 10:00 a.m. – 6:00 pm.
Sunday: 1:00 p.m. – 5:00 p.m.
10633 Steilacoom Road SE, Olympia
Pigman's Pumpkin Patch is the oldest pumpkin patch in the Nisqually Valley, celebrating its 29th year this year! Come here if you are looking for a variety of pumpkin sizes, including pumpkins that weigh several hundred pounds. They also have gourds, beets, corn, onions, peppers, potatoes, winter squashes and corn stalks ready to compete your fall table, both with food and décor. Parking and admission to the patch at both for free.
Important COVID-19 changes: There will be no food served. They will be following state mandates (subject to change), but currently masks are required as well as social distancing.
For more information, visit the Pigman's Pumpkin Patch website.