We've all been through a lot lately. And now, as the seasons change and routines are re-established, it's common to feel a little run-down. Humans are a complex, interconnected being and if one aspect struggles, the whole system suffers. If you want to know more about a unique way to refresh and recharge, consider a visit to Rejuvenate IV Hydration & Wellness Center in Olympia.
At Rejuvenate, owner Stacy McIntyre and her team provide IV hydration and Ketamine treatments designed to address a variety of needs. "Vital hydration is an essential part of your wellness, yet many people don't drink enough water to stay properly hydrated," says Stacy. "In fact, an estimated 75 percent of Americans are chronically dehydrated which can lead to complications with digestion, waste removal, and detoxification of the liver and kidneys."
But treatment covers more than simply water. "Aside from aiding in hydration, our services at Rejuvenate Olympia can help boost your energy and help you feel better overall," Stacy explains. "All of the fluids, electrolytes, vitamins and antioxidants bypass the digestive system which allows 100 percent bioavailability. Our IV hydration blends deliver vitamins and minerals to your bloodstream allowing your body to quickly absorb essential nutrients for fast results and longer-lasting energy."
Keeping your body in balance is important. Nurse clinicians report that "When water is lost, IV solutions restore fluid balance…when fluid is lost for any reason, electrolytes become imbalanced, body systems are stressed, and cognitive function in the brain is impaired. Blood becomes concentrated, signaling the kidneys to retain water. As a result, urine output is decreased. When blood is 'thicker,' the heart has to work harder, causing the pulse to increase in order to maintain blood pressure. All of these compensatory actions by the body put an already-compromised patient at risk."
Beyond water, our bodies require a specific combination of vitamins and minerals. Doctors explain that "A deficiency often happens slowly over time and can be caused by a number of reasons. An increased need for the mineral, lack of the mineral in the diet, or difficulty absorbing the mineral from food are some of the more common reasons. Mineral deficiencies can lead to a variety of health problems, such as weak bones, fatigue, or a decreased immune system."
Visiting Rejuvenate Wellness Center
Before your initial visit to the Rejuvenate Wellness Center, Stacy and her staff are happy to chat about the best course of treatment. Typically, questions come from patients who have had IV Hydration before or researched it, says Stacy. "If they don't know, we can talk about what they are experiencing and what results they are looking for to decide what is best for them."
During this time, staff will ask for a medical history, list of current medications, and other background paperwork. If necessary—though seldom required unless the client is undergoing cancer treatment or pregnant—Stacy will reach out to a client's primary care physician. "We feel it is very important to manage people's health safely and effectively with good communication when under another provider care."
On-site, IV's are facilitated by nurses who've reached the level of Registered Nurse or higher in a spa-like atmosphere. There are a variety of IV drips available as well as booster shots and ketamine therapy for patients suffering from treatment-resistant depression (TRD), post-traumatic stress disorder (PTSD), anxiety, and suicidality.
Patients can even sign up for Rejuvenate's Drip Club, which offers monthly discounts to repeat subscribers. Or, if your schedule is too hectic for regular treatment, ask about their buy-five-get-the-sixth-free card.
Whatever your need, Stacy is happy to discuss options. A master's prepared, certified registered nurse anesthetist, Stacy worked as a military medic and spent more than 25 years in the service. She grew up in Puyallup but settled in the Olympia area in 2012 after her husband was also discharged from the military. When not working, she and her husband love to RV and visit their adult children or spend time outdoors on their hobby farm.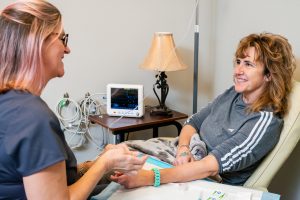 It's hard to comprehend how many benefits come from just staying fully hydrated. Regarding water alone, Harvard doctors explain that "Drinking enough water each day is crucial for many reasons: to regulate body temperature, keep joints lubricated, prevent infections, deliver nutrients to cells, and keep organs functioning properly. Being well-hydrated also improves sleep quality, cognition, and mood."
So top up your glass (yes, again) and give Stacy a call to discuss all the unique services Rejuvenate has to offer. Want to know more? Read through the many Love Note testimonials on Rejuvenate's website or Facebook page or Stacy's informative blog. Then contact the clinic by calling 360-489-1558 or through an online inquiry. Hours are by appointment only but can accommodate many schedules and calendars
Sponsored