The long, quarantined weeks of spring and summer of 2020 have kept us dining, shopping and staying local. Sticking close to home is safer for our family, friends, and community during the COVID-19 outbreak, but that doesn't mean we have to rely on fast food deliveries or our dubious home cooking skills. At Olympia's The Park Side Cafe, locally sourced ingredients are turned into delicious drinks, meals, treats and snacks you can enjoy anywhere.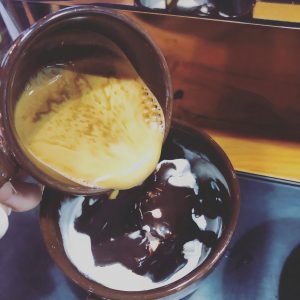 Doctors and economists alike have long shown that eating locally grown food benefits everyone. Reports show how "When you purchase local produce, you're supporting local families, which is good for business, the environment, and your health. Eating locally means you'll be eating seasonally. You can count on a host of health benefits, including fresher food, richer nutrients, less processing, and fitting more fruits and veggies into your diet."
At The Park Side Cafe, owner Alicia Elliott and her staff have a passion for fresh, organic and sustainable produce, coffee and ingredients. "Our top priority is to source the best local and organic ingredients for our original recipes," says Elliott. "Nearby farms such as Wobbly Cart Farm and Calliope Farm are the major source of all of our locally grown produce."
Shop Managers Victoria Kantargis and Kelly Green agree. Both have been with the Cafe since before it opened one year ago and are proud of its deliciously high standards. Kantargis and Green explain that to be selected as a supplier, vendors "must have organic products and obviously be 100 percent plant based!"
Once veggies arrive, the team "loves to craft seasonal specials," say Kantargis and Green. "We have a more limited menu right now with our takeout-only style but we are still rotating regularly with items based on seasonal availability. Besides our main food items, we like to play around with seasonal hot sauces. Last year we made one featuring Aji Crystal hot peppers from Newaukum Valley Farm in Chehalis. We may bring that one back this year along with a limited Golden Plum Habanero Hot Sauce."
Other seasonal specials include a fan-favorite summer squash lasagna. "Lasagna is a big favorite that uses local squash and other veggies," they explain. "Summer squash grows so well in our climate and the local farms have it for a long season each year. It's so fresh! We also have a summer squash quinoa salad with dill and lemon that is super refreshing and fulfilling at the same time. Perfect Olympia summer food. We are always experimenting and trying new things and crafting new specials. Our baristas are really amazing at designing specialty beverages that switch out regularly as well. You can always find something new when you come!"
Want something sweet instead? Swing by for a slice of chocolate peanut butter pie or coconut cream pie. Feeling fruity? They have filled hand pies in a variety of Northwest flavors. Both go exceedingly well with a cup of local Covabrelli coffee. "Right now we are spotlighting their wonderful Black Hills Roast, a medium dark roast for espresso with a brown sugar and a baker's cocoa profile," says Elliott. "Covabrelli is committed to promoting sustainability at every level of their company. Their coffee comes from a cooperative within one of the four major growing regions (Africa, South America, Central America, and Indonesia) that are certified organic. We also offer drip coffee and espresso drinks with our Covabrelli roasted beans and our cold brew from local cold brewer Claddagh."
Of course Washington State's Safe Start restrictions mean changes in day-to-day operations. But that's not slowing The Park Side Cafe team down. "Not only is The Park Side Cafe committed to offering local and organic food to the community, we offer no contact online ordering, curb side pick-up, and a pick up window on the Harrison sidewalk," says Elliott. "We now also offer rotating family take home specials such as lasagna, fresh salad, and organic wine, or a pack of pepperoni pizza hand pies to take and bake with a six pack of organic beer or kombucha."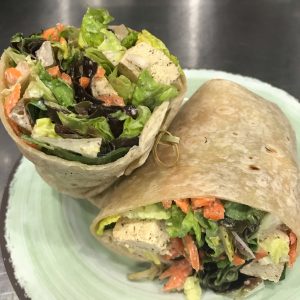 These family meals may soon include dessert too and are available to purchase via the shop's online menu. Entrées will be crafted depending on seasonal produce and they always use the highest level of safety and cleanliness. "The Park Side Cafe is also committed every day to keeping our employees and customers safe and protected from COVID," stresses Elliott. "Not only do our kitchen staff wear gloves and masks at all times, but our baristas wear masks as well and customers at the pick-up window are required to wear masks also. We provide online ordering and curbside pick-up for those who cannot wear a mask, and we also have masks for anyone who needs one at our pick up window. All surfaces are cleaned carefully each and every day."
Want to know more? Visit The Park Side Cafe website, Facebook or Instagram, for online ordering, rotating specials, and drool-worthy photos of their delicious offerings. Staying local has never tasted so good.
Sponsored