On the Westside, at the corner of Harrison and Division, a mesmerizing transformation is taking place. Carefully planned construction and renovation is culminating in a small commercial area that feels like something out of the Victorian Era. The mastermind behind it all is Alicia Elliot and her team.
Alicia explains how it all began, "I started with the park in 2012. I didn't really think about the rest of the block when I started that project; I was mostly absorbed in getting the park up and running. I began thinking about the other buildings on the block, and they were largely disheveled rentals or single-family homes that were starting to fall into disrepair. The two oldest are right next to each other on Cushing Street: the Marie Bed & Breakfast built in 1892 and the John and Elise Woods House next door, built in 1900. I realized the park wouldn't succeed with a blighted condition around it, and neither would the businesses do well if the park got run down. The whole block is now a partnership known as the West Central Park Neighborhood Center."
Alicia has since passed the reigns of West Central Park Project to concentrate on developing the businesses around it.
"I inherited money when my mother passed away," says Alicia, "and I decided to buy these properties and make it a neighborhood center around the park. I acquired these in 2015 and 2016."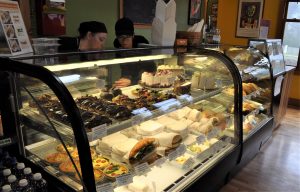 The Pastry Cafe, which celebrated its two-year anniversary on Halloween, was the first. With a Phoebe's Pastry Cafe already bursting at the seams on the Westside, Phoebe kept a close eye on the activity near Westside Park.
"I noticed things were happening there," explains owner Phoebe Martinson. "I had outgrown my original building and needed another kitchen. My theory is that competition is really healthy, but if there is another bakery on the Westside, I might as well compete with myself. And it increases my visibility."
It took two years to complete the location that is now Phoebe's Pastry Café on Division.
"It's always a challenge to take a residential property and turn it into a commercial kitchen," says Phoebe.
But what really drew Phoebe to the project was Alicia.
"Alicia's vision is so strong," adds Phoebe. "Alicia was all about getting around the urban blight, to do something nice for the neighborhood and the community. She has worked generously and tirelessly with the community to make this a really special place. That's why I have so much respect for her. She doesn't want to own a bunch of businesses and be stressed out. It is a vison of hers and a gift to the community."
The next business to come online was the Marie Bed & Breakfast. The oldest building on the block, the McIntyre House, was built in 1892. Alicia turned it into a bed and breakfast and named it after the woman from whom she bought the house.
"Leanne Kirkwood dearly wanted to turn it into a bed and breakfast," recalls Alicia, "but never had financial means to make it happen. Marie is Leanne's middle name and I named the business after her to bring her vision to life."
Faithfully rejuvenating a house from the Victorian Era must be done thoughtfully.
"It took a lot more time in the planning process," says Alicia. "When we were building, there was stuff everywhere, light fixtures, lock sets, and hardware. You could not see the final picture until it all came together and we were blown away."
Contractor Chris Ruef of Altis Construction LLC explains the complexities of the project. "The main house only has two bedrooms, they needed two more rooms to make the place viable. We added two 320-square-foot cottages. Then there was a lot of effort put into saving the old trees on the property, like the big oak. I don't know how many weeks went into saving that. The tree had grown into the alleyway. Alicia had to purchase an easement from the neighbors, do a boundary line adjustment, and move the whole alley to make it work."
Open since July, the Marie is managed by Jacci Butler and chef James Simmons.
Jacci highlights some of the community events hosted at the Marie. "We are part of the Holiday Tour of Historic Homes on December 2. December 12 will be our winter open house with Victorian carolers and hot cider from 6:00 p.m. to 8:00 p.m."
Quarterly open houses are planned to create opportunity for the community to come and experience the history without having to pay.
"The fall open house featured the property's old fruiting trees and vines," says Jacci. "We had an old-fashioned fruit press and we harvested grapes from our 100-year-old vines, and pears and apples, and made juice. The vision was eating local and sharing with the community."
Up Next: Park Side Café
Construction on Park Side Café began in March. The goal is to make it look like a Victorian commercial space. And it is already an eye-catching building.
"It's the most elaborate siding job I have ever done," says Chris. "The siding is from Vancouver Island. They go into major logging operations and find all the smaller pieces left over and make it into lumber so it's more environmentally friendly. We had it custom milled to match the existing buildings."
Alicia's architect, Jeff Snyder, tried to save what he could from the pharmacy that was on the property.
"Jeff Snyder is a fabulous part of the team, he is everything I'm not. He is careful and meticulous. The building that was there before was cheaply made cinderblock, plywood, and glass. I don't want to tear down buildings, but if they are useless, poorly situated on the property… I begged my architect to let me tear it down."
The new building will have rooftop seating, which on a clear day has views of Mount Rainier and the Capitol Rotunda.  A dumbwaiter will assist service between the ground floor café and the rooftop. The second floor will be retail space with a kitchen store in the works.
The managers of Parkside Café are Kelly Green and Victoria Kantargis, who are invested in creating a thoughtful dining experience.
"It's going to be all organic," explains Victoria, "we are going to use local farms: Calliope Farm, Wobbly Cart Farm and Newaukum Valley Farm to start and Covabrelli Coffee roasting from Tumwater. The menu will be all plant based. It's going to be really good food. We will serve breakfast and lunch deli style, and maybe eventually we'll do dinner. We will also be sharing our kitchen with three food trucks that will be on-site."
In addition to environmentally friendly fare, there will be a similar approach to garbage.
"We are trying to be as eco-friendly as possible," says Kelly. "We won't have any garbage cans in the dining area. We're trying to reduce as much waste as possible by composting and recycling. To-go supplies will all be compostable."
The interior will have reclaimed wood countertops and flooring. Fixtures and accessories will be local or USA-made products that are artistic.
There will be a sneak peak event at the Café on December 21 from 6:00 p.m. to midnight. The event is a fundraiser for the West Central Park Project. Admission is $80 which includes two cocktails, endless appetizers, three live bands, and a silent auction. Tickets to the event are on sale at Phoebe's on Division, Vic's Pizzeria West, and at the Olympia Farmer's Market.
Park Side Café is expected to open around January. Employment opportunities are listed on their web page.