For recent South Puget Sound Community College graduate, Crystal Hearitige, the Counseling Services Office at SPSCC had a profound impact on her college education. From her first year at SPSCC, Hearitige connected to Counseling Services, both as a student seeking out resources and as a member of student leadership, helping to advocate for mental health awareness across campus. Through her involvement in Counseling Services, Hearitige says she was able to find a newfound confidence, that helped her to graduate with an Associate in Arts degree from SPSCC.
"Counseling Services greatly improved my life as a college student," says Hearitige. "I went through a lot of changes during my two years at SPSCC. I learned more about myself and relearned who I was as an individual. Without being introduced to the counseling center, I am not 100 percent sure I would have accomplished earning my AA, let alone graduating with highest honors and learning a whole new confidence I never knew I had hiding inside."
For all current students at SPSCC, Counseling Services provides multiple mental health and well-being options, including individual counseling and support groups, to help students navigate their education and challenging life situations. Whether experiencing issues with motivation, academic stress, depression or anxiety, Counseling Services at SPSCC can help.
SPSCC Counseling Services is equipped with two licensed mental health therapists, Ross Artwohl, M.S.W., LICSW and Sally Sharbaugh, M.C., L.M.H.C., both of whom conduct professional counseling sessions to students in a confidential setting. Although there are many different reasons students may seek out counseling, Artwohl says, depression, anxiety and relationship troubles are the leading concerns for students who visit Counseling Services at SPSCC.
Students can take advantage of 8-10 full-length therapy sessions throughout the academic year. Walk-in sessions are available on a drop-in basis and usually serve as an introduction to SPSCC mental health resources. Subsequent sessions last 50-minutes and allow the student and counselor to talk more in-depth about issues or concerns that may affect a student's personal or educational pursuits.
"For students, they're getting the same level of professional care as if they were seeking out a private therapist in the community," says Sharbaugh.
Due to the ongoing COVID-19 pandemic, all counseling sessions at SPSCC are currently offered remotely, via video chat. Sharbaugh says that because in-person counseling occurs behind a closed door in a small office, the safest option, for the time being, is to continue teletherapy services.
As a supplement to individual counseling sessions, SPSCC Counseling Services also hosts a remote support group every Friday to help students affected by the COVID-19 pandemic. In addition, a virtual mindfulness practice, takes place every Monday. A collaboration between SPSCC Counseling Services and the Office of Student Life, the weekly mindfulness practice, also known as Mindfulness Monday, teaches students to implement several guided breathing, concentration and meditation practices, to remain connected to the present moment.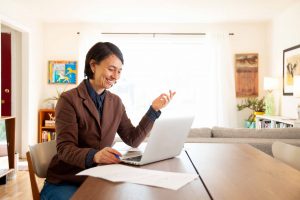 Hearitige was first introduced to SPSCC Counseling Services through attending a Mindfulness Monday session. Hearitage says the weekly mindfulness sessions were a perfect start to her school week and served as an introduction to additional counseling center resources.
"It felt great to kick-start the week by taking time to breathe and slow down," explains Hearitige. "Which for anyone who knows me personally, realizes how difficult that is for me. I have always been an on-the-go person."
Through her continued attendance at Mindfulness Monday, Hearitige became more acquainted with the resources available through Counseling Services. Eventually, Hearitige began individual counseling through SPSCC, while recovering from a breakup. Hearitige says counseling helped to process complex emotions that were interfering with her school work and everyday life.
"I was feeling more distracted, old hurts were popping back into my mind and I was feeling close to a breaking point," explains Hearitige. "After the first session, I realized that talking things out with someone other than friends and family was what I really needed to help my mental health. So, visiting the counseling center and being able to work through some things was probably one of the most worthwhile choices I made as a student at SPSCC."
After participating in multiple activities offered through SPSCC Counseling Services during her first year of college, Hearitige became involved with the SPSCC chapter of Active Minds, working alongside SPSCC Counselors Artwohl and Sharbaugh to encourage student well-being. A national student-led mental health promotion group, Active Minds helps to reduce stigma surrounding mental health and promotes awareness around mental illness through on-campus programming and displays.
"Last year, we did a flag display," says Artwohl. "We put roughly 1,600 flags in the center of campus with some educational posters around the edge. That represents the number of students at SPSCC that we would estimate are clinically depressed. About 20 percent of community college students are clinically depressed at any one time."
In addition to Active Minds, Hearitige also joined the SPSCC Campus Activities Board, where she worked to solidify the partnership between SPSCC Counseling Services and Student Life. As a member of the Campus Activities Board, Hearitige has helped to promote and facilitate both the weekly online support group and Mindfulness Monday practice, offered by Counseling Services.
Now a graduate of SPSCC, Hearitige plans to transfer to The Evergreen State College, and continue her work in the mental health field by pursuing a bachelor's degree in psychology. Eventually, Hearitige's end goal is to earn a doctorate in clinical psychology and work as a counselor within the prison system.
Reflecting on her time at SPSCC, Hearitige encourages students who are struggling, to prioritize their mental health and to seek professional help. With a variety of group and individual resources available, Hearitige says that Counseling Services offers multiple opportunities for student growth and well-being.
"SPSCC offers such great opportunities to get help, or even just support with everyday life," explains Hearitige. "The most difficult step is opening up that door and saying 'yeah, I could honestly use some help right now.' I promise that you will be met with zero judgement and a warm caring face. SPSCC has a wonderful counseling center and many opportunities around campus to excel and grow as a student, that are completely free and available to all."
To learn more about SPSCC Counseling Services, or to schedule a virtual therapy appointment (for currently enrolled students), visit the South Puget Sound Community College website.
Sponsored