After a spring banished to their homes, our kids are ready to get outside. Summer's arrival is different than before since the school year fizzled before St. Patrick's Day. Whether they'll admit it or not, many kids miss the challenges and togetherness of a classroom. So book their slot at Olympia's Wa-Ya Outdoor School summer camp and let them run wild and free while learning about our gorgeous region.
The Wa-Ya Outdoor Institute was named by co-founder Rosalinda Turk. A member of the Cherokee Nation, she explains that Wa-Ya means wolf and is the name of her family's clan. The program started in 2016 and offers summer programming to students in grades Kindergarten through 12. "At Wa-Ya, our program integrates indigenous beliefs and practices with STEAM education and outdoor adventure," says Turk. "For example, during our marine biology session, children have the opportunity to travel the Puget Sound in kayaks, while learning about marine biodiversity, climate change, conservation and restoration. They learn how to design and engineer plankton nets, complete biodiversity sampling using quads, collect marine organisms and identify them by their common name, binomial name, and native name, all while have fun!"
"Most importantly though," continues Turk, "We teach from an indigenous lens, which includes native environmental observations, conservation, storytelling, art, songs and dances. Learning about science through an indigenous lens gives children a new perspective not offered in traditional education, increases their overall respect for the environment, builds environmental connections, and arms them with the knowledge and skills to fight for critical environmental changes."
Their summer camps run in one-week intervals for 10 total weeks. The daily schedule goes from 9:00 a.m. until 3:30 p.m. with before- and after-care options which start at 7:30 a.m. and run until 5:30 p.m. They've made several crucial COVID-19 policy changes including smaller group sizes, more on-site time, decreased interpersonal contact and increased health monitoring.
More than just hikes, Wa-Ya camps connect the youth to the outdoor environment says Turk. "Youth will collect and identify various organisms, and learn how they play a crucial part in our ecosystem," she continues. "They gain introductory study methods, field experiment design, and learn to recognize local species and habitats. In addition, they learn survival skills such as bushcraft and firecraft; tracking; hunting; fishing; shelter-building; navigation by a natural means; plant science identification; edibles; how to make medicinal salves and more.  We experience and learn science, adventure, sense of place and community in the ocean, river, mountain, and forest all in collaborative small group environments. We learn to rely on our natural surroundings. We learn to trust our knowledge and abilities. We build trust in our communities to develop a sense a sense of place that will not be lost."
Groups are broken down into a 6- to 10-years-old, 11- to 15-years-old, and high-school age brackets. New this year is the Kayak Adventures overnight camp. During this week, students will learn kayaking techniques, safety and navigation. After two days of instruction, they'll set out on a three-day, two-night exploration of waters surrounding the Squaxin Island Tribe and nights camping at Hope Island State Park.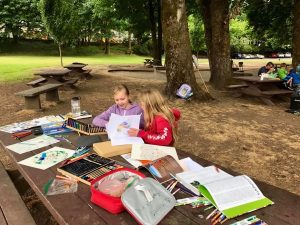 Also available this year are Survival 1 and 2, which teach plant foraging and identification, fly fishing, archery and animal tracking. Geo Adventures to study Thurston County's unique geologic terrain. Marine Encounters look at tide pools and marine habitats while River Keepers teaches about inland watersheds. Can't decide? Opt for the Best of Wa-Ya try a little of everything on land, sea and river.
Wa-Ya's all-woman board of directors has two enrolled Native American members. They embrace diversity and each child's amazing uniqueness. "All children and families deserve to be full members of their communities," says Turk, "to have the opportunity for development and learning, and to experience a sense of belonging. Wa-Ya supports inclusion by providing embracing inclusive participation in our programs, and offering support to our staff through education and training. Our mission is to provide all youth regardless of income an opportunity to learn about outdoor science, connect with nature and experience life in the outdoors. Wa-Ya's teachings of outdoor survival, science, and adventure is intertwined with indigenous beliefs and respect for the environment."
Find more information about camps or their program outlook at the WaYa Outdoor School website. Their Parent Portal provides downloadable policy documents, release forms and answers to frequently asked questions. Enrollment for 2020 camps is open now with online check-out is quick and easy. Sign up early to let your wolf cubs run free all summer long.
Sponsored