Though our movements are still limited during COVID-19 restrictions, we're all looking for small ways to get out and change up our stale, homebound routine. For many, this means food pick-up and delivery from local restaurants, which is a win/win for everyone. You and your family can enjoy fresh, delicious meals—that you don't have to cook—and a small business benefits from your patronage. If you're on Olympia's West Side, call ahead and pick up breakfast, lunch or dessert from The Park Side Café.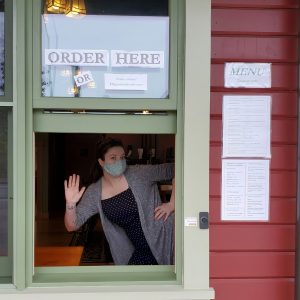 A plant-based vegetarian and vegan restaurant, the Park Side Café offers fresh, delicious options for take-out every Wednesday through Sunday from 10:00 a.m. and 3:00 p.m. Orders are placed and paid for through their online portal or from the café's walk-up window on Harrison Street and car-side delivery is possible through the dedicated curbside delivery parking spaces on Cushing Street.
Owner Alicia Elliott is proud to offer favorites like the pepperoni pizza hand pie and their curry tofu wrap, as well as all your favorite coffee drinks and bottle beverages. Organic and vegan wine and beer are available to go too.
For those who'd rather picnic, grab a bite for your journeys or keep an eye out for al fresco options on-site. "I am pursuing a request to have sidewalk tables on the Harrison sidewalk," Elliott shares. "If approved as expected in the next couple of weeks, there will be five 24-inch by 32-inch tables for Olympia's outdoor dining pleasure, European-style!" And depending on Thurston County's current reopening phase, Elliott may allow for the return of rooftop dining in August.
Though their take-out menu is limited from its traditional broad offerings, there are still plenty of plant-based vegetarian and vegan options, many of which are also gluten-free and allergy-friendly. Even lifelong carnivores won't miss the meat when they sit down to a meal of carrot lox bagels, pastas, salads, hand-pies and coconut cream pie. Make it a date night to remember with a side of organic local beer, wine or cider.
Plant-based dining is not a new idea but one that's definitely becoming more mainstream. The Plant Based Foods Association reports that "plant-based foods unit sales are up 8.5 percent, compared to total U.S. food sales, which are flat, showing the overall health and momentum of the plant-based foods category."
At the Café, everything is crafted carefully and with love. "The Park Side Cafe proudly represents care for our environment in everything from the compostable takeout containers to the reclaimed wood tables and floors," explains Elliot. "We buy our seasonal produce from regional, organic farmers in order to support our local economy and produce less pollutants. We provide convenient and satisfying everyday fare that will get you back on-the-go and filled with nutrient dense super foods with a compassionate core. Delicious pastries, breads, and desserts are baked fresh by our team of talented bakers. Our baristas are well trained and coffee offerings are locally roasted, organic and fair trade. Staff is passionate about creating exquisite foods and providing a unique and gratifying experience. We are your go-to place if you are looking for quality food paired with fresh coffee and intention."
Pair that with eating outdoors, whether socially-distanced in a park or enjoyed from your backyard picnic table, and your body will thank you. Studies show that "Getting outdoors to eat lunch is a natural mood booster. Being indoors for most of the day is linked to higher rates of depression and anxiety. If you've been spending your lunch hour in a windowless office or cubicle, you'll be amazed what a difference lunch outside can make…a quick break, especially if you can get outdoors to eat, can do wonders for your concentration, stress levels and creativity."
Before you visit, take a few minutes to browse the household gadgets for sale at The Rolling Pin upstairs. They offer everything "from hand-made artisan tools to ingenious modern gadgetry," says Elliott. The Rolling Pin sells everything from its namesake rolling pins to knives, cookbooks, bakeware, cookware, utensils, linens, food storage, and cleaning supplies. If you've become a quarantine cooking master, they've got what it takes to broil, sauté, bake, serve, and wow family, friends, and neighbors. While the shop isn't currently open for browsing, you can arrange for curbside pick-up that coincides with your Park Side Café lunch run.
Follow the Park Side Café on Facebook for hours, updates, and tasty new additions. Then plan a visit soon for a healthy, yummy meal…or two. Or three.
Sponsored