Janet Shimabukuro never imagined herself getting involved with her family's genetic history, never dreamed of having to face cancer. She is a healthy woman, has a great family, a fulfilling job and no huge worries in life, until one day a lump was discovered in her breast.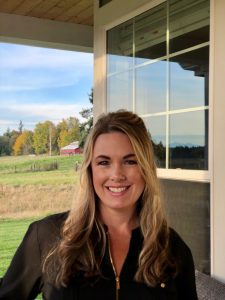 It was a jolt to this local Olympian, a happy member of the Schilter Farms family. Janet, at only 46-years-old, was diagnosed with invasive ductal carcinoma. Her doctor recommended genetic testing. Janet knew of a second cousin that had the BRCA2 gene mutation but felt confident that her cousin's cancer was not connected to her.
The BRCA2 gene is one that is already within human cells, but the mutation is what brings the risk of cancers. "Many of these mutations are associated with an increased risk of breast cancer in both men and women, as well as several other types of cancer," according to the National Institute of Health. "These mutations are present in every cell in the body and can be passed from one generation to the next. As a result, they are associated with cancers that cluster in families. However, not everyone who inherits a mutation in the BRCA2 gene will develop cancer" (NIH).
After her doctor's recommendation, Janet was connected with the Genetic Support Foundation (GSF), through the Providence Regional Cancer System – Lacey. She met with Katie Stoll, certified genetic counselor, underwent testing and was guided through documenting her family history. Janet is from a Swiss Catholic family with numerous relatives. Observing her family history, Katie noted that certain male relatives had prostate cancer, and other cancers including melanoma. Like many families, they had assumptions about family medical history. They assumed that each generation had passed on the pertinent health information they believed they needed to pass on.
She still didn't feel like these revelations were connected to her recent diagnosis. However, through her genetic counseling visit and research, she learned prostate cancer often presents as the BRCA2 mutation in men. Janet's testing confirmed that she carries the same BRCA2 mutation as her second cousin after all.
"When I learned that I carried the same genetic mutation as my second cousin," shares Janet, "I knew that my diagnosis was a piece of missing information that would benefit my immediate and extended family for generations to come." Janet's sister was next to test positive.
And here is where this story gets even more powerful. Janet's sister, Eileen Hugdahl, had her regularly scheduled mammogram in October of 2019 with a clear report. However, due to her positive result for the gene mutation in January of 2020, her doctor recommended a baseline MRI. Though mammograms detect nearly 90 percent of breast cancer cases, this scan revealed a tiny lump, previously undetected in the mammogram. Eileen still felt that the cyst was benign, until a biopsy confirmed that it wasn't.
Due to miraculous coincidences in scheduling and availability during tight surgery schedules at hospitals nationwide, both Janet and her sister underwent bilateral mastectomies on March 31 of this year. Restrictions amidst the COVID-19 pandemic didn't allow for family members to visit in the hospital, but Providence St. Peter Hospital in Olympia was able to have the two sisters in recovery together. Eileen told Janet that because of the genetic testing, "You saved my life."
"If I didn't have the genetic testing done that provided me with the information that I was a BRCA2 carrier," shares Eileen,  "my doctor wouldn't have suggested I have an MRI that found the small spot in my left breast that proved to be cancer. I wonder how long it would've taken my yearly mammogram to catch it. Perhaps years according to my surgeon, which could've resulted in a totally different outcome."
Now that Janet's sister and their extended family, many of whom are choosing to be tested, are equipped with vital genetic information, they can take the reins on decisions for much of their physical health. "We live in a time where we are so fortunate to have this information, where generations before us didn't," Janet says. Her family has been receptive to her test results and the ability to get tested themselves. Of the nine who carry the BRCA2 mutation, seven have or have had cancer.
The testing knowledge has had a positive influence and has permeated through extended family. Test results provided clear knowledge in their discussions and for treatments. This proved true for Eileen. "I feel that it is important for me to share my story as a carrier of the BRCA gene mutation to plant a seed, if you will," says Eileen of her experience, "If cancer is prevalent in your family, it might be beneficial for you to get genetic testing. For me, I feel that my sister saved my life by being tested and encouraging me to be tested too."
Janet was adamant on this point. "Since I learned that I carry the BRCA2 mutation, more than 10 relatives have been tested," she says. "It's a simple test that uses saliva or blood. Thankfully, most have come back negative, but for those that have tested positive this is critical information. Knowledge is power. Men and women who inherit this mutation can be more vigilant about regular screening because early detection makes all the difference with cancer."
"Janet has been an incredible advocate for her family," says Katie. "She views this genetic test result as a gift of information that she can share with her family with hopes that they can take steps towards cancer prevention and earlier detection."
Janet and Eileen find support through others dealing with the same diagnosis, treatment experiences and recovery successes through social media and support groups. "When I was diagnosed with breast cancer," explains Janet, "I felt confident that I would make it through. But I also felt strongly that God was calling me to use my journey to help others."
One of those groups is called Positive Results and is just getting off the ground at GSF.
To start learning more about your family history, visit the Genetic Support Foundation website.
Sponsored