Submitted by WET Science Center
What does camping mean to you? Is it starry skies, scrumptious s'mores, time with loved ones, or disconnecting from the rest of the world? Believe it or not, you don't have to journey far for the camping experience. With determination and imagination, you can have a camping experience right at home!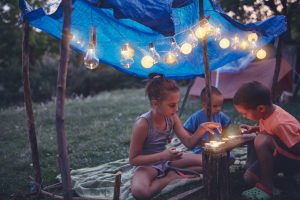 With this week's Rediscovering Science theme, Camp-a-thon, grab your camping gear and pitch camp inside, or set up in your yard! At the WET Science Center, we love discovering the science connections in our favorite pastimes. You can find science in many of the activities that make camping fun.
Join us online to explore how being a better camper can make you a better scientist, too.
Forts, S'mores, and Science!
Build your camping skills at home with our Science in Action activities at our Rediscovering Science website.  For this week's activities:
Challenge your camping skills with our featured activity.
Experiment with tying knots to understand their different functions.
Engineer a blanket fort.
Find the natural balance between objects and gravity's pull.
Get creative with camp art, and delight in tasty camp fire recipes!
We want to see your indoor or outdoor camping adventures! Share them with us at info@wetsciencecenter.org. Thurston County residents who submit an activity will be entered in a raffle for forager playing cards! Follow our Facebook event for related content and activities throughout the week.
Science in the Campground
Camping, fun, and science all go together. Scientific exploration can be applied to nearly all camping activities. From identifying plants and animals, to watching the stars, and even setting up camp. Identifying animals and plants is the practice of taxonomy, an important tool to understand what's what in our world. Observing the stars is practicing the first step of the scientific process. Take it a step further by asking questions about the night sky. Research the types of constellations and suddenly you're an astronomer! Then, you're an engineer when making the best campsite. You instinctively follow the engineering design process when you define what you need for a comfortable site, experiment with your ideas, and optimize your campsite.
We hope our Camp-a-Thon activities inspire you to try more camping and every day science. Find the activities at our Rediscovering Science website, and please share your fun with us!
WET Science Center At Home
Looking for s'more science at home activities? Every Rediscovering Science theme has a corresponding packet designed for ages 5-12. Packets are hung on lines throughout our community, and also carry the WET Science Center Liquid Awesome packet. Pick up a packet and join the fun! Email us to find a line near you.
Check our Facebook for updates on packet distribution from the WET Science Center.