In 1976 the first $2 bill was printed, a shiny new Ford Pinto cost $10,400, and the top songs on the radio were Elton John's "Don't Go Breaking My Heart" and "Oh, What a Night" by the Four Seasons. In the world of fashion (such as it was), polyester leisure suits and long, patterned tunics were stylish, and leather Fonz jackets were all the rage.
But some things never go out of style. In nearby Yelm, 1976 is when Kimball's Ranch opened their doors to local farmers. Founder Morton Kimball—now 90-years-old—and his family provide hay, livestock fencing, and beef to farms and families statewide. There's even an on-site machine and welding shop.
"We produce hay, from the start of discing, seeding, fertilizing, harrowing, to the harvest result of mowing, raking and baling," explains daughter Stephanie Kimball. "We also work with other farmers to provide eastern Washington hay such as alfalfa, timothy and orchard grass for different needs of client's livestock."
Aboveground, so to speak, they skillfully facilitate "custom livestock fencing, custom ground work for others to improve their fields for livestock, and of course our hay sales," says Stephanie. "We also lease fields as well as use our own to harvest hay for our own animals and for sale." The family keeps herds of Limousin and Limousin/Angus cattle.
Dad Morton hasn't slowed down over the years. "He still is very active on the ranch and loves going out and harrowing fields, baling, mowing and you'll even find him grading local back roads near the ranch after snow fall," laughs Stephanie. "All around, he just has an amazing passion for our community and farming. Our parents were blessed with three girls to help work the ranch while growing up. Each of us have definitely put in our hours on tractors, and now I manage the ranch with my dad."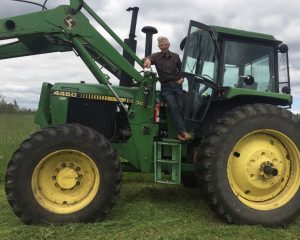 With such a longstanding role in the community, the family has come to know and deeply appreciate other residents and small businesses like Amber Snaza, owner of Budget Blinds of Lacey. "As Amber is a longtime resident here, our families have been friends since I can't even remember," says Stephanie. "We have become close friends over the years and she will even come out, hop on a horse and help gather and move cattle at times. She will help make sure no calves are left behind as we often move the herd across a few pastures and road to the main part of the ranch. She is an all-around great hometown woman that our community is fortunate to have."
Kimball's Ranch is open to the public Monday through Saturday from 9:00 a.m. until 5:00 p.m. for sales and deliveries. One of their most popular services includes not just delivering hay door-to-door but stacking it in your barn or outbuilding as well. Let's face it, hay's heavy. Having someone else wrangle it is a delightful bonus…especially if it's raining.
The Ranch is located at 13431 Solberg Road SE in Yelm and you can call 360-458-5251 with questions or to place an order. Want to learn more? Follow them on Facebook for specials, pricing, events and more.
Keep an eye out for a business appreciation weekend to honor their 40+ years of hard work. "We will be barbequing up some of our own home-grown beef for those that want to join us with some great deals on hay for customers to take advantage of as well," Stephanie shares.
Forbes research shows that "A growing body of evidence indicates that family-owned operations outperform non-family owned ones in every sector across the globe over the long term and especially during times of recession." This is, they posit, because family businesses embrace the four C's: continuity, community, connections, and command (the ability to make decisions quickly). At Kimball's Ranch, their multi-generational outlook puts food on the table for families—and hungry livestock—across the Northwest. Read five-star reviews and then stop by to enjoy the sights, sounds and fresh-cut hay smells of a working farm. It's a truly timeless treasure.
Sponsored