As demand for affordable housing is increasing throughout the region, South Puget Sound Habitat for Humanity works to construct brand new, owner-occupied affordable housing in Thurston County. As a part of the SPS Habitat for Humanity mission, new affordable homes are built each year for individuals and families in need of safe, stable and economical housing. Before home construction begins, SPS Habitat for Humanity opens their Homeownership Open Application Phase, where community members can apply to become a Habitat homeowner.
As the first step in the phase, the pre-application helps to determine applicants who meet Habitat for Humanity's eligibility requirements. Pre-application forms collect basic information about applicants, including living situations, family size, stated income and expenses. Habitat homeownership is a great opportunity for those who have an interest in owning a home, but traditional financing through a private bank or lending institution is not an option.
Basic eligibly requirements include residing or working in Thurston County for at least one year, earning between 30-80 percent of the area median income and having a housing need. For a family of three in Thurston County, 30-80 percent of the area median income would mean earning anywhere from $23,430 to $62,480 annually. SPS Habitat for Humanity also accounts for family size when considering area median income. A housing need can range from overcrowding in a current living situation, to housing payments that account for more than 30 percent of gross monthly wages. A need can also arise from living in housing that is in disrepair or is unsafe.
Acceptance into the Habitat homeownership program is also partially contingent on how many homes are being constructed in the upcoming build cycle and the types of homes that are being built. During this year's build cycle, five homes will be constructed. There will be two four-bedroom, two-bathroom homes, two cottage style homes that are three-bedroom and two-bathroom and one bungalow style home, which will be a two-bedroom and one-bathroom rambler. The homes will be constructed at the Deyoe Vista Habitat development in Lacey. Since five homes will be built, five families or individuals will be accepted into the program from this year's application phase.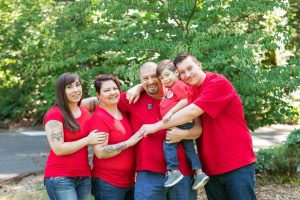 Shawna Dutton, the Director of Development for South Puget Sound Habitat for Humanity says that building a variety of different house styles and sizes means that a range of individuals and family types can become Habitat homeowners. A two-bedroom, one-bathroom rambler might work best for a single senior applicant, where a four-bedroom, two-bathroom home might fit a multi-generational family. "Each one of those homes is built for all types of individuals and families," explains Dutton. "A lot of people ask; do I need to have children to apply for Habitat? And the answer is no. All individuals and family sizes fit with Habitat's program."
Habitat for Humanity Application Process
Once a pre-application is submitted, the Habitat housing team will review the pre-application and confirm that all eligibility requirements are met. From there, applicants will be invited to enter the full application phase, which is similar to a traditional mortgage application. The full application will require documentation verifying your stated income and expenses, a criminal background check, credit liabilities, housing payments and income level.
Completed applications are then sent to a third-party selection committee comprised of SPS Habitat for Humanity staff, board members and volunteer community members. The committee then executes a blind review of each application, in which identifying information, like names or ages, are redacted. "The blind review keeps favoritism, nepotism, those kinds of things out of the way," says Dutton. "We get to know and love our homeowners and our applicants so well that we need to make sure that it's a neutral selection process and that we're selecting folks based off of measurable criteria not favoritism. And so that third party home ownership selection committee really makes sure those checks and balances are in place."
As the application phase opens, Dutton says that this year's process holds more weight, especially in light of the COVID-19 pandemic and the increasing need for stable and affordable housing.
"People have really understood the value of having a safe, decent and affordable home," explains Dutton. "When you're told to shelter in place, and your shelter is inadequate or cost-burdening or causes more stress than safety, I think a lot of people are going to realize that home ownership might be for them and this would be a really great time to explore that opportunity with a trusted community partner like Habitat for Humanity."
The pre-application process opens to the public the first week of May, with the full application phase taking place from June 1 to June 10.
Pre-application forms are available now for download online. Applicants can also request forms to be mailed to them directly. Due to office closures from the COVID-19 pandemic, forms will not be available to pick up in person for the time being. To learn more about application requirements, or to download a homeownership application, visit the South Puget Sound Habitat for Humanity website.
Sponsored