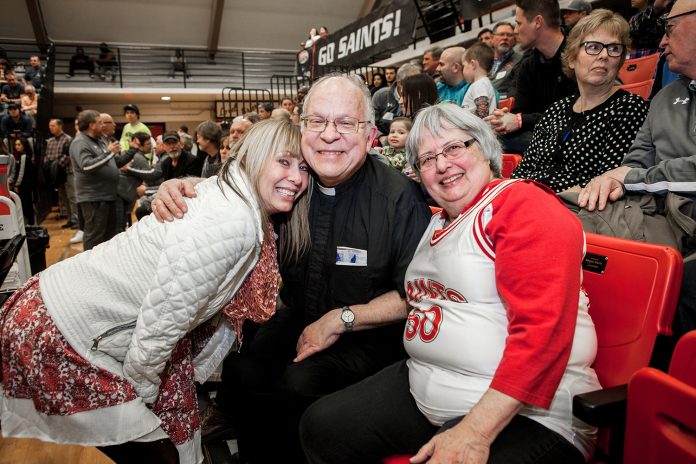 He was affectionately known among the athletes and coaches as Father G. Equal parts spiritual leader and cheerleader, Father Gerard Denys Kirsch, O.S.B., was a common fixture for decades at Saint Martin's University sporting events, leading the teams in prayer before the game and wildly cheering the Saints on in full support during.
"He was very special to us all," said Saint Martin's Athletic Director Bob Grisham. "The words kind, compassionate and supporting are a few words that describe the man, but fan is another word as he was a fan of all our athletics programs. He cared and our athletes knew he cared."
Just a few days shy of his 77th birthday, Father Gerard passed away on March 21 following a long history of heart problems.
"He represented what this university is about," Grisham said, "and his presence will be truly missed by all of us."
Father Gerard's time at Saint Martin's spanned a remarkable 63 years. He first arrived on campus in 1957 as a student for the now defunct Saint Martin's High School before receiving his bachelor's from Saint Martin's College in 1965.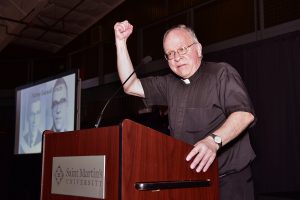 Soon after graduation, he was received into the novitiate at Saint Martin's Abbey and made his simple profession of vows in 1966.
More degrees followed, including a Master's in history from the University of Illinois, Champaign, before he began teaching history at Saint Martin's. It was a position he joyfully held for nearly 50 years.
When he wasn't in the classroom or library, odds are Father Gerard could be found at a sporting event as his love for learning and teaching history was only rivaled by his passion for Saint athletics.
"Father G was one of the Saints' most loyal fans," said Caley Wiseman, a 2013 Saint Martin's graduate and member of the Saints women's soccer team. "You could always find him on the sideline with the student body at our soccer games, cheering us on, always giving the officials a jokingly tough time for calls that didn't go our way. Rain or shine, Father G was there supporting us on game days."
During basketball season, Father Gerard would sit in the same seat, directly behind the home bench. Former Saints women's basketball coach Tim Healy found solace in this for more than two decades.
"Father Gerard was a very special man in my life," said Healy, who coached at Saint Martin's for 22 years. "To me he represented all that Saint Martin's stood for. He was always a sounding board for me and when a crisis occurred, he was the first to stand up and help."
Or simply provide an approving nod before tipoff.
"Father G sat in the same seats behind the bench for over 20 years," Healy recalled. "I looked for him at every game and always made eye contact. Whenever he knew I was upset with an official's call he would lead the cheering charge with his famous, 'We're not worthy' chant."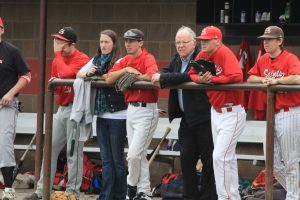 Prior to the games Father Gerard would also lead the teams in prayer, motivating the players with his own unique style.
"I can't imagine a single player in the program over my 22 years not being influenced by this pregame ritual," Healy said. "His prayers were motivational, caring and often hilarious. I remember distinctly one such prayer when Father G knelt in the locker room with his head bowed. He wished us good luck against our opponent, Seattle University, and then said, 'God, I know this is isn't right, but please let us beat the Jesuits.'"
It was that same inspiration and enthusiasm he brought to not only the playing field, but also in the classroom and across the entire SMU campus.
"His love for Saints athletics was not what I'll remember him most for, however," Wiseman said. "You could always find Father G in the library reading and when he wasn't indulging in books, he would be catching up with the entire study body in the dining hall. He was an expert historian, full of endless knowledge that he passionately shared with his students. Father G shared with us the true Benedictine spirit on and off the field, in the classroom and with every encounter."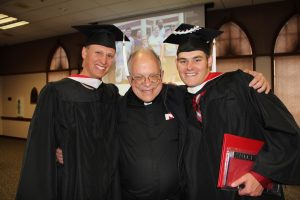 "Father G was by far one of my favorite teachers during my time at SMU," added former Saint Martin's men's soccer player and 2015 graduate Rene Caro. "He was a sports superfan and always supported the student-athletes. He always asked how practices were and how the team was looking. This made his early morning, fun-fact filled classes something to look forward to. He was truly one of a kind."
Donations in Father Gerard's memory can be made to the Father Gerard Athletic Scholarship Fund care of the Office of Institutional Advancement, Saint Martin's University.
"He will truly be missed by me and by all of the Saint Martin's community," Healy said.