Submitted by Thurston County
It's National Public Health Week!  We are celebrating this week by sharing more about the work that Thurston County Public Health & Social Services (PHSS) Department staff do every day to support the work of the community. Veterans are a treasured part of our local community. Thurston County has many residents that are serving or have served our country in the military, and we thank each and every one of them for their service!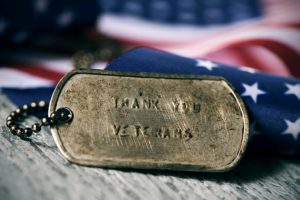 We are fortunate to have the Lacey Veteran's Service Hub that offers an array of services to local veterans. One of the services offered comes from the Thurston County Public Health and Social Services Veteran's Assistance program. This program is one example of a social services program offered through PHSS.
The Veteran's Assistance program offers eligible veteran's help with services including rent, mortgage, and utilities. The services can be used twice in a lifetime. During this time of many closures from the COVID 19 pandemic, this service is still available and ready to help. You can reach a representative Monday – Friday from 7:30 a.m. – 4:30 p.m.
There are some basic requirements to qualify you to use these services. These services are based on family size and income. You must also:
Be a "veteran" as defined by law including having received an honorable discharge or a general under honorable characterization of service for a medical reason.
Be a resident of Washington State for at least six months immediately prior to applying.
Be a resident of Thurston County for at least 31 days immediately prior to applying.
Be income eligible.
Be able to provide documentation proving eligibility.
If you, or someone you know, could benefit from some help during this time of the pandemic and economic slowdown, please reach out this program by calling 360-867-8236. When you call, a representative will ask you about family size and income to help determine if you are eligible then give you a list of documents you will need to submit. If you leave a message, please leave your full name, contact information, and the type of financial assistance needed.
Our veterans are a valuable community asset. PHSS is proud to support this program as a part of the work we do every day!