Sports Awards winners are honored at a banquet each spring. This year, due to the uncertainty around public gatherings, the event has been cancelled. Nominations for awards, originally due by April 6, will now be extended until April 30.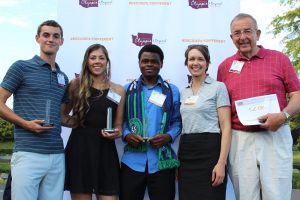 "We want to bring sports stars to the forefront to recognize their accomplishments and the people that are behind them," says Jeff Bowe, senior director of tourism development for Olympia & Beyond Sports Commission. "We feel that the success of local sports begets the success of hosting sporting events and at the end of the day, it's all about creating an atmosphere of health and wellness."
Now in its third year, the Sports Awards were originally created by an advisory board for the Olympia & Beyond Sports Commission. To seek out how to best serve the community, the sports commission appointed a Sports Commission Advisory Committee (SCAC), comprised of local individuals who have an interest in the local sports community, including athletic directors, event organizers and business owners involved in health and wellness. Together, the SCAC creates opportunities to ensure the continued success of Thurston County sports tour.
"All the individuals who have served on that committee have done a wonderful job and given us the input we need to be successful," explains Bowe. "That input would include what sports we should be going after, what sports can be sustainable in Thurston County and how we can work together to make sure that these events are successful. The sports commission does that with the assistance of the advisory committee."
The Thurston County Sports awards seeks to recognize athletes of all ages and teams. The Women's Sport Star of the Year and Men's Sport Star of the Year awards are for collegiate level players who are enrolled full time at a Thurston County college or are from Thurston County. The Boys and Girl's Sport Star of the Year awards are for athletes enrolled in a Thurston County high school. Nominees for all four of these awards should demonstrate clear sportsmanship, dedication and leadership skills in addition to being in good standing as a student.
Sports Moment of the Year can be awarded to either an individual or a team. The moment could include a single game or a season-wide feat like making the state championship. The Contributor of the Year is an individual or an organization who has cultivated the success of a sport or an athlete in Thurston County. The Thurston County Sports Legend award is for an individual who has been a longtime resident of Thurston County and who has been deeply involved in the local sports community. Previous recipients of this award include retired Tumwater High School football coach Sid Otton and decorated Olympia High School wrestling coach Rocky Isley.
"Just because we are not having an event this year doesn't mean that we shouldn't be celebrating these sports stars. Schools have been closed and some sports have been cancelled. This is a time to recognize and celebrate accomplishments at all levels," Bowe added.
With involvement from players, coaches, athletic directors and other pillars of the local sports community, the Sports Awards are away to celebrate the rich culture and unique moments in the Thurston County sports community. Not just athletes competing on school-based teams, the awards are also for individuals involved in other community and recreational leagues.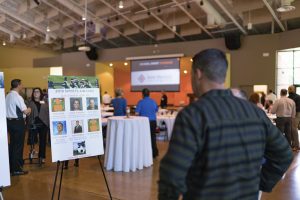 "We feel like it's a chance for them to be recognized by the community for their accomplishments," says Bowe. "We looked at this with the SCAC and we could not identify a single event where the entire community could recognize local athletes. It is also a chance for other community members to be involved. It could be someone who is participating in Olympia Area Rowing, someone who is participating in some kind of club sport. It could be that coach who has been volunteering at the YMCA to coach youth basketball for the last 20 years, we want those people involved in this mix as well."
Whether playing on pickleball courts, in college gymnasiums or on golf courses, athletes contribute to the local sports community through participation, practice and competition. The Thurston County Sports Awards was created to celebrate these local athletes, coaches and sports community leaders to ensure the continued success of sports in the region.
The Olympia & Beyond Sports Commission welcomes visitors to the region by showcasing the best Thurston County has to offer. By presenting Thurston County as a sports destination to event organizers, the team works to bring tournaments and other events to the region, filling hotels restaurants and other attractions. In 2019, the sports commission tracked more than $3.7 million in economic impact to the region, more than a 300 percent increase from the year prior.
To learn more about the Sports Awards or to nominate an individual or team, visit the Olympia & Beyond Sports Commission website.
Sponsored