This spring, an international organization of social entrepreneurs called Ashoka U recognized The Evergreen State College Changemaker Lab as one of six semi-finalists for their #MillionsofChangemakers award. The award honors programs committed to innovating the current model of higher education so it can better prepare learners for the real world with socially conscious, cooperative entrepreneurship.
Evergreen's Changemaker Lab is led by Dr. Dion Gouws, a member of the Business and Entrepreneurship faculty. Gouws was brought on three years ago to develop and lead an entrepreneurship program at Evergreen. After just one year, he successfully began the Changemaker Lab.
One of the students so impacted by her experience in the Changemaker Lab is Ash Cox. Cox was enrolled in the Changemaker Lab as a senior preparing to graduate in the spring of 2019. She studied art with an interest in business and marketing for most of her time at Evergreen but wanted some hands-on entrepreneurship experience before she graduated. The Changemaker Lab was exactly what she needed.
"My time in the Changemaker Lab taught me how to get over the fear of not doing because of not knowing," Cox explains. The program instilled in her the value of "radical candor," of both hearing and giving honest feedback. She learned how to build a strong network of creative professionals and collaborate with that network to solve problems. She is now the owner of Ash Cox Studio, where she offers creative business coaching and provides space and support for artists to come together and build multi-media projects.
"We are preparing them for the unknown," Gouws explains. These students face a future based on a gig economy and filled with rapidly evolving technological phenomena like artificial intelligence. They want to feel ready to learn and change quickly based on the environment and their circumstances. This program trains them to cooperate, to empathize, to listen well and speak directly. It instills bravery in confronting conflict. "It changes them on a fundamental level," Gouws emphasizes.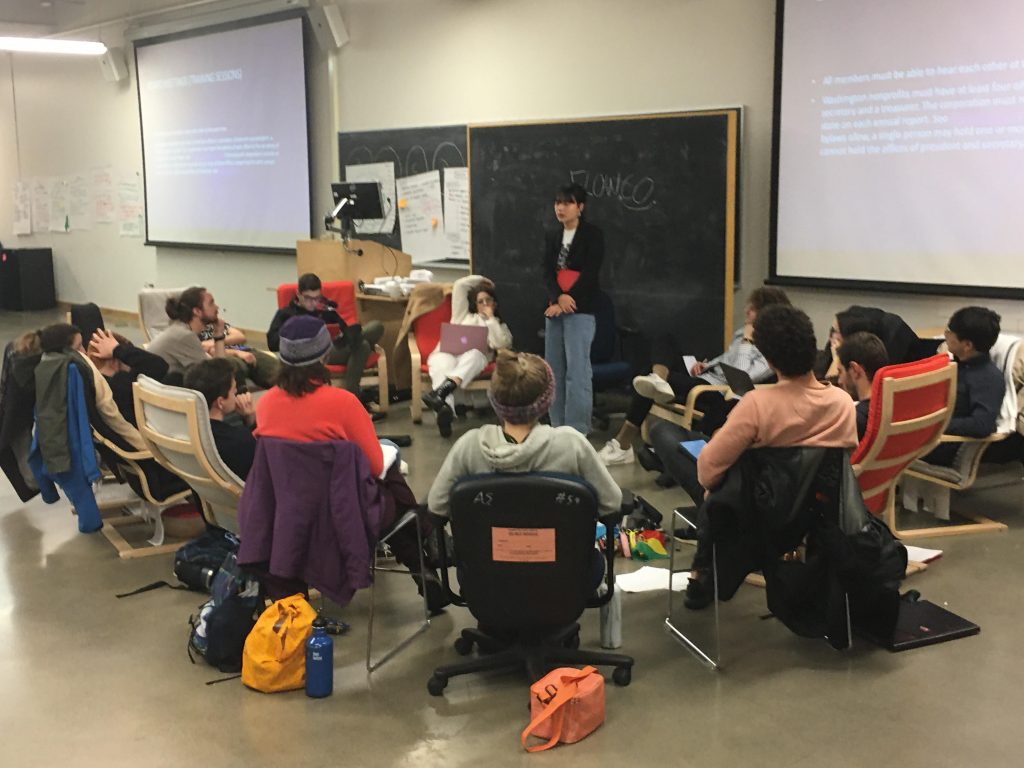 The program's first cohort had 42 students with 26 from Evergreen. The 2020 cohort will finish with 62 students with 41 from Evergreen. The additional students come from Mondragon University in the Basque region of Spain. Gouws implemented this exchange because it brings a valuable international perspective to the powerful learning that happens in the Changemaker Lab.
At the core of the Changemaker Lab is its emphasis on team entrepreneurship. Gouws and his interdisciplinary team of faculty foster an environment of collaborative problem solving through direct dialogue. Before any collaboration begins, students engage in intentional, deliberate self-inspection which they then share with the entire group.
Every student at Evergreen has an academic statement they develop and hone with their advisor. It answers the questions: "Where did I come from?"; "How did I get here?"; "Where am I going?" and "How will I know when I get there?" In the first two weeks of the new quarter, students in the Changemaker Lab swap the "I" in every sentence for "we." In answering those questions together, the students begin to define their collective entrepreneurship goals.
After the first two weeks, students are divided into four groups or Team Companies. Gouws, along with members of the academic advising team and psychology faculty, compose the groups so they are as diverse as possible. These groups are the organizing bodies of the program. They incorporate formally with the Washington Secretary of State's office, they elect officers, they write articles of incorporation and they document all of their meetings with careful minutes.
The work becomes even more hands-on when the students from each Team Company co-mingle to form subgroups based on their passions and interests. This is where the seeds of real businesses are cultivated and in some cases are carried into life after Evergreen. These subgroups do the fieldwork of starting a business. They determine what kind of value they can bring to the community based on existing strengths, knowledge and interests. They identify and meet with applicable stakeholders in the greater Thurston County community. When they run into a problem they can't solve as a subgroup, each member takes the problem back to their respective Team Company to harness the diversity of thinkers in the larger group.
It's no surprise this program was chosen from among 77 other programs across the globe committed to the mission of social entrepreneurship through innovation in higher education. Its method of intentional dialogue and use of diversity to solve problems collectively challenges the students in a way that transforms them from the inside out.
The award signals that educational institutions of all kinds can use this program as a model. When more institutions and organizations invite this hands-on, collaborative learning environment specifically for entrepreneurship, we will have a new workforce ready to seize the opportunities of a future with a sustainable new sense of responsibility.
Sponsored