A change has come to Senior Services for South Sound, as long time Executive Director Eileen McKenzieSullivan retires and hands over lead of the organization to Brian Windrope. McKenzieSullivan has spent the past 38 years with Senior Services. Over that time her accomplishments have been many and her impact great, but she is glad to be passing leadership to Windrope. "I feel very confident that he is the right person to carry Senior Services forward," she says.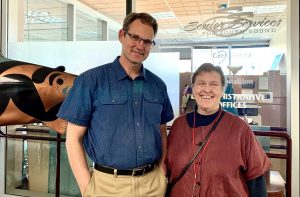 26 years of McKenzieSullivan's 38-year career with Senior Services were served as Executive Director. "I came to Senior Services as a 26-year-old with a young family, excited to work with seniors in our Adult Day Program," she says. "I have learned so much from the seniors, from co-workers, from supporters, donors and other great community leaders. It has been the best job ever." She couldn't have done it without the support of her husband Bob, and her three boys.  McKenzieSullivan's sons grew up volunteering at Senior Services. "Later they married, had kids, and added to the ranks of volunteers. I am so grateful for their loving support," she adds.
During her years as Executive Director, McKenzieSullivan has overseen consistent growth in response to community needs at Senior Services. When Intercity Transit routes were reduced in 2001, Senior Services quickly responded with a Transportation Program to help seniors get to medical appointments, programs and services. "When we found many more elders with developmental disabilities looking for resources after their retirement from assisted employment, we were able to secure funds to start our Inclusion Program," she explains. As housing needs in the South Sound have become a greater issue, Senior Services has stepped in again. "We started our Home Share program linking seniors with extra space in their homes with home seekers looking to rent a room." McKenzieSullivan attributes the success of Senior Services to great support from the Board and the community, allowing creative solutions and flexibility as new needs arose in the senior population. "The best part of my career has been the amazing seniors I have known and loved."
McKenzieSullivan may be retiring but she still plans to stay a familiar face at Senior Services by volunteering her time driving for the Trips and Tours program. "I got my commercial driver's license so I can do it, and it's a great way to meet people," she says. "My husband Bob and I will also be playing music for our Music Mends Minds group." Besides volunteering, she also looks forward to more time for gardening, reading and travel.
Brian Windrope Takes the Reins
McKenzieSullivan leaves Senior Services in good hands. With over two decades of experience in non-profit leadership, Windrope is ready to roll up his sleeves and get to work. "I enjoy the diversity of challenges, and the way it constantly stretches me into new places," he says. "I'm tremendously excited about the community of staff, volunteers, agencies and donors who make our work for seniors possible".
Windrope steps into the role at a challenging time for Senior Services. He officially took over on March 16, 2020, amid the Covid-19 pandemic. "The pandemic is causing enormous pressure on our organization," he says. Senior Services serves the population thought to be most affected by the virus. For the safety of vulnerable populations, senior centers have been closed, programs have been canceled and most work is being done remotely. Meals on Wheels and transportation services are working hard to meet increased demand as seniors socially distance themselves for their safety.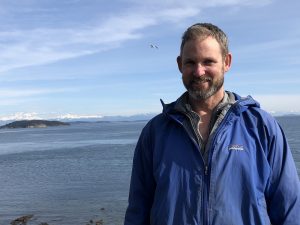 On top of safety and health concerns for the senior population they serve, Senior Services faces a serious funding shortage. "We have had to cancel all our public programs, and this results in a major loss of income," he says. "We need all the help we can get right now to deal with this serious loss of income, so we can continue to provide support for seniors in need." Windrope is optimistic that when this crisis passes, the generosity and care of the South Sound community will assist Senior Services to weather this storm. "We appreciate each and every person who shares our concern for the seniors in our community," he adds.
When Windrope isn't working he enjoys time in the wilderness and on the water, travel, poetry and time with his family. "I'm fortunate to have a wonderful family with my remarkable wife.  We have two beautiful, healthy boys," he says. "I greatly enjoy our modest assortment of animals and I'm proud of my new chicken coop!" he adds.
For the latest updates on how Senior Services for South Sound's programs are being impacted by COVID-19, take a look at their website. Donations at this time are warmly welcomed and will help support programs and resources such as Meals on Wheels, transportation, and wellness calls that serve our homebound seniors.
Sponsored