During a historically significant time, Saint Martin's University looks to the future with a special announcement: unveiling the institution's first doctoral program. For the first time in its 125 years as an educational institution, the University will offer a Ph.D. program in Leadership Studies. The multidisciplinary degree will be similar to other Ph.D. in Leadership Studies programs, but it will benefit from the University's liberal arts tradition and Benedictine values.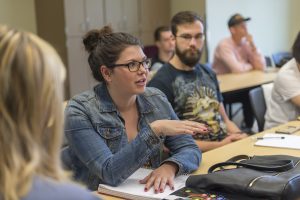 Kathleen Boyle, Ph.D., provost and vice president of academic affairs, has been looking forward to bringing the doctorate program to fruition ever since she began working at the university four years ago. Boyle came to Saint Martin's from the University of Saint Thomas in Minneapolis, Minnesota, where she was chair of the department of leadership, policy and administration. Boyle taught in the leadership doctoral program and directed its Master of Arts in Leadership in Student Affairs Program.
"The Ph.D. in Leadership is an interdisciplinary approach and is well aligned with the mission of Saint Martin's University," says Boyle. "It draws on all disciplines to inform leadership."
Students will learn from various faculty, and they will also be enriched by the other candidates and their previous leadership experience. "We will bring in a cohort of students from different leadership traditions and backgrounds." Applications just opened, so Boyle is not sure exactly what the first candidates of this cohort will look like, but she expects there will be individuals from business backgrounds, education, counseling and beyond.
"Experience tells me we will see teachers that want to move into an administrative role," says Boyle. "We might see other members of educational administration that want to move up further, perhaps into state-level work and policy roles." Candidates that are interested in higher education might also find the program appealing, those that are interested either in faculty or administration roles and that seek to build onto their master's degree adding leadership to their current areas of expertise. "Members of the business community may look to professionalize their experience or move up in leadership roles," she says, "so we might have candidates that want to demonstrate their competence level, move up to the next level of executive, start their own business, or do consulting work."
Boyle also says that the Ph.D. will be beneficial to disciplines that don't often require doctoral degrees, such as engineering or other technical degrees. "These individuals might want to become a leader within the organization they are in, and a degree will give them the additional skills to do that," she says. Counselors with master's degrees may want to move into consulting, open their own private practice, or transition into association roles within the counseling community, explains Boyle. The South Sound also supports a large military community and Boyle says that military members will benefit from this degree, whether it is during their military career or as a transition into the civilian world.
Saint Martin's Benedictine heritage will influence the doctoral program as it influences all education at the University. "Our mission fits well with Leadership studies because many of the values are strongly connected," says Boyle. Values of community, stewardship and making meaning are all intertwined into what makes leaders great. Meaningful actions and communicating that meaning to the people you work with is essential to strong leadership, she says. "Forgoing surface level leadership and expecting something greater, a personalized investment in the work being done is the key to making a better and more just world that aligns with the Benedictine values," she adds.
The announcement of the doctoral program comes as Saint Martin's University is in the midst of its 125th-anniversary celebration, taking a look back at all of its growth and accomplishments, a history that spans over a century. The University has grown significantly and intentionally since it began 125 years ago. Started by the Benedictine monks of Saint Martin's Abbey as an all-male preparatory school, it grew to include college courses, later becoming a fully accredited four-year college. In the 1960s Saint Martin's became coeducational, officially inviting women to enroll. In 1986, the first graduate programs were added in education, engineering and counseling psychology, and in 2005 the College renamed itself Saint Martin's University to better reflect the institution's identity. Now the Ph.D. program joins the baccalaureate programs, offering 29 majors, and 11 graduate programs and five certificate programs spanning the liberal arts, business, education, nursing and engineering.
Priority registration for the first doctoral cohort for the Ph.D. in Leadership Studies ends April 15, and the final deadline is June 1. "Applicants from all disciplines and experience are encouraged to apply," says Chantelle Marker, director of the Office of Graduate Admissions. "We are looking for authenticity in candidates, and we want people who will lead with intention, courage, and empathy," she says, "so if candidates have questions about how their skills and experience fit with admission requirements, please reach out to us, and we can talk about your unique individual circumstances."
As Saint Martin's University community celebrates the 125th year anniversary and the addition of the Ph.D. program, they look forward to the next 125 years and the first cohort will become a part of that new history. Building off a strong foundation of tradition, educational excellence, and Benedictine values, graduates will position themselves to contribute to the field of leadership studies and become the leaders of the future.
Interested in applying to the Ph.D. program in Leadership Studies? Contact Chantelle Marker at 360-412-6128 or cmarker@stmartin.edu or visit the Saint Martin's University website.
Sponsored