It would have been not only easy, but understandable for the South Puget Sound Community College women's basketball team to call it a season following a difficult 0-14 start.
Coach Mike Moore's Clippers suffered from an extremely short bench throughout the entire season – the byproduct of several factors including injuries and ineligibilities. Never was this truer than during the early portion of the schedule when several players were needed to log long minutes, contributing greatly to the winless stretch.
Despite being fatigued and battered as the defeats piled up, the team remained focused on its ultimate goal of making the Northwest Athletic Conference tournament. And while they came up one victory shy of grabbing the West Division's fourth and final berth, it's safe to call what the Clippers accomplished this year impressive.
SPSCC shook off the slow start to finish 6-8 in division play and entered the final game of the regular season still with a shot at advancing to the postseason, needing a win over division champion Centralia combined with a loss by Highline.
Unfortunately for the Clippers, neither outcome occurred.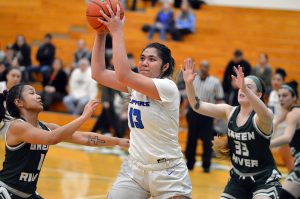 "We definitely talked about the 0-14 start every day," said sophomore Keilani Brown. "Coach Moore and Coach Kathy (Kravit-Smith) never lost faith in us even when we hung our heads. They both continued to support us and go into every game head on and never let up. Sure, it was frustrating, but we have a special and unique team here that is willing to push through all adversities thrown our way this season."
Brown, who was one of four sophomores on the team, capped her final season with the Clippers by being named to the NWAC All-Western Division first team.
A 5-foot-11 forward from Henderson, Nevada, Brown averaged a team-best 14.3 points and 9.1 rebounds a game for SPSCC. She ended the year by scoring in double digits in 10 consecutive games, including a career-high 29-point effort against Highline. Brown also recorded a double-double in seven out of her last 10 games, highlighted by her 19-rebound performance against Grays Harbor.
Additional sophomores on the roster included Jasmine Griffin, a 5-7 guard from Shelton, Lainee Grose, a 5-7 guard from Mossyrock and Hannah Gifford, a 5-10 forward out of Las Vegas.
Few players in the conference logged more time on the court this year than Griffin, who averaged 38.4 minutes a game. Griffin's top performance during her standout sophomore campaign may have occurred during the Clippers' second meeting against Highline when she put up a rare triple-double (22 points, 14 rebounds and 10 assists).
Griffin finished the season averaging 13.9 points, 9.3 rebounds and 4.5 assists a game.
Both two-year starters, Grose averaged 11.7 points and 4.9 rebounds a game this year, while Gifford averaged 5.3 points and 4.9 rebounds an outing.
The Clippers' roster also included freshmen Angelica Francisco, a 5-6 guard from Capital High School, Tracy Abesamis, a 5-4 guard from Las Vegas, Jaysa Brandis, a 5-7 guard from Timberline High School and Kaylee Schow, a 5-7 guard from Tenino High School.
After the rough start, South Puget Sound notched its first win on January 11 by hitting the road and hammering Green River, 70-48.
A season-high three-game winning streak would soon follow with SPSCC posting victories over Pierce (78-65), Highline (57-54) and Grays Harbor (85-39).
The squad would also add a 71-55 triumph over Green River at home on February 8 with Brown scoring 25 points and grabbing 14 rebounds and Griffin adding 20 points and 10 boards in the win.
The Clippers closed out their seasonal home slate on February 22 with a 75-40 drubbing of visiting Grays Harbor. Griffin (22 points, seven rebounds and 11 assists), Grose (20 points) and Brown (17 points and 19 rebounds) led the way during the lopsided victory.
At the Clippers season awards banquet, Brown earned Most Valuable Player of the Year, Abesamis was named Most Inspirational Player of the Year, Brandis received top honors as the Defensive Player of the year and Schow was the recipient of Coach Moore's Annual Anchor award, which is given to the player who displays unyielding team support.
Sponsored