Is there anything more exciting than the sound of hooves clattering over a wooden bridge, splooshing through water or thundering up a hill? Mountain trail is an exciting equine sport that has its roots close to Thurston County – it was started by Mark and Lee Bolender in Silver Creek, Washington. 2019 marked the first time that the International Mountain Trail Challenge Association (IMTCA) held a worldwide high point competition and two of the three awards went to participants right here in Thurston County, Jeri-Dee McAferty and Heidi Hughes.
The IMTCA has parks in the U.S., Canada, Italy, Australia, Germany and Denmark. Because of the different seasons, the worldwide high point challenge ran from March 2019-February 2020, with the winner being announced March 1, 2020. For the inaugural year, three buckles were awarded: World Riding, World In-Hand and World Youth. Each competitor's top two scores from the season were used to determine placings. Jeri-Dee McAferty with her equine partner JWR A Skippin Design "Bruce", a paint gelding she bought in 2017, won the World Riding buckle. Heidi Hughes, with her equine partner Chase, a 36-inch miniature horse, won the World In-Hand buckle.
Heidi Hughes has been riding since she was about 6-years-old and competing since she was 10-years-old. She got into mountain trail four years ago, after see a video Lee Bolender posted on Facebook. "I reached out to her and she invited me to their farm," she shares. "She showed me around, explained what mountain trail is, and I decided right there and then I wanted to learn more and see what my little guy was capable of accomplishing."
Jeri-Dee McAferty also started competing very young, when was 11-years-old, but she never did any trail. Her focus had always been on English and western pleasure and equitation. But that changed when she saw a friend post about a clinic at Bolender Horse Park in Silver Creek. "A friend posted on Facebook that it was one of the best clinics she had attended and really helped her with her relationship with her multi-champion sport horse stallion," she shares. "I had a half Arabian mare that I need some help with." So, she went to a clinic.
"At first," Jeri-Dee continues, "I was only going to learn more so that we could go out on mountain trails. Lee convinced me to participate in the NW Expo. I had been only riding with IMTCA for 4 months and I made it into the top 5 riding my first time. And I was hooked."
IMTCA Mountain trail challenges are pattern courses that are scored based on how well the horse and rider team complete each obstacle. There are usually between 10 and 15 obstacles per pattern. Obstacles include bridges, logs, gates, teeter-totters, balance beams, water, rocks, back-throughs and more – anything you might encounter on a real trail.
For Chase, Heidi's miniature horse that had a rough past, it's been a lifesaver. "My dearest friend Mary Ware rescued him for $300 and through mutual friends Cheryl and Tiffany Hayward – he was given to me," Heidi shares. "Because of Chase's history (before me) he has always been afraid of people and is very reactive. Mountain trail has taught me new ways of looking at how/why he reacts as well as how do I make it work to our benefit. Turn a negative into a positive."
Those watching Chase on the trail course today would never have guessed he was a rescue horse with a bad past. He looks as calm, cool and collected as his handler. Heidi found mountain trail not only helped him, but her as well. "Thinking outside the box, perspective, interpretation of a pattern, and always having a plan," she comments. "Most importantly, how can I be a better partner to Chase which in turn has made me a better horse person. Mountain trail has enabled us to be a better team. Don't be afraid to try different techniques to conquering an obstacle/pattern."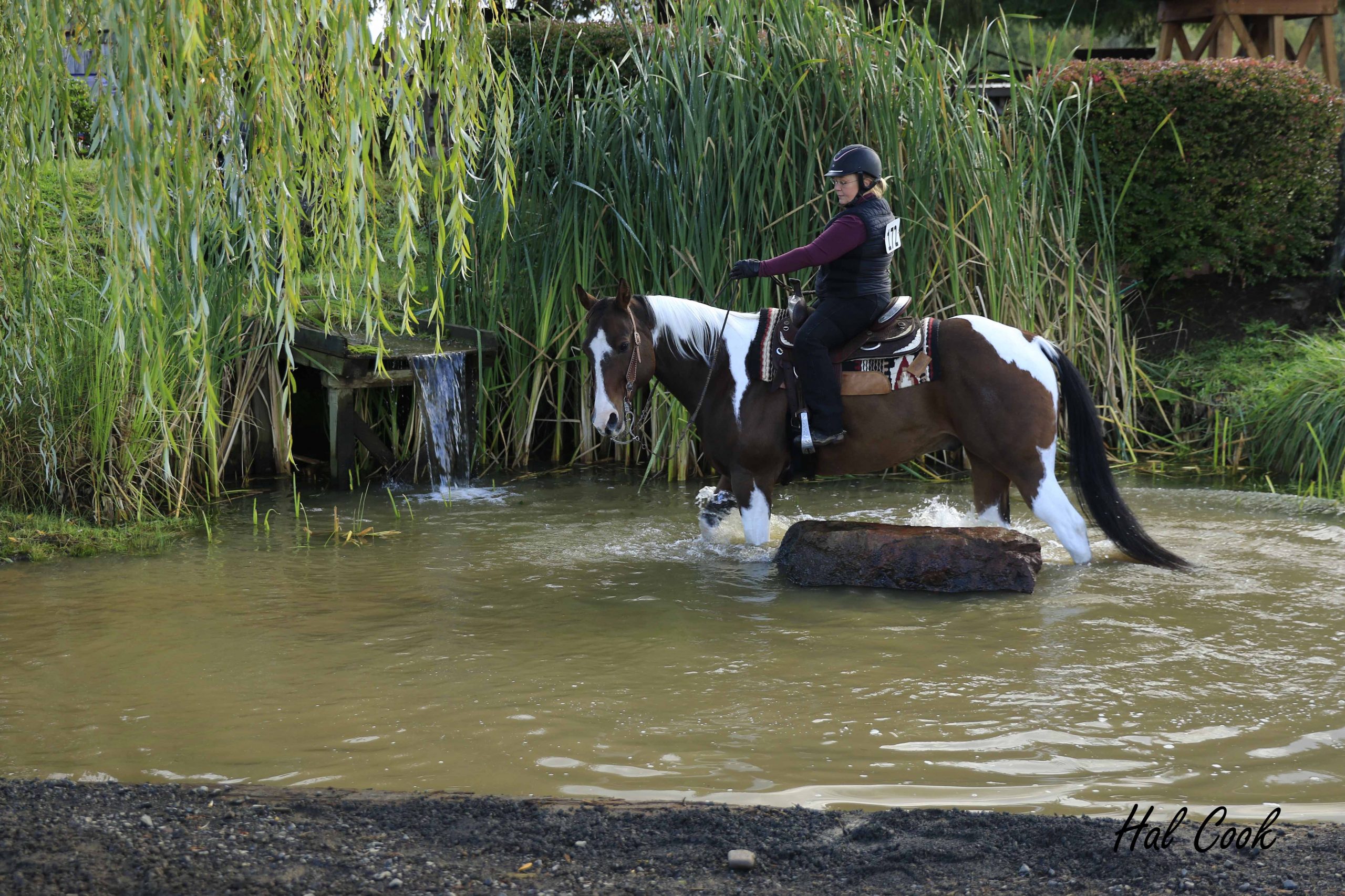 "Mountain trail requires a partnership with your horse," adds Jeri-Dee. "You have to trust each other. And the way IMTCA is set up there is room to learn and grow. Every time I go out to Bolender Horse Park I learn something new. Whether it is how to approach an obstacle, transitions, or strategy, to name a few things. Under Mark and Lee Bolenders' guidance I have a better understanding of how horses behave and respond."
Bruce is a big boy, but on the trail course, he travels with ease and care, carrying Jeri-Dee to the World High Point Riding Buckle. "I have been chasing an award buckle since I started Mountain Trail," Jeri-Dee shares. "It is my first one. And being the first world award for the growing IMTCA organization is exciting, Bruce and I will go down in IMTCA history."
Heidi says she didn't set out to win the IMTCA World In-Hand High Point, but is ecstatic about Chase's performance. "It was never the plan, we just took it one pattern at a time and one show at a time," she shares. "It means so much to us as Chase is a mini that was taught to fear people and was essentially being thrown away at an auction. For me to take him as a rescue that couldn't be caught to a mini that can maneuver any obstacle/pattern with finesse, grace and ease is everything! I am extremely appreciative and humbled by the honor."
Both Jeri-Dee and Heidi will be back out on the course this season, looking to continue to better their relationship with their horses while growing in the exciting sport of mountain trail. Above all, though, they have fun. "The best part is meeting wonderful people and having wonderful teammates like Jeri-Dee. Being able to discuss patterns and obstacles. We all learn from each other."
To learn more about IMTCA and upcoming mountain trail challenges, visit the Bolender Horse Park website and the IMTCA website.