In addition to the realities in Washington State and due to the recent ban on travel from Europe (she is in Paris right now), it is with regret that Meow Meow is canceled.
The Washington Center is unable to find a mutually agreeable date to reschedule at this time, but anticipate that she will be returning to the Pacific Northwest in spring of 2021. Read more here.
Hailed as one of the best cabaret performers of our time, Meow Meow will delight, hypnotize, inspire and terrify The Washington Center for the Performing Arts audience on April 4 with her own brand of cabaret. The enchanting, genre-bending songstress is incomparable in the world of singing and performing. Her brilliant blend of comedy, song and sequins delivers a timeless night to remember – like an evening in Paris, but without leaving our city.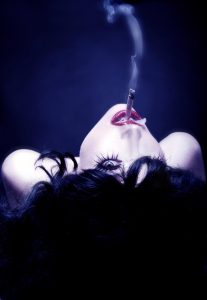 "It's a beautiful evening of musical mayhem," Meow Meow says of her set. Her performance spans decades with French songs from the 1950s and 60s, and German songs going back even further to the 20s and 30s. Of course, she throws in a little Radiohead to keep it contemporary and weaves her original works throughout.
Her performance has been called a "kamikaze cabaret" described by The Guardian as a show that "…seems like a shambles. She staggers in late from the wrong entrance, clambers to the stage, struggles with wardrobe malfunctions and, barking and bleating, ropes punters into service as dancers, mic stands, even furniture. But this is a polished presentation of the spectacle of failure–a ruse that underlines the necessary collaboration between performer and audience, and creates a shabby frame within which Meow Meow's exquisite voice can shine all the brighter."
Her latest album release is a place where her voice sparkles. "Hotel Amour," a collaboration with Pink Martini's Thomas Lauderdale, features duets with Rufus Wainwright, Barry Humphries, the Von Trapps and the late, great, French composer Michel Legrand. Meow Meow describes the album as very dear to her and quite a "sonic, beautiful, and delicate listening experience."
"Probably my favorite track from the album is 'Hotel Amour,'" she says. "It's just the most heart wrenching song, beautifully played by Thomas, and there's an epic story within it."
See her perform the title track live when she takes to the Washington Center mainstage, or commands it, as she would say, along with a trio of musicians. "It's super fun," she says. "I'm quite a ridiculous woman, and so it is my pleasure to deliver this beautiful music, with a heavy dose of joy, really."
Meow Meow performs worldwide and often delivers her repertoire with a full orchestra, like the Sydney Symphony at the Opera House, or with the London Philharmonic or with the Seattle Symphony. But other times, as in our case, she presents a more stripped-down version where she and the musicians can improvise and riff off of one another.
"There's a flexibility you can have in the show," she says "which you can't when you've got an orchestra because it obviously needs to be more structured. There's something free about it – I love these intimate, smaller shows because it's up close and personal with the audience."
When asked if she incorporates audience participation into her show she jokes, "I do. People just love me. They can't stop touching me. It's a lesson in consent, really."
"I never have audience participation that is about humiliating the audience," she continues, "it's just not interesting to me – It's lazy, really. But I do love to take advantage of the liveness of shows and not to have to stick to a narrative."
You never know quite what to expect when you see this feisty feline but you are guaranteed to be scintillated – even transported – to another time. Meow Meow specializes in French chanson and Weimar repertoire or Weimar Republic cabaret.
The French word "chanson" translates to the English word "song" and Meow Meow explains that French chanson is very much a part of French culture. It's lyrically-rich style, which Edith Piaf helped popularize around the globe, is a mix of torch songs, but also sense-of-place songs that are romantic and urban and gritty. They are populist in nature, connected to the people, the city and its streets.
One of her favorite chansons to perform is "Ne Me Quitte Pas," "If You Go Away" by Jacques Brel. Although she often translates the many other languages she sings in for her audiences, it's usually not needed she says, since emotions and the story can be told through body language and facial expressions.
There's another oft-forgotten story that through performing the songs, Meow Meow is helping to keep alive. It is the works of German composers of the 1920s and 30s during the Weimar Republic and the cabaret that was a form of live entertainment known for its color, freedom and decadence.
This eclectic style of music arose during the time of the Republic, 1918-1933, a period in which Barry Humphries, legendary entertainer, describes as "an extraordinary creative energy that emerged from the ashes."
Meow Meow explains the Weimar repertoire is an explosion of jazz and modernism, mixed with politics, as Germans suffered the reparations due in the aftermath of WWI. "It's a very interesting time in music," she says. Composers were plundering from many different styles and dance crazes like the foxtrot and tango were sweeping the world. Although the music was politically charged, there was a lightness to it, too.
"It's music that is constantly being excavated," Meow Meow says. "It's more that the lives of the composers were cut short."
What won't be cut short in this rare Olympia evening of some of the world's finest cabaret are the songs of the past, present and future. The Telegraph UK says there's nothing Meow Meow, the post-postmodern diva, cannot do. "Her voice is astonishing, with a Winehousian vibrancy to its contralto. She is a fine and nimble dancer. She is very funny. And when she collects together the wildly diverse threads of her show to remind us what it is really about…she is remarkably moving."
See for yourself.
Meow Meow at the Washington Center for the Performing Arts, April 4, 7:30 p.m. Head to the Washington Center's website to purchase tickets.
Washington Center for the Performing Arts
512 Washington Street SE, Olympia
Sponsored