Construction at Views on Fifth has been moving briskly the past few weeks after attempts to tear down the Capitol Center building were denied a final time by the state Court of Appeals. The legal battle has taken its toll on both sides. Owner-developers Ken and Julie Brogan delayed ordering materials that became more costly due to tariffs and availability, and the local non-profits and citizen groups trying to block the construction tallied up steep legal fees.
In the spirit of progress, there were no champagne toasts or celebrations when the appeal was denied. Instead, the Brogan team continued unrolling engineering plans and checking off boxes with a keen eye on the months of April and May – their target for opening the Northwest and Southwest buildings and Tower respectively.
"We're happy," says Ken Brogan, "and of course it was expected. The best part about this is we get to push the throttle down and get it done."
Meanwhile, the core group of appellants were working out their next course of action. The decision was to acquiesce.
"Well, we lost at last night's board meeting, we decided not to appeal. And you know, we have to decide as an organization whether we continue or not," says Jerry Reilly, chair of the Olympia Capitol Park Foundation.
By continue, Jerry means to pursue the group's goal of maintaining the view from the Capitol to the Olympic mountains and beyond. The current city zoning has a cap of 35 feet – the tower is grandfathered in with 9 floors and is 130 feet tall.
"We have worked since 2008 to develop a great civic space on the isthmus and there is some sentiment we might like to continue as stewards over the west parcels," says Jerry. "Just to make sure that there's no backsliding and another proposal doesn't come along and turn the city's head." Shrugging, Jerry looks to fellow board member and former Olympia Mayor Bob Jacobs who nods in agreement. "And, who wouldn't?" adds Bob.
Challenges
"Not just anyone could have come in and taken this on," says Ken Brogan of the development. "This is a big deal. This is complicated. And, this thing would have beaten up most companies and taken them down." We are sitting in the office trailer at the work site. The table is covered in layers of engineering drawings. Ken's son Brannon Jones and son-in-law Joshua Dierick walk in.
"You should talk to these guys," says Ken, "they are the supers on the job."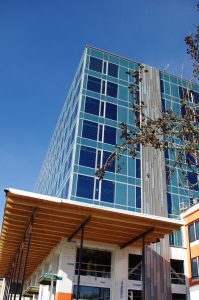 The supers, or job supervisors, and in fact most of the decision makers, are family members, both in the office and on-site.
"I think it's a real challenge," says Brannon, "when you take an old box that you can't modify under code, and you have to make it work," pausing, he adds, "right."
The familiar site of steel support beams has disappeared behind an external wall of glass as the building takes shape. That glass was another hurdle.
Looking out the jobsite window, Ken points to the blue and green reflection beside us. "The crazy engineering that went into supporting that," he shakes his head at the glass wall that is the exterior of the tower.
Brannon agrees, "Typically we have a little bit of wiggle room on a window rough opening, but with this stuff it has to be perfect."
Always About the Views
"We wish him well in the project," says Jerry referring to Ken. "It looks like they're trying to do a decent job with it and we don't have fault with the developer. Our fault is with the city. We thought the city should buy the building and tear it down to complete the vision of the 1911 Wilder and White plan."
That plan called for views from the Capitol, across a lake or reflection pond, across the bay out and toward the Olympics.
"Some people think it's because the old building was ugly," says Jerry, "but it was always about the views. And if you look at the drawings, there is no building there. Because it didn't happen till '64."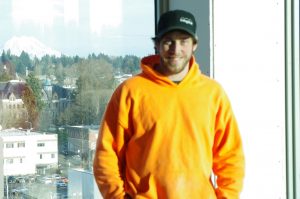 While the Brogans have been working on the tower and adjacent buildings the past three years, it is worth noting that Jerry, Bob and other citizen groups have been working on the Capitol Campus and Heritage Park Plan for much longer.
"We were young people when we started this, right, Bob?" Jerry looks at his friend with a smile.
"That's right. It was 35 years ago," says Bob nodding. "We have to recruit some younger people." Hopefully, they will find those recruits through the many who have walked around the lake, played in the fountain, skateboarded in park or found their way around the ice skating rink. And perhaps they, too, will feel the urge to provide a similar gift to future generations. Hopefully.
Looking Outward and Upward
"This is going to be a good one for the fireworks." Brannon and I are walking through one of the lakeside apartments in the tower. Though still just roughed out with sheetrock, the beauty of the view is unaltered – the Capitol, the lake and Mount Rainier in the distance.
The other two lower buildings are known as the Southwest and Northwest buildings. Like the tower, they will house apartments as well as storefronts.
After even more stairs, Brannon opens a door in the Northwest building. "Yeah, so this is one of the Live-Works. You have an apartment upstairs here," Brannon explains while heading down the stairs, "then you have a commercial space down here." We step out into a bright ground floor retail space with windows facing Fourth Avenue. "There is an artist who is moving into this corner space, but the floors just got a specialty stain so we can't walk through there."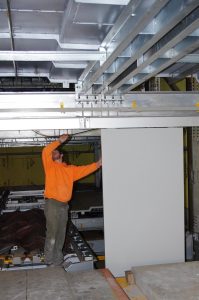 Rounding the corner, we come to where the parking garage will be. "In planning, one thing we talked a lot about was the parking garage strategy. I guess a vending machine is a good description." Walking into the darkness, Brannon points out where the cars will be loaded, rotated, stored and returned when requested, facing outward and ready to drive away. "We are going to have a lot of time to play around with this," says Brannon with a smile. "It's a joke that my dad and I have – we're going to try it and see if we can get it to send us through. It has cameras and can sense passengers, but we're going to troubleshoot it and work all the kinks out of it." Looking back appreciatively he adds, "Yeah, it's pretty cool."
A New Future
"I was looking forward to the thought of Ricardo's being here," explains Brannon, "but I don't think that's going to work out. So, we're looking for a steak house-style restaurant, which I'm excited for, but I also like variety."
According to Ken, the 500-square-foot restaurant space is close to finalizing with tenants. There will be covered outdoor seating, a café and other retailers signing on. Of the 11 available Live-Work spaces, only three remain.
"We're definitely exploding records in Thurston County," says Ken, "but when you go up and see the view up there and when you understand the finishes that are going in that building…" Ken trails off and then leans forward. "Let's just say it's going to be exceptional."
If you are interested in touring the building or have any questions, you can contact the Brogans' Commercial Property Services directly.