It's no secret that housing availability and affordability is a challenge in Thurston County. With the population growth brought on by the strong economy of our region, finding a place to say is becoming more and more difficult, especially for families that live paycheck‐to‐paycheck. The unfortunate result is more and more families are finding themselves without a home. But organizations like Help Us Move In (HUMI) and businesses like Olympia Federal Savings (OlyFed) are working to make homes available for every family.
"OlyFed has been a long‐time advocate for affordable housing in our community," says Ryan Betz, VP of marketing and public relations for OlyFed, "Over the past few years we've been honored to partner with HUMI, from helping finance the Merritt Manor project to supporting their mission and initiatives to end homelessness in our community."
Who is Homeless?
"The average age of a homeless person in the United States is 9‐years‐old," says Burt Sarver, chairman of HUMI. That number may be difficult to fathom, but we need to rethink our picture of homelessness.
While the individual holding a sign on the street corner may be the first image that comes to our mind, homelessness is a multifaceted issue, and it looks like many different things. Sure, homelessness is the person you meet on the street corner, but it is also a family of four, living in their car, parked in a McDonald's parking lot while a teenager tries to get their homework done on the free WIFI. Or it's a single mom and her two preschoolers living with a relative, sleeping on the floor and trying not to make too much noise for fear they will be told to leave.
"When you are living in your car, a tent, a shelter, or an overcrowded extended family situation where you are always at risk of being kicked out, that is not stable housing, that is homelessness," says Sarah Scherer, executive director for HUMI.
How HUMI Began
HUMI began when First United Methodist Church of Olympia started a fundraiser to benefit homeless children in 2000. They called it the Homeless Children's Fund. In the first year, they raised $11,000.
Working with the Salvation Army, the Welcome Room in the Olympia School District, Safe Place and the Family Support Center, the Homeless Children's Fund provided the funding, while the partner agencies identified the families that needed support.
The organizations were finding that homeless families had the budget to pay rent, but without savings to cover a security deposit, background check fees, and other incidentals involved with moving in, the families were stuck. For about $750 per family the trauma of homelessness could end.
"The Homeless Children's Fund was a very adult name," says Sarver. He and the others quickly learned that children didn't like the associations that the name brought with it, so they decided to look for something better. The young people who benefited from the Homeless Children Fund made thank‐you banners over the years, and one of the things they said on a banner was "Thank you for Helping Us Move In." The children quickly decided that Help Us Move In was a name that inspired hope and opportunity and that is what HUMI has been doing ever since.
HUMI continued to fundraise through the church and later through benefit concerts that would raise more and more funds every year. Over the years HUMI evolved into a grant matching program where
agencies and communities came together and matched the funds they received. "We want the communities to step up, join the effort and be a part of the solution," says Scherer.
Matching Funds Model Goes Nationwide
In 2015, HUMI decided to expand the matching funds program to other communities. Now in 34 locations nationwide, HUMI works with local community agencies that provide case management support to families. HUMI provides each organization a two‐year grant. The organization uses HUMI's grant to raise matching dollars that stay in that community to help families gain permanent housing support. This nationwide model is based on the original framework established here in Thurston County.
Prevention is the Key
Not only do HUMI grants provide money for security deposits and other fees associated with moving in, they also support eviction prevention measures that keep families in safe and secure housing. Families living paycheck to paycheck are just one emergency away from eviction. An illness or even a small lapse in employment can mean the difference between making and missing a complete rent payment.
"Most times landlords don't want to kick a family out because someone has been ill or out of work, they want to keep good tenants," says Scherer. Eviction prevention can help families avoid the trauma of homelessness and minimize the impacts of financial stress on children. Prevention is also a lot less expensive than escaping homelessness for the families and the community.
How Merritt Manor Fits into The Equation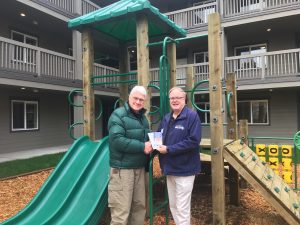 Many people might not realize the role that Merritt Manor plays in HUMI. HUMI, working with Sarver's sister Anne Merritt, contributed the funds to purchase the property for Merritt Manor. In exchange, the owners of Merritt Manor will pay $5,000 a month to HUMI for 30 years. HUMI has challenged Thurston County to match those funds.
When matched, the funds from Merritt Manor and the community will equal $120,000 a year to prevent evictions and help families escape homelessness in Thurston County. As of February 2020, Merritt Manor had 11 units occupied with another 4 families in the process of moving in. Additionally, Merritt Manor increases the availability of affordable housing in Thurston County, another part of the solution.
"HUMI is passionate about helping families gain the stability and the quality of life that comes with permanent housing," says Betz. "Their accomplishments are inspiring and show what can be achieved when partnerships are formed using the talents and expertise of diverse community resources."
To be a part of the solution, donate on the Help Us Move In website and help change the life of a family today.
Sponsored