With hundreds of visits each year, the South Puget Sound Community College Food Pantry provides a range of fresh and dry goods for both students and community members in need of food. Since its inception in 2017, the pantry has doubled in size and now offers frozen, refrigerated, canned and fresh food selections. Partnering with local nonprofit organizations, the food pantry also distributes warm clothing, books and hygiene products.
The effort to host an on-campus food pantry was led by then student senator, Kate Armstrong, after learning that fellow classmates didn't have regular access to food. To mitigate this growing student need, Armstrong collaborated with other members of SPSCC Student Leadership, the SPSCC Foundation and the Thurston County Food Bank to open the SPSCC Food Pantry in October of 2017.
Once established, usage of the new campus resource took off, with 726 visits recorded over the course of the pantry's first year in operation. With a consistent stream of visitors every week, the food pantry has continued to expand its scope of services. Incorporated in that expansion has been input from students and community members using the pantry, including requests for refrigerated items and hygiene products.
Robert Lane, director of student life at SPSCC, says that after listening to user feedback over the past year, the college moved the pantry from a former cafe space into larger room in the college's Student Union Building, doubling the pantry's square footage. Refrigerators and freezers were added to the new space, providing a wider range of food options.
The SPSCC Food Pantry operates as a satellite campus for the Thurston County Food Bank to supply a consistent stream of fresh, frozen and canned foods for visitors each week. Although created with SPSCC students in mind, the pantry is open to all members of the community. "Anyone is welcome," says Lane. "We don't turn anyone away."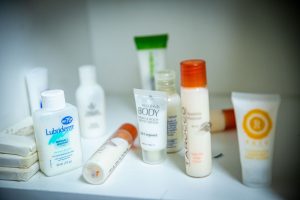 In addition to food, the pantry provides additional necessities beneficial to students. Through campus-wide drives and partnerships with the YWCA's The Other Bank, the pantry has a selection of hygiene products, including menstrual supplies, shampoo, razors and deodorant. In partnership with the South Sound Reading Foundation, the pantry has a reading corner supplied with books. There is also a warm clothing area available for pantry visitors in need of winter gear.
"This is all through donation," explains Lane. "So, we're really mindful of even though we're a state entity, that this service is really funded by donation as well as work by the students."
Open on Tuesday, Wednesday and Thursday afternoons while school is in session, a visit to the food pantry is structured similar to a store shopping experience. "It's a shopping model," explains Lane. "There's no longer this shame tactic of handing over a bag of food. People still have choices. They get to go through the canned vegetables and decide if they want corn over peas. It tries to eliminate some of that shame that some individuals might feel or guilt because we want them to feel like this is truly for anyone. It's really to help you and supplement you so that you can focus on studying."
Each pantry visitor is allotted 15 full visits, 10 partial visits and unlimited supplemental visits in a calendar year. Full visits allow users a wide selection of fresh, frozen, canned and dry food items, including dairy, protein, pasta and baked goods. Partial visits include perishable items that have a shorter shelf life, including protein, dairy and bread. Supplemental visits include fresh items that have the shortest shelf life, like produce and pastries. Each client's first visit to the pantry includes a small intake session outlining pantry procedures, the types of visits and guidelines of how much food to take based on household size.
An evolution over the past two years, Lane says that since the beginning of this school year alone, there have already been 678 visits to the food pantry. In the future, Lane hopes to maintain community partnerships, add more student staff and add more open hours so that even more students and community members can be served by the food pantry.
"We know often times when you're trying to balance bettering your life by going back to school, whether it be one class or a whole degree, we know that you're giving up time, energy, resources," explains Lane. "So, if we can make these kind of supplemental helping points along the way, our hope is that graduation increases, persistence increases, those fundamental things. We want you to be able to cross the finish line."
To learn more about the food pantry, visit the South Puget Sound Community College website.
Sponsored