Around Puget Sound, locals remember the story of Sergeant Jereme Sawyer. After losing both of his legs to an IED while serving in Afghanistan, Sawyer was on track to move into a new, custom-built home specifically designed to meet his needs through the non-profit Homes for Our Troops. Then, in November 2018 thieves broke in and stole $5,000 worth of windows from the building site. That's when the entire staff of Northwest Home Team decided to take action, donating $5,000 from their Community Fund to replace what had been stolen.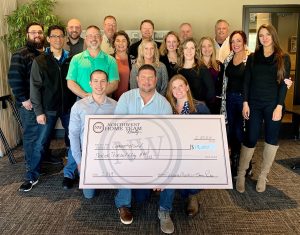 "We felt that not only does the military do so much for our community and our country, but helping him replace those windows was kind of a sweet spot for us because homes are what we do," says co-owner Jessica Poulos. "It feels good to make an impact on somebody's life."
Sawyer has since moved into his home and he appreciates all of its customized features, from a kitchen with cabinets he can reach, to a safe bathroom with roll-under sinks and a roll-in shower. Most importantly, the home has given him back his independence and created space for his mother, who is his full-time caregiver.  Homes for Our Troops builds and donates specially adapted custom homes nationwide for severely injured post-9/11 veterans to enable them to rebuild their lives, a cause that the NW Home Team wanted to support.
The Community Fund began in 2018, born out of a desire to give back to the region, says Jessica. "When you're working in real estate, you're dealing with people who work, live and send their kids to school right here in the community. We wanted to contribute because this is where we live and work, too."
Every member of their staff was given an opportunity to contribute a percentage of their paycheck or closing fees on homes they'd sold toward the fund. "We made it totally optional and they all decide how much they want to give," says Jessica. By the end of the year, they'd raised $2,500, which Jessica and her husband Steve, co-founder and co-owner, decided to match.
In order to choose which charity to support, the staff does a round table discussion of potential causes and assembles a list, ultimately choosing where to allocate the funds that could make the most impact. In 2018, it was Homes for Our Troops. The following year the team raised $6,525 which the couple again matched, making a total $13,050 donation.
That year they split the funds between the Homes for Our Troops, Raise for Rowan, Thurston County Food Bank, Children's Hospital and TOGETHER!, a non-profit that mobilizes family, schools and the community to solve community problems and advance the health and wellbeing of all young people. "All programs work with schools across Thurston County," says Jessica. "We partner with them to support kids in need.
As an example, in 2014 TOGETHER! implemented the  Community Schools Initiative that helps remove barriers to education by connecting students and families with school-age children to financial, mental health, educational, and housing resources. The program is in effect at multiple locations in Thurston County, including Yelm Community Schools and the Tumwater School District. "It's not just one school," says Steve. "We're working with programs that address all the schools."
In 2020 the team has an even greater ambition to raise $20,000 through the Community Fund. To that end, they're donating a portion of commissions from any referrals to the fund. "For example, if we sold you a house, you would tell your sister to use us because we give back through the Community Fund," Jessica explains. "We're finding that when people refer clients to us, they're saying you should go with them because they give a portion of everything back to the community. We're so proud of this fund, not only because everybody in our office is so giving but because the community loves it."
Despite the fact that participating in the Community Fund is optional, every member of their staff has chosen to contribute. Steve believes it's a result of the company culture, which focuses on service. "Everyone on our team has the same heart and mindset," he says. "We call it the servant's heart. Real estate is just the vehicle through which we can have an impact."
Learn more by visiting the Northwest Home Team website or calling 360-529-0992.
Sponsored