UPDATE: This event has been cancelled. Read the City of Lacey's LocalTalk for more information.
Culture has been defined as "the arts and other manifestations of human intellectual achievement regarded collectively." Within our great American melting pot are represented global foods, fashion, music, dance, language, and experience. Come enjoy the best of everything – truly the world at your doorstep – at the Lacey Cultural Celebration on Saturday, March 7.
"The Cultural Celebration strengthens our community, economy, and individual health," says Jeannette Sieler, recreation supervisor for the City of Lacey. "No man is an island. We belong to families, work groups, neighborhoods, a community. This event provides opportunities for us to know one another and have positive contacts with each other. The dancing, crafting, and skills shared at the event are all a part of recreation and enhanced community, as well as individual wellbeing."
The Celebration has been held in Lacey since 2011 and was in downtown Olympia for more than 20 years before that. This year's festivities will take place at Saint Martin's University on Saturday, March 7 from 10:00 a.m. until 6:00 p.m. Admission, parking, entertainment, and activities are all free. However, you might want to bring a few dollars to sample delicious foods or pick up globally inspired souvenirs.
"The variety of cultures represented in our own community is amazing! The Cultural Celebration gives various groups a chance to dress in their traditional costumes and share dances, songs, and music as they teach them to their children who perform alongside them on the stage or share with others at their group's booth," says Sieler. "It's so exciting to see children proudly wearing elaborate clothing of their ancestors and repeating the dances and songs they have learned from their parents. And, for those who just come to soak in the culture, it is a feast of colors, sounds, and flavors from all over the world."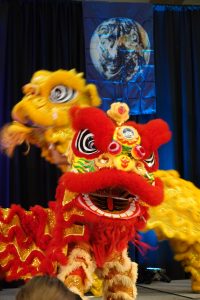 Sieler explains that some of the performing groups share a strong educational background and passion for their cause, like the River Ridge High School Taiko Ensemble. The River Ridge students—under the guidance of instructor John Theine—spend many hours actually building the drums they use. "They boast a full complement of 15 drums including a Hira Daiko measuring over 5 feet in diameter and have added bamboo instruments as well as Japanese Shakuhachi flutes. The students will host a 'petting zoo' of sorts where kids can get a chance to try out the amazing drums," says Sieler.
Also taking the main stages will be Celtic musicians, Native American drummers, and dancers from across the globe. "Many other groups are made up of families that embrace their own ethnicity and culture. They strive to pass that down to their children through social activities and gatherings. This gives them the opportunity to learn dances and songs that they can practice and perform, as well as dressing in traditional costumes and showing their pride in their own heritage," Sieler continues. "Some of these performers include the India South Sound Association and the Vietnamese Buddhist Youth Association from Chua Lien Hoa Buddhist Temple. This last group always thrills the crowd with the amazing Lion Dance. They will perform at 11:45 a.m."
If all this makes you hungry—and trust me, it will—food vendors from Indonesia, Germany, the United Kingdom, Hawaii, South Korea, Vietnam, the Philippines, and Mexico have already signed up to be on-site. There will also be informational booths, arts and crafts, and hands-on activities to enjoy as you wander in between snacks.
Make sure your kids pick up their Passport and collect stamps from various locations throughout the Celebration. Once completed, they can bring their Passport to the check-in booth and receive a prize courtesy of Lacey Collision Center.
Find updates or share the Cultural Celebration's Facebook event with your friends. Lacey is proud work with their amazing partners, including Saint Martin's University, North Thurston Public Schools, the Nisqually Tribe, Lacey Collision Center, Molina Healthcare, Showcase Magazine, Oly Arts Magazine, and 94.5 ROXY on this annual event
Culture is all around us, but sometimes we fail to appreciate the uniqueness that makes America special. By embracing so many people from so many backgrounds, we're a delightful patchwork of spices, colors, styles, and stories. Come sample the world at your doorstep and make the Lacey Cultural Celebration part of your family's shared history. You'll be glad you did!
Sponsored