Pizza is a versatile food – a crowd pleaser, a snack or a meal in itself. The crust of carbs, cheesy goodness and the array of topping choices, coupled with the ability to eat it at home, as take-out or in a restaurant adds to the popularity. Find wonderful options of all kinds here in Thurston County for pizza in a variety of ways, all on a budget.
Wicked Pies Pizzeria

Wicked Pies Pizzeria in Olympia takes pride in having fresh, quality ingredients. They make their dough fresh every day and all the pies are hand-tossed. They also make their own sausage, meatballs, croutons, pizza sauce and more. The high-quality meats are sliced in house and the pepperoni comes from Zoe's Meat – a company that is environmentally conscious and prides itself on sourcing sustainably. At Wicked Pies, pizza is not about piling ingredients on. It's about using fresh quality ingredients with a balanced ratio of dough-to-sauce-to-toppings creating the perfect bite of pizza.
The price you see is the price you pay at Wicked Pies as all pricing includes tax. Grab a lunch special every weekday with any slice and a Caesar salad from 11:00 a.m. to 2:00 p.m. for just $7.50. On Wicked Wednesdays, cheese and pepperoni slices are just $3 all day and get $1 off any beer, cider or wine. Be sure to follow Wicked Pies Pizzeria on Facebook and Instagram where they often give away free pizzas or gift cards.
Pizzeria La Gitana
Using organic flour imported from Italy and organic fresh produce, the woodfired pizza at Pizzeria La Gitana in Olympia and Yelm is called the best pizza outside of Italy. The upscale food, ambiance and service are complemented by the authentic touches, including prosciutto San Danielle made in Italy from Italian pork, organic olives, balsamic and olive oil imported from Italy. They also import bleu cheese from France and Himalayan salt is used. Pizzeria La Gitana uses ham with no added nitrites and chicken from humanely raised animals with no growth hormones or antibiotics. Guests appreciate the taste and quality at Pizzeria La Gitana where they make their own Italian, Green Goddess and pesto dressing without sugar, as well as their own Bolognese and fresh-upon-order white sauce.
Every Monday to Wednesday after 4:00 p.m. get one pizza per table at 26% off or 30% off any wine bottle. Guests receive $15 off any pizza on their birthday. Also, every 10 visits, enjoy any pizza on the menu for free. In the summer months, enjoy free jazz music events at both locations. Pizzeria La Gitana also hosts the free Yelm Jazz in the Park where it feels like summer in a Parisian garden.
Farrelli's Pizza
Farrelli's Pizza in Lacey stands out with its hand-tossed dough made fresh daily, the premium ingredients and Woodstone open-flame ovens the pizzas are baked in. Find unique and classic pizza options alike on the menu. Voted as Best Pizza in Western Washington by Evening Magazine/King5 since 2015, the real secret sauce is the people. The pizza is great because of the love and passion put into every pie and every guest experience. You'll find amazing food served by friendly staff, guided by the slogan, "Great People Make Great Pizza."
With weekly specials, you'll find deals often at Farrelli's Pizza. On Mondays, don't miss the popular kids eat free night. Get a free kids meal with every $10 spent by a paying adult. Sunday's special is military discount day with any 16-inch pizza just $16. Enjoy happy hour in the bar from 2:00 p.m. to 6:00 p.m. and 9:00 p.m. to close daily and all day Sunday, with 50% off all personal size pizzas and 25% off all appetizers, plus great drink specials too. Join the loyalty program and earn a point for every dollar spent and use those points on $5 discounts starting at 100 points. There are also sign-up, birthday and other member-only rewards throughout the year. Download the Farrelli's app to start saving.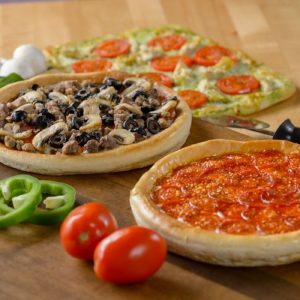 Izzy's Pizza and More
Since 2002, family-owned Izzy's Pizza offers Thurston County the best of both worlds, with all-you-can-eat pizza, plus steak, cod, ribs, chicken and more. It's perfect for families and everyone is sure to find their favorite food in their preferred portions. The pizza is a must-try though. The buttery crust is what people love about Izzy's pizza and the fast, friendly staff are happy to help guests have a wonderful meal.
Seniors get a discount off of the adult price and a free beverage bar. Kids age three and under eat free and kids ages 4-12 are just $0.70 per year of age during lunch and $0.80 per year for dinner. Find money-saving coupons at Valpak.com or sign up to get email coupons monthly at the e-rewards club.
From handmade ingredients, woodfired, to upscale and family-friendly find mouthwatering pizza and more in Olympia and beyond.