There were times, during the early portion of last year's girls basketball season, where Rainier High School's Kaeley Schultz could step out onto the court without anyone on the opposing team knowing who she was.
Now, far from anonymous, she doesn't have that luxury as a sophomore. After all, you can't run roughshod through every offense you square off against as a freshman without drawing attention to yourself.
Schultz put together the best freshman season in Mountaineers history last year, leading Rainier to the Class 2B state playoffs and a 19-1 regular season record before being named co-MVP of the 2B Central League.
"We've noticed teams are now aware of her," said Rainier head coach Brandon Eygabroad. "That makes it that much harder for her. Every point she gets this year, she really has to earn."
So, what do you do for an encore when every defensive player is making you their top priority?
"We're working on developing her passing game to create more opportunities for her teammates," Eygabroad said. "She's now focused on making everyone around her better."
From freshman phenom to sophomore facilitator. Life just got a lot tougher for opposing defenses.
"I've definitely tried to change my view more towards team ball," said the 5-foot-10 Schultz. "I want to get more girls incorporated. I want to draw people in and kick because we have shooters this year."
Tops on that list are sophomore Selena Niemi and senior Sophie Beadle, who returns to the team after sitting out last season. They are two of several players Schultz believes give the Mountaineers a more powerful scoring punch.
"I was young and new to high school basketball last year. I was head down and looking to get to the hoop every play," Schultz said. "I felt like the world was on my shoulders and that's how I played. I want to be able to open up that tunnel vision. Now I have other players who can do just as much as I can out there. We have more people stepping up. I want to get everyone involved."
But that's not to say Schultz isn't still capable of lighting up the scoreboard. She is. Just ask Forks, a 1A team Rainier played over the holidays at Saint Martin's University. The Mountaineers won, 60-20, with Schultz single-handily outscoring the Spartans, something she accomplished in the first half alone by striking for 23 points.
"She's a one through five player both offense and defense," Eygabroad said. "I can play her against their biggest girl, and I can play her against their point guard."
According to Eygabroad, one of Schultz's most improved area is her post game, which only increases her already high-powered offensive skill set.
"As much as she plays on the wing, she will play in the post," Eygabroad said. "She has great footwork down low. She really worked a lot this off-season on knowing what to do once she catches the ball down there, and she loves playing the post. She asks me multiple times a game to play her down there."
Schultz believes all of this will add up to another trip to the state playoffs.
"The first day of practice this year, it felt like (last) season never ended," Schultz said. "We picked up right where we left off. We glue together so well as a team and we know what we need to do to get to where we want to be. We've been to state, we've tasted it. We know that's where we belong, and that's where we will be headed this year."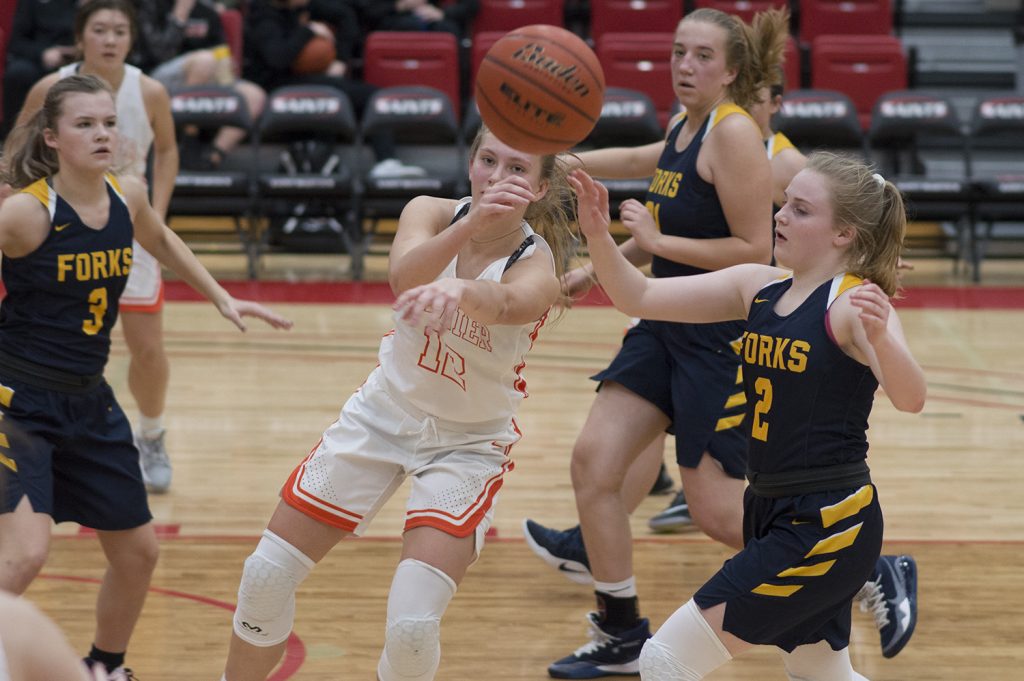 Behind Schultz's stellar season, the Mountaineers ended an eight-year state playoff brought last year. Rainier was the eighth seed in last year's state tournament, losing to top-seeded Wahkiakum in the regional round before losing to No. 9 Brewster in opening round at state.
"That's been our motivation. We want to be back there," Eygabroad said. "Each day we ask what we need to do to accomplish that. I know for Kaeley it's about how good can we get by the end of the year as a team and she's going to do whatever it takes to get the job done. The great thing is she loves the game and loves being a part of this team."
Rainier is already off to a strong start to the season, posting an 8-2 non-league record before opening its 2020 slate of games with a league win over Wahkiakum.