Social engagement can play a big role in memory and cognitive function. Panorama and Senior Services for South Sound aim to keep people who are experiencing memory loss active and engaged through their co-sponsored Memory Cafe events.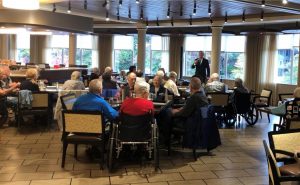 Starting February 4, 2020, and every first Tuesday thereafter, from 3:00 p.m. to 4:00 p.m. people in early stages of dementia and at least one caregiver are invited to attend the Memory Cafe at Panorama's Seventeen51 Restaurant & Bistro. The primary focus of these events is to provide a social experience. No sign up is required, and there is no cost to attend. Attendees may order food or beverages off the menu at their own expense if they desire, but the real draw is connecting with other people and having a fun experience outside the day-to-day routine.
"Mainly it's creating this space for people to feel comfortable and not have to worry if they don't remember names, or can't remember certain things from their past or from that day," explains Cheri Knighton, Family Support Coordinator at Senior Services for South Sound. "Everybody is there for the same reason, and it's just to spend time together and socialize and not be judgmental."
Though a caregiver is required to attend, it can still be a fun and relaxing time for everyone. It is not a support group, but people do tend to share experiences. "When you think about what it takes sometimes to go out to dinner with someone with dementia," says Knighton. "It can be complicated." This is an opportunity to socialize with people who understand.
Senior Services for South Sound has offered several dementia-friendly events and activities in recent years, a Memory Cafe at River's Edge restaurant, Music Mends Minds, which gave people with memory loss the opportunity to play music, and various creative activities like watercolor and writing. With the creative activities there is no skill building, it is about enjoying an experience together with no expectations on the end product. "It is what it is, and it is fun to socialize and talk over what you are doing," explains Knighton.
She remembers one couple who attended some dementia-friendly art classes. The wife said the classes were a respite because it created a different experience for her with her husband who had dementia. "They were stepping out of the whole caregiving, being at home mode into this creative, social mode, and they both just really loved it," shares Knighton. "And she said, 'I don't understand why more people don't come to this.'"
The idea arose when Senior Services learned of the Momentia movement, which started in 2010 through Seattle Parks and Recreation. "It was a movement to include people with dementia in more activities with the parks program," explains Knighton. They started with outings to the zoo and music programs and the idea grew. Now many organizations in the Seattle area offer dementia-friendly events and experiences.
"When some of us at Senior Services for South Sound heard about Momentia, we were really excited to get something like that started here in Thurston County," she adds. Marigrace Becker, who now works with the UW Medicine Memory and Brain Wellness Center is a Momentia pioneer. She gives presentations on how other communities can start Momentia programs and has been a valuable mentor for Knighton at Senior Services for South Sound.
In 2018, Panorama started their own Memory Cafe for their residents. Now the two programs are coming together. "We are at a point where we are trying to expand the program and really reach out to the community more," shares Sara Wasser, Panorama Social Service Advisor. Starting in February 2020, the Memory Cafe at Panorama will be open to the public and they will coordinate with Senior Services for South Sound in planning activities and entertainment.
Their first joint event will showcase singer, Chris Anderson. "He is going to be performing Sinatra music," shares Wasser. "He's pretty popular here at Panorama. I think that will draw a lot of people in for our first event."
Activities and format may vary at the Panorama Memory Cafe events, but fun and socializing will always be the focus. "Part of our hope is to reach the people in the earlier stages and keep them engaged, so that by the time the caregiver at home needs some respite, going into a social situation isn't so difficult," Knighton explains.
"We are the largest continuing care community in the area," shares Wasser. "This is part of our attempt to bring services to our residents and recognize that the population we serve is growing; as the boomers continue to retire, we are going to see a lot more memory loss in the upcoming years."
Panorama employees are working hard to design programs to support people with memory loss, finding ways for them to stay active and engaged. "Cheri has been a valuable resource as we are trying to develop these programs with Senior Services," Wasser adds.
"Panorama was our first financial partner and now they've become this activity partner, which I'm really thrilled about," says Knighton.
Memory Cafe, a South Sound Momentia (dementia-friendly) activity
Seventeen51 Restaurant & Bistro, Panorama
1751 Circle Lane SE, Lacey
Every first Tuesday
3:00 p.m. – 4:00 p.m.
Sponsored