The Northwest Christian High School boys basketball team is off to one of its best starts in program history this season.
And while the Wolverines are definitely pleased with how things have begun, their focus is somewhere else.
"Our mantra for this year is to finish," head coach Rick Tigges said. "We want to finish. Not just in games, but in every single step of the way. Finish every step. Last year I felt like we got to one level and we got satisfied. That's why were really hammering on finishing this year."
In each of the last two seasons, Northwest Christian has fallen just short of advancing to the state playoffs. The team is in a nine-year state playoff drought, but appear to have the cast of characters this year to make a deep post-season run.
The Wolverines opened the year winning seven out of its first eight games and enter 2020 with a solid 5-1 record in the competitive 2B Pacific League with their only setback coming on the road against fellow league contender Ilwaco.
One of the main reasons for such a hot start is the return of senior Noah Phillips.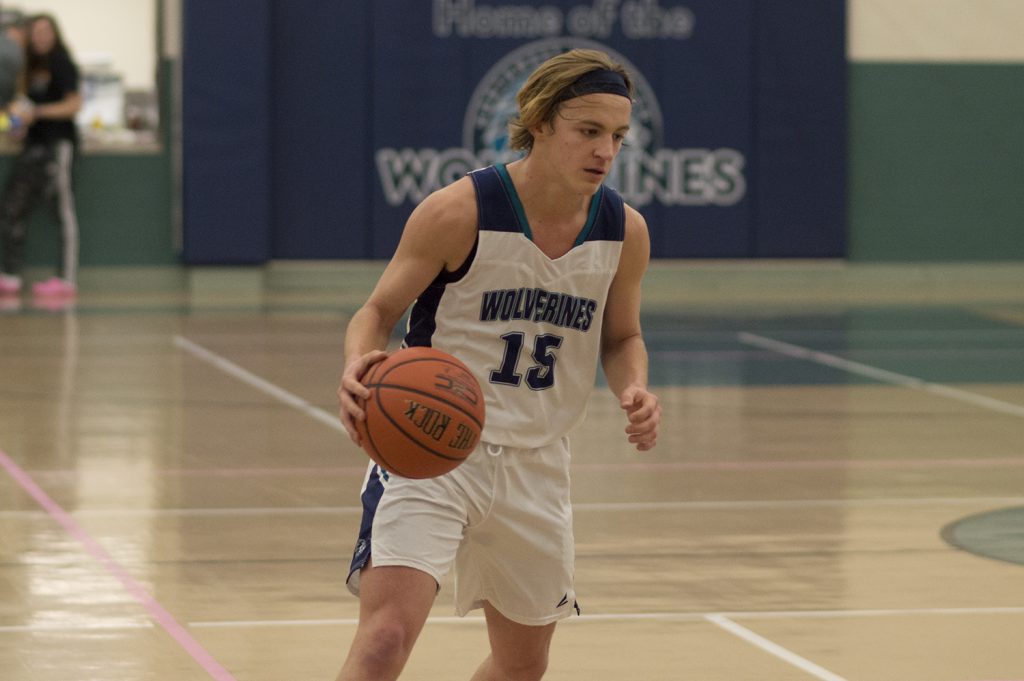 The 6-foot-2 guard played basketball his first two seasons of high school before sitting out last year to concentrate on cross country and track. The decision proved to be the correct one as he helped Northwest Christian win four consecutive cross country state championships.
He now looks to parlay that success over to basketball.
"This last summer, I was thinking about coming back out. I wanted to play one last time because it was my senior year," said Noah Phillips, who will run for Colorado Christian University, a liberal arts college in Lakewood, Colorado, next year. "Once I had committed to Colorado Christian, I talked to my coach there and he didn't have a problem with me turning out for basketball. So, that really solidified my choice to come back."
The return of Noah Phillips, who joins younger brother, Jude Phillips, in the Wolverines' starting backcourt, has given the team a major boost both on and off the court.
"We obviously love having him out there," Tigges said. "He's been everything we've wanted and he's turning into our team leader. Everyone wants to follow him, and he's been stellar for us the whole time."
That includes on offense where Noah Phillips has helped fill a large void created by graduation. The Wolverines lost several of their top scorers from the 2018-2018 campaign and Tigges initially wasn't sure who pick up the scoring slack. Now the answer is crystal clear.
"We lost Nick (Tarabochia) who was our 20-point a game guy from last year and basically plugged another 20-point a game guy in with Noah. It's a huge deal for us," Tigges said. "Noah just has that feel for the game you can't teach, and he brings in a ton of energy. He is just all over the place. Even on the defense end, he has so much energy. The team feeds off that."
Noah Phillips is one of two seniors on the Wolverines' roster this year. He is joined by 6-4 post Zach Mandlin.
While Northwest Christian graduated four key members from last year's team, they also welcome back key juniors Jude Phillips, who is a 6-2 guard and a pair of posts in 6-5 Landon Koukal and 6-4 David Yates.
"The competitive mentality is off the charts with this team," said Jude Phillips. "Everybody is very focused on what we want to accomplish."
Injuries and some illness have slowed the team during the start of the season – although you wouldn't get that from their record.
In fact, the Wolverines have only been at full strength twice this season with both games coming at the end of 2019 when they dismantled Chief Leschi 82-36 before taking to the road and hammering Pe Ell, 72-38.
Against Chief Leschi, the Wolverines put up a season-high 52 first half points with Jude Phillips scoring 19 in the first quarter and 23 before the intermission
"I definitely think were maturing really fast as a team," Noah Phillips said. "I think we will be in a good position come districts."
Northwest Christian will play its first six games of 2020 on the road with its biggest test looming on January 8 when its travels to play defending Pacific League champion Life Christian Academy. The Wolverines dropped both meetings last year, including a tight 53-52 game in Tacoma.
Northwest Christian returns home to play Ilwaco on January 21. The Fisherman knocked off the Wolverines, 60-47, earlier in the season.