North Thurston Public Schools (NTPS) has long recognized that it takes a community to raise a child. With more than 15,000 students in 22 schools, the diverse and growing district works hard to ensure that all students are "empowered and future ready!" Their 4-year graduation rate has been on the rise the last 5 years and recently hit a record 88 percent! In addition to academics, however, the district places a concerted emphasis on meeting social emotional needs of students as well.
NTPS Assistant Superintendent of Operations, Monty Sabin, says he is "most proud of the emphasis our district and community have placed on compassion and ensuring everyone feels like they belong. We have proven that as a community we are truly stronger together!" It is this same care and concern for students that drives the district to partner with many community organizations to provide wrap-around services, including child care, for students via a myriad of different programs.
TOGETHER!
TOGETHER! is an organization that aims to "advance the health and well-being of all young people" and provides free, high-quality before or after school programming. "Their Club House Program is focused on improving academics," says Karen Remy-Anderson, the district's Executive Director of student support, "by providing social and emotional learning and integrating family education." TOGETHER! Operates at Lydia Hawk and Pleasant Glade Elementary Schools and at Chinook and Nisqually Middle Schools. Currently, North Thurston Public Schools has 50-60 kids per participating school.
Homework assistance, STEAM activities, physical activity, academic enrichment, social and emotional learning, nutritious snacks, and transportation are among the services that TOGETHER! contributes to the district's goal in making before and after care, "wrap-around services" available to its students.
"Lydia Hawk Elementary and Chinook Middle School are piloting dual-language programming," Remy-Anderson also shares, "and TOGETHER! receives funding through the 21st Century Learning Center federal grant as well as support from multiple community funders."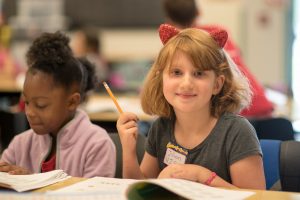 South Sound YMCA
North Thurston Public Schools truly utilizes their village when it comes to partnering to achieve an entire spectrum of services available to students and families. The South Sound YMCA provides before and after care with their Y Care program for the students of 10 of the district's 13 elementary schools in a program that serves children ages 5- to 12-years-old. Currently, there are 419 kids registered at the South Sound YMCA in North Thurston. The program helps working families and also provides financial assistance.
"It's an enriching child-focused, child-directed environment, Sabin says, "that promotes the exploration of their interests and talents." Like North Thurston Public Schools, the Y focuses on programming on researched-based approaches to social-emotional growth and development in children, including outdoor play, creative projects, board games and tutoring. The district also partners with the YMCA in the summer for their Power Scholars program.
Centro Integral Educativo Latino de Olympia (CIELO)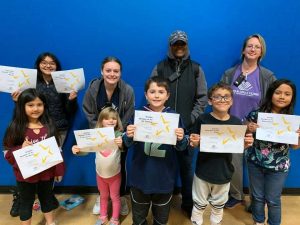 "CIELO offers a wealth of resources and support for our families who have immigrated to the U.S. and live in our community," explains Kate Frazier, director of English Language Learners for North Thurston Public Schools.
CIELO provides education classes to families at the schools, and parents and children both attend. CIELO partners with the district to exchange information and communicate in an effort to provide support for families in navigating the school system.
"CIELO has been providing services for our families for many years," Frazier says. "Within these past two years, we have grown our partnership so we can discuss and strategize on the best ways to support our families together. The services CIELO provides are extremely important and our partnership is essential. Our district does not have all of the resources and expertise that the CIELO staff brings in supporting immigrants in our community and in our schools. We are grateful for their partnership."
Boys & Girls Clubs of Thurston County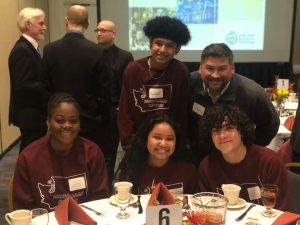 These programs, no doubt, contribute to the successes that Sabin mentioned that the district is proud of. They do this by not only reinforcing the district's values, but also by creating spaces full of laughter and creativity, where children can do what they do best: learn through play.
The Lacey chapter of the Boys & Girls Clubs of Thurston County has also been a major contributor in providing wrap-around services for North Thurston Public Schools.
For the past 15 years they've been supporting Lacey children, 200 each day on average, a number quite larger than the 25 students they supported at the chapter's first inception in 2001.
"The Boys & Girls Clubs of Thurston County formed when a small group of individuals came together to raise enough funds to start a program in Tumwater," says Chris Woods, the Club's chief executive officer. "The location was formerly the Bus Driver's Lounge, and now the organization has grown to serve youth and their families out of 7 locations – including Lacey – with nearly 700 kids supported each day, county-wide. Our buildings have undergone several renovations to make them the best that they can be for the kids." There are are now Clubs in Tumwater, Rochester, Olympia, Tenino, Yelm, and the two locations in Lacey.
An after-school program is provided each day until 6:30 p.m. and the program is structured by three primary outcomes: academic success, healthy lifestyles and good character and citizenship.
The programming offered is not just for children, but for families too, and during back-to-school time the club assists families who communicate a need for supplies. During the holidays, an Adopt-A-Family program is offered and reaches 200 kids and their parents across the county.
Through Skills Coach Services, members who are experiencing behavioral challenges can participate in small group sessions with the Club's mental health professional.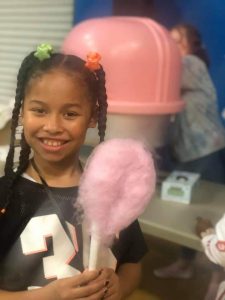 Lacey learners are well supported before and after school through all of these programs. "They provide safe and productive before and after school opportunities for children from K-12th grade," Sabin says.
North Thurston Public Schools does an excellent job of educating their students – but they can't do it alone. They know that we are all "Stronger Together!" and use this district-wide theme to support their students through vital partnerships. Through successful programs where everyone wins – especially the students – these wrap-around services are something that educators, families, and children are all thankful for.
To learn more about these programs or to see what resources are available at your child's school, inquire within your home school, or contact the district at 360-412-4410. View the Family Resources Directory here.
North Thurston Public Schools
305 College Street NE, Lacey
Sponsored