Few things personify our region like salmon. It has long been the lifeblood of Washington's people, industry, history and culture. Recent award-winning improvements to spawning habitats throughout Thurston County are bringing these prized fish home and creating new life in streams, creeks and rivers. Whether you enjoy family hikes to see them spawn or as part of a healthy dinner, County officials are working tirelessly to bring local salmon home for the holidays.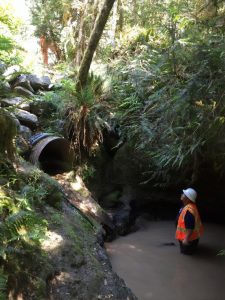 The Columbia River Inter-Tribal Fish Commission explains that "salmon play an important role in the ecosystem of the region, returning ocean nutrients to the rivers and streams where they were born, feeding wildlife and even the forests with their bodies. For thousands of years, salmon also shaped the lives of the people who have lived here since time immemorial…These fish have been an important part of the economies of the region for thousands of years, from the ancient Indian trade routes to modern commercial fishing."
Over the past year, Thurston County officials have completed six fish passage enhancement projects with several more still in progress. These opened up more than seven miles of spawning grounds by removing large culverts where streams were re-routed underneath roads and replacing them with more fish-friendly options.
Officials explain that "Of the more than 3,000 culverts in use on Thurston County roads, 150 have been identified as potential fish blocking culverts…of the 150 identified, 5 were replaced in the first project cycle." And it's already working. Now, one year later, the first salmon are returning to formerly impassable streams. They are just the first generation of new life, but definitely not the only things benefitting from this change.
"People may not know that our program brings jobs and positive economic impact to the community," says Steve Johnson, Thurston County civil engineer lead. Jeanne Kinney, environmental coordinator, found a 2010 study from the University of Oregon, which included data that indicated for every $1 million spent on fish passage enhancement programs, that there was a $2.2 million benefit to the community, Johnson explains. "Our projects also reduce point-source pollution, improving storm water quality in the region and contribute to improved floodplain management," he adds. "They have a 50- to 75-year lifespan. In addition, safety aspects of our sites also allow for animals to cross roadways without traffic conflicts. For example, our bridges and box culverts allow for wildlife to pass under the roadway."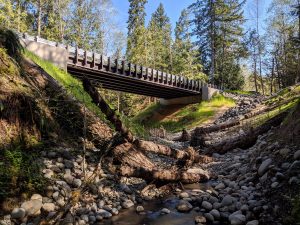 Project employees also carefully worked with the landscapes around culverts and streams. In light of data collected during the project's first year, "We are learning a lot about which plants, and how much planting, we should be doing along reconstructed stream beds," says Trevin Taylor, Thurston County senior environmental coordinator. "For streams, rebuilding these areas is similar to open heart surgery and we are finding out how to minimize recovery time through improved planting. We have also learned better techniques for the installation of the new streambed gravels, ensuring that the creek will stay above ground, and not seep into the new streambed."
Fish passage enhancement was a multi-agency effort that stretched across as many organizations as it did miles. Representatives from the Squaxin, Nisqually, and Chehalis tribes worked with county officials, design consultants, contractors and adjacent property owners as well as members of the South Puget Sound Salmon Enhancement Group. There were also staffers from NOAA, the U.S. Army Corp of Engineers, the Washington Department of Fish and Wildlife, U.S. Fish and Wildlife Service, and Water Resource Inventory Area groups.
This project was initially funded by the Thurston County Real Estate Excise Tax. But since being recognized with the American Public Works Association's Project of the Year award in September 2019, additional independent and federal funding grants have come in to keep things rolling. Culvert replacement and bridge work will take place well into 2020 and 2021.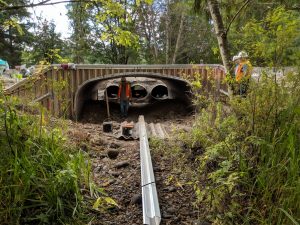 "We did not expect the recognition we have received, from both inside and outside the industry," admits Jeanne Kinney, Thurston County environmental coordinator. "The awards have been a nice surprise and are a confirmation that we have built something special. We are very analytical about how we choose our project sites. Through this process we have learned that a single large project, which may look like the right choice, may not provide as much habitat as three smaller projects combined."
But the team has also been delighted by the sheer amount of positive public feedback. "After construction we returned to gather data at the project sites where people, witnessing spawning fish returning that very first season, thanked us in person. The video of spawning fish returning to the Hunter Point Road project site was also one of the most liked postings of the year on the Thurston County Facebook page. We were also surprised at how far the word spread about the projects—to other counties, agencies, states and continents—and interest from others to implement parts of our program including streamlined permitting processes, the use of prefabricated bridges and more."
Find project updates, videos, maps, and information on the County's dedicated Fish Passage Enhancement portal. Then dig out your warm coat, rubber boots, and wooly hat to explore one of the many spots you can watch these gorgeous creatures spawn their way home for the holidays.
Sponsored