The cold nights and frozen walks have begun in Thurston County and with them have come the holiday light displays in Olympia and surrounding areas. Around this time of the season, people and businesses bring out their best and brightest light displays to ring in the holidays and new year. Some do it for the joy of it, others for charity, and a rare few for sport. If you are looking for some holiday cheer, check out these Christmas lights in Olympia, Lacey, Tumwater and throughout Thurston County.
Olympia
Oly Lightstravaganza
1515 10th Avenue SE, Olympia
For more than 15 years, Oly Lightstravaganza has been putting on a display of over 90,000 lights. Their walk through light event located on the Eastside of Olympia is open and free to the public. If people want to donate, their open to receiving funds and goods for the Thurston County Food Bank. This display will be open from December 1 into the New Year.
Cove Neighborhood
Town Square Lane SE, Olympia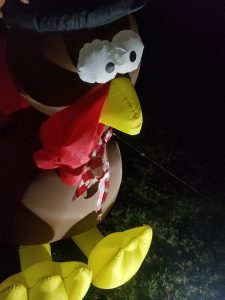 Another sight to see in Olympia this season is the Henderson Boulevard Cove Neighborhood. Many of the homes are decorated in celebration of the holiday season. This is an annual event that the neighborhood puts on for the joy of the locals and visiting guests. Though these are private homes, the street is open for people to drive or walk down to view the Christmas light displays.
Countrywood Park Estates
Countrywood Drive SE, Olympia
Another good place to see Christmas light displays in Olympia is the Countrywood neighborhood, in the southeastern part of the city. To see the beautiful displays that the homeowners have selected, visitors can walk or drive through the neighborhood and view the light displays from their cars or the sidewalk.
Christmas Island
Maytown Assembly of God, 2920 Tierney Street, SW Olympia
Come see Thurston County's own Christmas Island, a family tradition for many. The free event runs every night November 30 – December 27 from 4:30 p.m. – 9:30 p.m. Friday-Saturdays in December will have holiday snacks and hot drinks.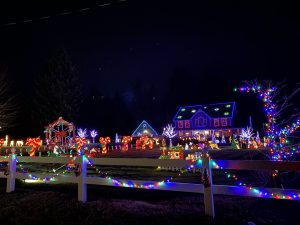 Candy Cane Lane
5410 66th Avenue NW, Olympia
This is the 13th year of Candy Cane Lane in Olympia. See thousands of lights on this large display! Lights run from 5:00 p.m. until 10:30 p.m. weekdays and 11:00 p.m. on Friday and Saturday until New Year's. You can follow them on Facebook.
Frazier Family Home
1630 26th Avenue NE, Olympia
The Frazier family decks out their home for the holidays with a huge display you have to see to believe. You will recognize all your favorite childhood characters in cut-outs – from Charlie Brown and the gang to Mario and Luigi. You can even get your picture taken with Santa. Follow the Frazier Family on Facebook for more information.
---
Lacey
Narada Court SE, Lacey
This neighborhood has over 30,000 lights on several houses for you to drive by and take a look at. Drive Ruddell Road to 54th Avenue SE. Take a right on 54th and then an immediate right onto Narada Court SE.
The Farm
Off Yelm Highway, West of Henderson Boulevard, Lacey
The Farm is located on Yelm Highway and is a neighborhood Christmas light display that's perfect for those wanting to stay in their car, but still see the sights. Tune to the holiday music station and bring along some hot chocolate or coffee for a pefect evening. The Farm paints a picturesque picture of a holiday light show in the heart of Thurston County.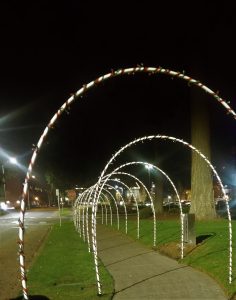 Thomas W. Huntamer Park
618 Woodland Square Loop SE, Lacey
Huntamer Park is a public park in Lacey that decorates its trees and benches each year during the winter holidays. Its location makes for the perfect walking light show. Or, sit and view them for a break from running errands during the holidays. With the beautiful sights and amenities of downtown Lacey, the lights of Huntamer Park are a great attraction when entertaining this Christmas season in Thurston County.
4609 Stikes Drive SE, Lacey
This neighborhood has some great drive-by Christmas Lights in Lacey. They are on around 5:00 p.m. until 10:00 p.m. according to Lora Kohn, a ThurstonTalk reader, who says, "there are other great houses in the same neighborhood that makes it worth going by. The one at 4609 has music also."
---
Yelm
Off W Yelm Avenue toward Railway Road SE, Yelm
Off W Yelm Avenue onto SW Edwards Street, Yelm
Yelm is a city of lights. Beginning on Yelm Highway, people driving or walking through the heart of the town, can see the Christmas lights hung up on several of the local businesses on main street. Off Yelm Highway there are a few neighborhoods with flashing lights that can be seen from the main road. Notable ones are listed above.
Want your neighborhood featured? Send information and a photo to submit@thurstontalk.com.