As we age, most people will either need or become a caregiver. These dedicated souls help with many tasks that can feel overwhelming or confusing. Thanks to Olympia's S & H Training Center, professional caregivers such as Certified Nursing Assistants (CNAs) and Health Care Aides (HCAs) can receive training and guidance through all the steps to a new, satisfying career.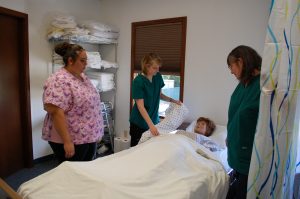 Forbes magazine reports that "An estimated 117 million Americans will need assistance of some kind by 2020, yet the number of unpaid caregivers is expected to reach only 45 million…The U.S. Bureau of Labor Statistics estimates that nursing assistants and home health aides are among the top 10 occupations with the greatest projected job growth in the United States."
Industry experts explain that certified nursing assistants and home care aides "care for patients who are infirm, ill, injured, disabled and otherwise unable to care for themselves. In many settings, CNAs are the health professionals whom patients encounter most often." These may include personal care, companion care, mobility assistance, and supervision of the patient's environment and transportation.
HCA training is done primarily online with four days of in-person training. CNA classes are four weeks of in-person training, including three weeks of lab and theory, and one week of clinicals.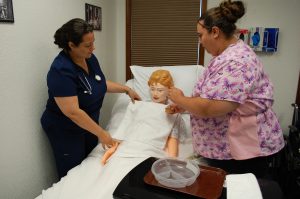 At S & H Training Center, they're striving to help fill the gaps. They offer programs to become CNAs and HCAs as well as additional classes in dementia care, mental health, nurse delegation and more. For those new to the career path, they'll provide guidance through the state testing and licensing process and established workers can obtain continuing education credits or take classes on topics and needs specific to their employer.
Owner Sarah Lane is no stranger to the industry. She and husband Greg also own FirstLight Home Care voted the "Best Home Care Agency" in the South Sound all four years they've been open. Lane herself attended home care aide training in Olympia and sent employees as well. She jumped at the opportunity to step in when the owner of that school retired.
"There's a need for high-quality caregiver training to continue in our community," says Lane, "both for skills and hands on experience, and instruction in soft skills like professionalism, dependability, and punctuality."
Though other schools in the region offer CNA training, S & H is the only school in Thurston County that provides HCA classes to the public.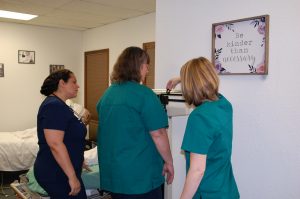 Their overall goal is simple and threefold, teach students to: provide excellent patient-centered care, pass required state exams, and be top quality employees. Whether attendees come for a multi-week class or just specialized training in a specific topic, S & H knows that it's a win/win. Good training produces good employees who reflect well on both their employer and their school.
"The caregiver shortage is real," says Lane. "They're needed in adult family homes, home care, hospitals, hospice, and home health. The senior industry relies on caregivers. We need a high-quality program to try and keep up with caregiver demand."
Home Health Care News reports that "The nationwide shortage of caregivers continues to be one of the biggest industry-wide problems for home health and home care agencies, with no end in sight. And in the future, the employment crunch could become even worse than previously expected…Additionally, growth within the direct care workforce will outpace every other occupation in the country, adding the greatest number of new jobs in 38 states from 2016 to 2026."
S & H is licensed to provide training statewide, which is important as there are definite gaps for those in rural areas. A second location in Renton is due to open in early 2020. All curriculum and instructors are approved by the Washington Department of Health and DSHS. Registration for December classes and beyond is open now.
Learn more about courses, the class calendar, and registration online, via Facebook, or by calling 360-539-7423. Staff are happy to answer questions, provide guidance, or assist you through the sometimes-confusing state processes.
Sponsored