Mel Smith, the long-time commissioner for the swimming portion of the Washington State Senior Games, is hurrying around the Briggs YMCA, making sure this year's aquatic competition runs smoothly.

"Busy and dizzy," Smith playfully replies when he's asked how's the day going so far at the July 28 event. "There's still a lot to do."
The truth is, Smith has already done the bulk of the work. He begins the process each year in late May when he first starts to receive entry forms from the athletes. He knocks things out over the next two months and by the time the actual swimming starts, all the real heavy lifting has been completed.
Nevertheless, he remains focused on having everything run seamless for the swimmers, volunteers and spectators.
It always does.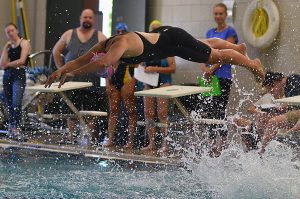 "Right now, I'm looking for my wife," Smith says as he scans the crowd from across the pool. "She's bringing lunch."
This year's senior games swimming competition was one of the lighter ones in recent years for Smith in terms of his requirements. In addition to overseeing the races, the officials and the volunteers, he usually dips into the pool and competes in multiple events as well.
He opted against doing it this time around as he is currently training to participate in Swim Across America – a two-mile open-water swim in early September at Lake Washington that benefits the Seattle Cancer Care Alliance.
But normally can be found racing right along other members of his South Sound Masters Swim Team.
One of his teammates, Dr. Alison Spencer, credits Smith, who also serves as Olympia High School's head swimming coach, with getting her back into the sport. Four years ago, Spencer's daughter, who swam from Smith in high school, was volunteering at the senior games when she stopped by to check things out.
"I saw Mel swimming," said Spencer, who was a swimmer in high school and college. "I thought, 'If he's doing it, I should be doing it do.'"
The next year, Spencer turned 50 – the first year one can compete in the senior games – and was back in the water competing as well. This year marked her third consecutive year as a Washington State Senior Games participant.
"I had kids and had less time and less self-care," said Spencer, who is a family physician with the Nisqually Indian Tribe, as to why she initially stopped swimming. "This was finally a chance to get into some regular exercise for myself."
Spencer now swims three mornings a week with the South Sound Masters.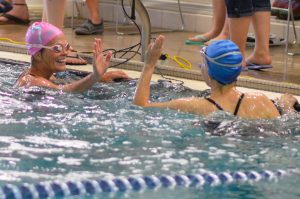 "The folks who I swim with are just super supportive and it's a great way to start the day," Spencer said. "You just show up and swim."
Spencer's third senior games was a bit of a scramble. She knew coming in exactly how many individual events she would be competing in. What the Olympia resident didn't know was just how many relays she'd being doing.
"You sign up for the individual events ahead of time," Spencer said, "but you don't know what relays you'll be in until you get here. That's what makes it fun though."
Spencer also competed in backstroke and freestyle events, including the 500 freestyle for the first time in 20 years, at the senior games.
"Times really are secondary here," Spencer said. "It's more about supporting each other and just swimming."
According to Smith, this year's senior games had a smaller turnout of swimmers than 2018, but with a reasonably explanation.
"It's a little lighter this year," Smith said. "It's not a qualifying year for nationals and so a lot of people are not worrying about the senior game nationals but worrying more about the US Master's swimming and getting a time for that."
The Washington State Senior Games landed just five weeks after the National Senior Games were contested in Albuquerque, New Mexico, June 16-19. Washington swimmers had a strong showing at nationals with 14 of the 44 gold medals the state collected coming in the water.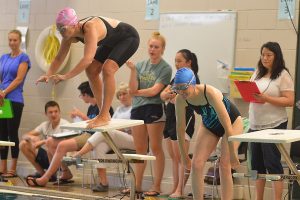 "We did have a good turnout in swimming at nationals," Smith said. "We did really well against the top level."
Several local swimmers participated in both the national and state-level competition.
Carl Haynie, who also competed at the Washington State Senior Games, won five gold medals at nationals. The 59-year-old Haynie posted first-place finishes in the 50 breaststroke, 200 IM and 50, 100 and 200 backstroke.
Fife's Tammy Wilson also registered five gold medals, while Richard Howell and Andrea Hunt both won two.
Washington State Senior Game participants Mary and Daniel Underbrick teamed up with Wilson and Howell to earn two bronze medals in mixed relay events and Steven Peterson was fourth in the 50 breaststroke in the 70-74 age group at nationals.
"It's quite a challenge," Smith said about his involvement each year with the senior games. "We're really fortunate the Olympia High School boys and girls swim teams are providing all the timers and volunteers and we're please the Y provide us with the facilities. So, it always ends up being a great day."