Think chiropractic care is just for people with bad backs from injuries or who are older? Think again. Drs. George and Stefanie Olar at 360 Chiropractic are specially trained to help infants and children who are suffering from misalignments. And it's more common then you may think. "Many parents are unaware of the benefits of chiropractic care for infants and children," says Dr. George. "From birth traumas to falls and bumps, these can be traumatic on your little one's spine. Chiropractors across the world help thousands of children each day with gentle, natural care."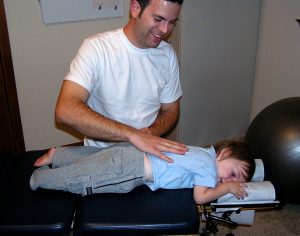 Both Dr. George and Dr. Stefanie are trained in pediatrics through the International Chiropractic Pediatrics Association (ICPA) and have a certificate in the Webster's Technique for prenatal care as well. Specific chiropractic care throughout pregnancy works with enhancing the nervous system function providing greater health potential for both mother and baby. The Webster Technique is a precise chiropractic adjustment for pregnant mothers. Working to correct sacral subluxations, this technique balances pelvic muscles and ligaments in the woman's pelvis, which may have a positive effect on labor disorders.
What is a Chiropractic Adjustment About?
We all know infants and children get bumps. They fall and stumble. For infants, even the birthing process can cause misalignments. Both may have developmental stress. Left untreated, those misalignments can have a huge affect on development. "The nervous system, which consists of your brain, spinal cord and nerves, controls everything in the body, including growth and development," explains Dr. Stefanie. "Subluxations, also known as misalignments, in the spine can prevent proper communication from the brain to the body. These subluxations cause stress to the nervous system, which can lead to a decrease in function of the affected area."
"During the first five years of life, the body produces more neural pathways than at any other time," adds Dr. George. "It is vital this production is optimized through children's chiropractic care, as the first few years are crucial to each child's potential." And those pathways are sensitive! Even a small misalignment, causing a pinch somewhere, can have a big effect. A study by Dr. Chung Ha Su, Ph.D. at the University of Colorado found that the weight of a dime (2.2 grams) pressing on a nerve is enough weight to stop nerve flow conduction by 40-60 percent! "Those nerves that are exiting the spine run to tissues, muscles and organs of the body and provide that communication from the brain," explains Dr. George. "So, you can imagine the issues that could arise with a 60 percent reduction in communication, not just pain!"
Even if your child is in excellent health, minor traumas from bumps, bruises, falls and spills accumulate over time and can result in pain, discomfort and/or health issues in their teen and adult years. "I've been fortunate to have seen many children in our practice and every time I know with chiropractic, we are making an impact on this child's development for the better, it's a great feeling!" says Dr. Stefanie.
Left uncorrected these traumas can continue to impact a child's spinal growth and development, reducing the healthy nervous system. This can cause many health challenges later in life that could easily have been prevented. Regular chiropractic check-ups allow for correction of misalignments of the spine when they occur.
When Should my Child See a Chiropractor? 
Unsure if your infant needs chiropractic care?  Drs. George and Stefanie say to look for the following indicators that may mean your child is in need of a chiropractic adjustment:
Both Dr. Stefanie Olar (pictures) and Dr. Geroge at 360 Chiropratic have special training to adjust infants, children and expectant mothers. Photo courtesy: 360 Chiropractic

Your baby's head tilts to one side, even after you straighten it.

Has difficulty turning their neck to one side.
Has difficulty sleeping.
Has trouble latching/nursing on one side.
Be sure to check and make sure the chiropractor you chose has the training needed to work with infants and children. Chiropractors who care for infants use very specific, gentle adjustments. Most have taken advanced classes on the specific techniques for infants. Search for a pediatric chiropractor and more helpful tips by visiting the ICPA website.
The 360 Difference
At 360 Chiropractic, Drs. George and Stefanie Olar can help your entire family feel better. Using gentle techniques for infants to seniors, and everyone in between, they have extensive education in how the body functions. Understanding that your body works cohesively, the doctors do not just treat your joints, but will help you get your body functioning properly through physical therapy exercises, vitamins and supplements, low level laser treatments, and therapeutic massage performed by Gloria Burkenbine, LMP, who is trained in prenatal care and has experience working on children as young as three-years-old. You owe it your body to see what 360 Chiropractic is all about.
To learn more about Drs. George and Stefanie Olar, or to schedule a consultation, call 360-923-0360 or visit the 360 Chiropractic website.
360 Chiropractic
5101 Lacey Blvd SE, Lacey
360-923-0360
Sponsored