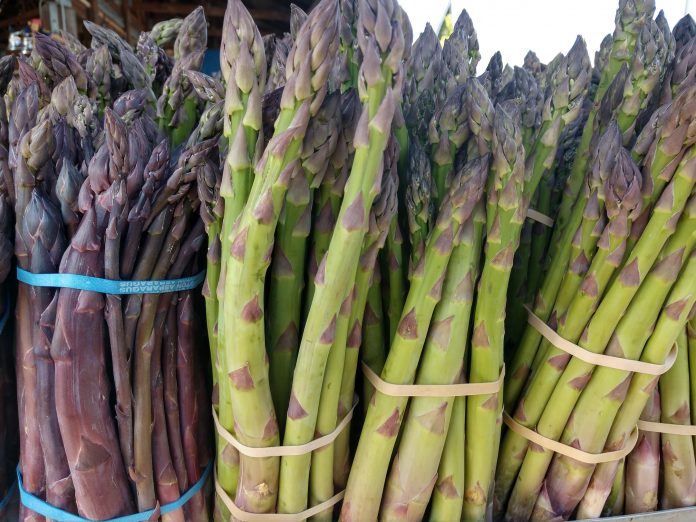 Spring greens are conveniently bagged for you and the asparagus is newly picked. With winter fully behind us, the ground is giving way to tender greens, which are so welcome in this early part of the season. The Olympia Farmers Market farmers have been hard at work in their greenhouses, hoop gardens and fields, and we get to add their labors of love to our daily meals. The Market's cadre of talented farmers is bringing a cascade of changing fruits and vegetables to their stalls. As the season warms to summer, you will find your options growing.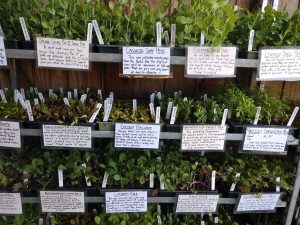 The first asparagus spears with impressively tidy tips are banded together and ready to go home with you. They come in green or purple. The purple variety has a higher sugar content and is more tender, consequently costing a little more. Sydney Blanchard, farm hand at Rising River, explains that early springtime brings leafy greens, arugula, kale, herbs, dill, parsley, cilantro, and rhubarb. "I love the green house and spending time in the nursery," she said. There are also many starts to purchase to make your own window box, planter or garden.
Before too long the root vegetables like carrots and beets will appear along with cabbage and broccoli. The beauty of the produce at the Market is that it is absolutely fresh and totally in season. There are general timelines for produce, but the amount of rain, sunshine and heat all contribute the length and breadth of the season for any given vegetable or fruit.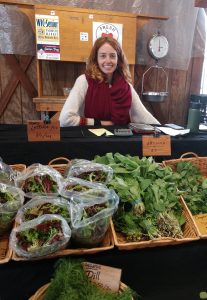 A trip to the Market gives you a visual on what is ready for eating today. I find the people behind the counter usually work at the farm and can answer questions you may have. With new items ripening all the time, it's worth a trip to find out for yourself.
Remember shoppers can use Fresh Bucks. The Market also accepts Women, Infant, Child (WIC) checks and Senior Checks. For more information, visit the Olympia Farmers Market website.
The Olympia Farmers Market
700 Capitol Way N., Olympia
360.352.9096
Sponsored