After two years of development, a new community resource is set to open to the public on St. Martin's University's campus. The Lacey MakerSpace, a shared metal, wood, and media workspace, can be used by students, business owners, and community members. Led by the City of Lacey, Lacey MakerSpace is a collaboration between the City, Thurston County Economic Development Council, St. Martin's University, South Puget Sound Community College (SPSCC), the Port of Olympia, and MJR Development. With table saws, welding stations, and 3D printers set up, Lacey MakerSpace is slated to be an area of creation and innovation for the South Sound.
At 4,000 square feet, Lacey Makerspace features several different stations for projects related to woodworking, welding, etching, robotics, and design. The space includes table saws, drill presses, lathes, sanders, hand tools, CNC laser and CNC plasma cutters, computers, sewing and embroidery machines, and 3D printers. With the intention of creating a collaborative environment, this space can be used for prototype development for businesses who cannot yet afford certain equipment. Students from St. Martin's University will be have access to the space for class as well as together with North Thurston High School, SPSCC, students, utilize the space for after-hours assignments.
"It's a place where people can come and access equipment they might not normally be able to access," explains Rick Walk, City of Lacey director of community & economic development. "Whether it's somebody with limited space in their house or a business that can't afford to purchase higher-technology equipment, the Lacey MakerSpace is there for them to use. Because there's multiple people in that space, they might run into somebody else, talk, learn from each other, and help each other out."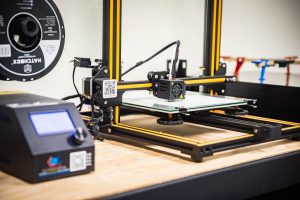 Inspiration for this project was multifaceted with numerous stakeholders from the South Sound community interested in developing a makerspace. "We all bring value to the space," explains Cecelia Loveless, vice president of institutional advancement at St. Martin's University. "St. Martin's brings the professors and the ability for students who want to do research projects. And then, the EDC and the Center for Business and Innovation have so many resources to support students who want to develop and launch a business plan."
Executive Committee Chair of Lacey Makerspace, Graeme Sackrison, first heard of the idea for a community shop at a conference, where aerospace machinists spoke of the importance for hands-on shop experience. Sackrison then brought the idea for a makerspace back to the South Sound. When Lacey Director of Community & Economic Development, Rick Walk also learned of makerspaces opening up on the  east coast at a planning conference, the Lacey City Council was informed of the possibility to invest in the local business ecosystem. The Council showed their support by allocating economic incentive funds to seed the project. The Thurston EDC, St. Martin's University, and SPSCC joined the team as project partners.
This makerspace project is a connection between local higher education and economic development, where students and professionals can practice hands-on design and manufacturing skills. As the Lacey MakerSpace starts up, classes in design, woodworking, and manufacturing will also be offered to the community.
"We've heard from our business community that people entering the workforce have great classroom training, but, they haven't had a lot of hands-on practice," explains Walk. "The Makerspace helps develop a skilled workforce, as well."
The Thurston EDC provides support for businesses in the South Sound Region. To get businesses launched, the EDC helps with business plans, budgeting, market identification, proper permits, as well as advice. As one of the organizing bodies of the Lacey MakerSpace, the EDC wanted to provide a space for startup development that wouldn't be possible from an office.
"The idea is that we want to grow an ecosystem for entrepreneurs, for startups," says Executive Director of the EDC, Michael Cade. "We launched 175 businesses out of our organization in the last two years, but we need a space like this. So, working with the City of Lacey, St. Martin's University, and the private sector leadership, the idea was to create a space where people of all ages, skills, and backgrounds can come create, test, and get technical assistance on how you do things."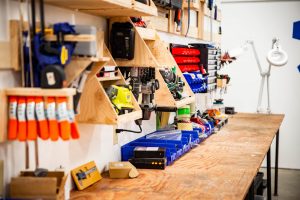 The setup of the Lacey MakerSpace is similar to other non-profit membership organizations. Interested business owners and community members pay monthly fees for using the space and the state-of-the art equipment. Students from St. Martin's University and SPSCC will pay student fees through their educational institution to use the space. In addition to higher education and startups, Lacey MakerSpace is also hoping to partner with veteran organizations and established entities, like the Port of Olympia, for continuing education opportunities.
"We're really excited about it," says Walk. "It's been two years in the making and it's hard to believe we're at this point, finally. But I also think it's going to be a great asset to the community."
Beginning in July, the Lacey MakerSpace will be open to the public on Thursdays, Fridays, and Saturdays throughout the summer, with a full launch in the fall. To learn more about the collaboration and what is available at the shop, visit the Lacey MakerSpace website.
Sponsored